Cajun Potatoes
Cajun Potatoes are flavorful & crispy fried baby potatoes dunked in a creamy cajun mayonnaise sauce. It gets done in 40 minutes.
---
« Go back
Print this recipe »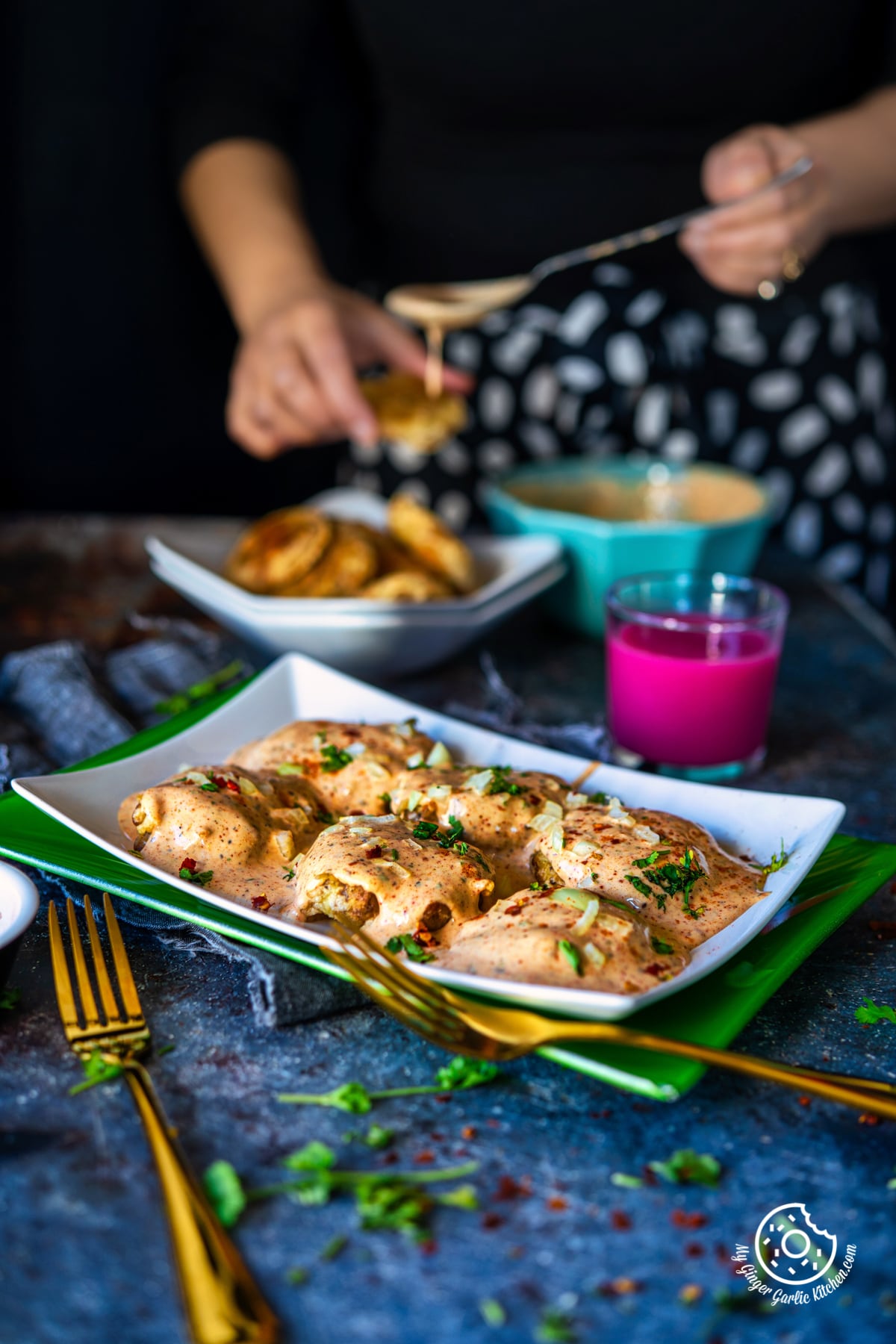 ---
Prep Time = 10 minutes
Cook Time = 30 minutes
Total Time = 40 minutes
Category = Appetizer, Side Dish, Snack
Cuisine = Indian, American
Serves = 4
Nutrition Info = 338 calories
Serving Size = 1
---
RECIPE INGREDIENTS
» For Boiling Potatoes
20 baby potatoes
1/2 teaspoon salt
Water, to boil
» For Coating
4 tablespoon corn starch
2 tablespoon all-purpose flour/maida
1 teaspoon mixed herbs (thyme, rosemary, parsley, oregano, etc.)
1 teaspoon red pepper flakes
1/2 teaspoon black pepper powder
1/2 teaspoon salt
Water for making a smooth batter
» For frying
Oil for shallow/deep frying
» For Cajun Sauce
1 cup Mayonnaise
1/2 teaspoon red pepper flakes
1/2 teaspoon black pepper powder
1 teaspoon mixed herbs
1 teaspoon paprika/cayenne pepper/Kashmiri red chili powder, or to taste
1 tablespoon garlic powder
1 teaspoon onion powder
3/4 cup milk, or as needed
1/2 teaspoon salt, or as per taste
» For Serving Cajun Potatoes
1 tablespoon chopped onion
1 tablespoon chopped cilantro
A pinch of paprika or chili flakes
---
RECIPE INSTRUCTIONS
» How to cook baby potatoes
Scrub & rinse the baby potatoes to get rid of any dirt. Now, add cleaned baby potatoes to a pressure cooker. Also, add enough water to cover the potatoes and salt. Stir everything and cover the cooker with the lid. Pressure cook for 2 whistles and let the pressure release naturally. Alternatively, you can boil the potatoes in a large saucepan. To boil in a saucepan, add the potatoes to the pan, and fill the pan with enough water. Add salt, stir and boil for 15 to 20 minutes or until just tender (90% cooked) and fork-tender. TIP: Make sure that you do not overcook the potatoes. Or they will become mushy and won't turn crispy after frying.
Once the potatoes are cooked, open the pressure cooker lid and transfer the cooked potatoes to a wooden board in a single layer.
Take a potato and smash it using the end of your palm, a bottom of a glass, or a flat spatula. Just make sure it is flat and holds its shape. Do not break the potato into pieces, you need to keep the potato intact.
» Make coating
Add corn starch, all-purpose flour, dried mixed herbs, chili flakes, garlic powder, onion powder, salt, and ground pepper to a mixing bowl. Whisk all the dry ingredients.
After that, add about 1/3 to 1/2 cup of water in batches and whisk to make a thin and flowing consistency lump-free batter.
Heat oil for frying in a pan over high heat. Dip each potato in the cornstarch batter, and shake off to excess batter. Once the oil is hot, turn the heat to medium. Then drop the batter-coated potatoes in the pan. Shallow fry the potatoes from the bottom until golden.
After that, flip the potatoes and fry them from the other side too. Once potatoes are crispy and golden, remove them from the oil and transfer them onto a paper-lined plate. Similarly, fry all the potatoes.
» Make cajun sauce
Mix together the mayonnaise, mixed herbs, garlic & onion powder, red chili powder, red paper flakes, and salt. Mix everything until well combined. Add milk in batches and whisk well until you get the right consistency. I added milk to get the desired consistency, but you can also use a combination of milk cream, and water to thin down the sauce.
» Assemble cajun potatoes
Transfer the fried potatoes to a serving platter. Generously Spoon cajun sauce over the fried potatoes with cajun mayonnaise dressing.
Sprinkle with chopped onions, and chopped cilantro/parsley. Garnish it with some red pepper flakes, and chili powder. Garnishing is completely optional here. Serve immediately and enjoy.
---
RECIPE NOTES
Air Fried Cajun Potatoes - If you are not comfortable eating deep fried potatoes, then you can also air fry these baby potatoes. To air-fry, place baking paper on the air-fryer basket and preheat at 180°C/356 °F. Now gently place the batter coated smashed potatoes into the basket of the air fryer in a single layer. Spray with some oil and air fry for about 10-11 minutes. After 10 minutes, open the basket and flip all the potatoes and air fry again for approximately 8-10 minutes until they are crispy and golden brown.
Baked Cajun Potatoes - You can also oven bake these batter coated potatoes. To bake, preheat the oven to 400°F/200°C. Then, arrange the potatoes on a baking paper lined sheet, in a single layer. Brush/spray with some oil and bake for about 18-20 minutes or until smashed potatoes have turned brown and get crisp from all the sides.
Make certain that you don't overcook potatoes. Or else, it will retain water and the fried potatoes won't turn really crisp.
Remember to smash the potatoes when they are at room temperature and completely dried.
---