Butternut Spaghetti Squash Pineapple Bean Boats
A pure Italian food with a delicious healthy twist. They are cheesy, spicy, crunchy, and satisfying, easy to make and are vegetarian and gluten-free too.
---
« Go back
Print this recipe »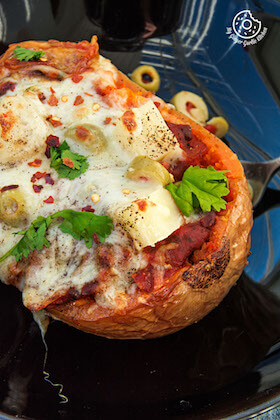 ---
Prep Time = 7 minutes
Cook Time = 40 minutes
Total Time = 47 minutes
Category = Main
Cuisine = Italian
Serves = 2
Nutrition Info = 233 calories
Serving Size = 1 serving
---
RECIPE INGREDIENTS
» For The Spaghetti Squash Boats //
Spaghetti squash, cut lengthwise and seeded - 1
Olive oil - 1 tablespoon
Garlic powder - 1 tablespoon
Salt and pepper to taste
Pineapple diced - 1/4 cup
Green olives sliced - 1/4 cup
» For The Sauce //
Olive oil - 1 tablespoon
Garlic chopped - 1 tablespoon
Sliced yellow onion - 1 large
Dried oregano - 1 1/2 teaspoons
Arrabbiata sauce - 3/4 cup
Garlic powder - 1 teaspoon (optional)
Ground black pepper - 1/2 teaspoon
Chili flakes - 1 teaspoon
Whole black gram, cooked - ? cup
Mozzarella cheese - 3/4 cup
Cilantro leaves for garnish - 1 tablespoon
---
RECIPE INSTRUCTIONS
» How to Make Butternut Spaghetti Squash Pineapple Bean Boats //
Preheat oven to 175°C/350°F. Cut squash in half lengthwise, and remove seeds.
Brush spaghetti squash with 1 tablespoon olive oil and sprinkle with garlic powder, salt, and pepper.
Transfer them facing downwards onto a foil or parchment-lined baking tray.
Drizzle with some olive oil and bake, uncovered, at 175°C/350°F for 35 minutes or until tender.
Once baked, remove them from the oven.
Meanwhile, in a skillet, heat olive oil over medium heat.
Add chopped garlic and sauté for a minute.
Add onion and sauté for 3-4 minutes, or until onion is translucent.
Add dried oregano, arrabbiata sauce and cook for 3-4 minutes.
Add garlic powder, pepper, chili flakes and cook for 2 minutes.
Stir in beans, salt and cook for 2 more minutes.
When squash is ready and cool enough ti handle, scrape with a fork to create long strands.
Spoon bean sauce into squash boats.
Top with pineapple, olives, and cheese.
Sprinkle some pepper and bake for 5-7 minutes at 175°C, or simply place under the broiler for 2-3 minutes, until cheese is melted and slightly crispy.
Transfer to a serving plate and enjoy warm.
---
RECIPE NOTES
No notes for this recipe.
---