Quick and Easy Blueberry Muffins Recipe
These quick and easy homemade Blueberry Muffins are so light, fluffy, and packed with the goodness of juicy blueberries. Serve as a brunch or breakfast.
---
« Go back
Print this recipe »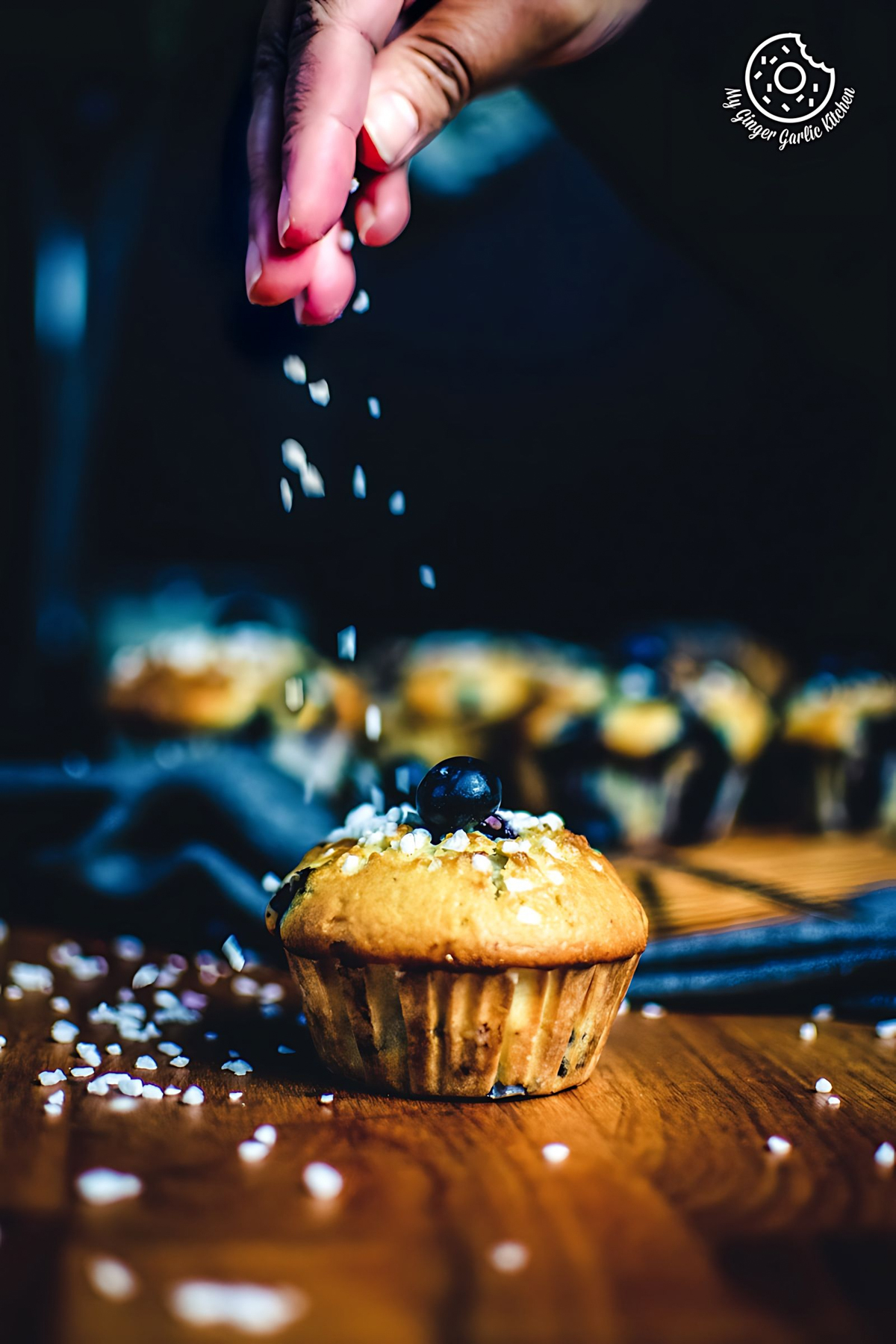 ---
Prep Time = 10 minutes
Cook Time = 20 minutes
Total Time = 30 minutes
Category = Dessert
Cuisine = International
Serves = 12 standard muffins
Nutrition Info = 313 calories
Serving Size = 1 serving
---
RECIPE INGREDIENTS
» For Blueberry Muffins //
1 3/4 cups all-purpose (plain) flour
3/4 cup white sugar
1 large egg
3/4 cup milk
1 teaspoon vanilla extract
1 tablespoon white vinegar
1/2 tsp salt
2 teaspoon baking powder
6 tablespoons vegetable oil
2 cups fresh blueberries, or frozen
3 tablespoons pearl sugar or coarse sugar for topping
---
RECIPE INSTRUCTIONS
» How to Make Buttermilk //
In a measuring jug, combine 1 tablespoon of vinegar and milk to make buttermilk and set aside. Alternatively, you can use 3/4 cup buttermilk.
» How to make blueberry muffins //
In the same measuring jug, add vanilla extract, oil, and egg and whisk to combine.
In a large mixing bowl add flour, sugar, salt and baking powder.
Whisk well to combine the dry ingredients.
Fold in the blueberries.
Add milk mixture to the bowl with dry ingredients and mix until just combined. Do not over mix the batter. You need to only mix until there is no more dry ingredients remain.
Let it rest for 10 minutes.
» How to Bake Blueberry Muffins //
Heat oven to 400°F/200°C. Line 8 muffin cups with paper liners for jumbo muffins. Or for making standard-size muffins, line 12 muffin cups with the paper liners. Alternatively, you can also grease the muffin tin with oil spray or butter.
Evenly divide the batter between 12 muffin cups.
Sprinkle a little pearl or coarse sugar on top of each muffin.
Bake in a preheated 400°F/200°C oven for 18-20 minutes or until toothpick inserted into the center of the muffins comes out clean and tops are no longer wet.
Turn off the oven, and let the muffins cool for 5-10 minutes before removing from the tin.
Remove muffins from pan, and let them cool completely on a cooling rack.
» How to store blueberry muffins //
After cooling, you can store these muffins in an airtight container for up to 4 days at room temperature.
Or, arrange blueberry muffins on a lined plate or a tray. Freeze for 1 hour and then transfer them into a freezer-safe container. You can freeze them for up to 3 months.
---
RECIPE NOTES
If you are making 8 muffins, then fill the remaining cups with 2 tablespoons of water. This will help the muffins bake evenly.
If you are using frozen blueberries, then use them frozen. Do not thaw them.
I have added sunflower oil for this recipe because I love the light texture of muffins made with oil. You can substitute oil with melted butter for a rich taste.
I have topped my muffins with pearl sugar because they are just so perfect for decorating and they taste so deliciously coarse and crunchy on top of a muffin. However, you can replace it with any other type of granulated or raw sugar of your choice.
---