Lobia Briyani - Black Eyed Bean Carrot Biryani
Lobia Biryani Recipe | Black Eyed Bean Carrot Biryani is the main course meal loaded with carrots, black-eyed beans and spices.
---
« Go back
Print this recipe »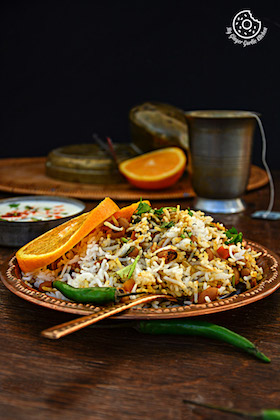 ---
Prep Time = 10 minutes
Cook Time = 50 minutes
Total Time = 1 hour(s)
Category = Main
Cuisine = Indian
Serves = 4
Nutrition Info = 222 calories
Serving Size = 1 serving
---
RECIPE INGREDIENTS
» For Lobia (Black Eyed Bean) Biryani:
1 1/2 cups basmati rice, washed and soaked in water for 15 minutes
2 cups cooked black eyed beans
2 large-sized carrot, chopped
3-4 tablespoons cooking oil
2 teaspoons cumin seeds
3-4 cloves
2 tablespoons ginger-garlic paste
1 tablespoon coriander powder
1/4 teaspoons turmeric powder
1½ tablespoons red chilli powder
3 large-sized tomatoes chopped
salt to taste
2-3 small green chillies chopped
Fresh cilantro (coriander) leaves, chopped
1 tablespoon garam masala powder + extra for sprinkle
Boiled water
Citrus fruit for serving (optional)
---
RECIPE INSTRUCTIONS
» How to Make Lobia (Black Eyed Bean) Biryani:
Add soaked rice to a pot and add boiled water, salt, and stir well.
Boil till 3/4 is done. Drain any excess water. Set it aside.
Heat oil in a thick-bottomed pan, add cumin seeds.
When they begin to crackle, add chopped onions and sauté for 3-4 minutes.
Add carrots, chopped green chilies, turmeric powder, coriander powder, garam masala powder and cook for 3-4 minutes.
Add ginger-garlic paste and saute well.
Add tomatoes and mix well. Cook for 3-4 minutes.
Add cooked beans, salt and mix well. Cook covered for 2 minutes.
Add chopped coriander leaves and mix well. Turn off the heat.
Preheat the oven to 175°C. Take an oven-safe pan/pot.
Spread a layer of half the parboiled rice and flatten with a spatula.
Sprinkle chopped cilantro and garam masala powder.
Pour the cooked beans gravy and flatten with a spoon.
Spread another layer of the rice and flatten it.
Sprinkle chopped coriander and garam masala powder.
Pour some more beans gravy.
Wrap with foil and cook in the oven at 175°C for 30-35 minutes.
Unwrap the foil paper.
Serve steaming hot biryani with some raita and some citrus fruit. Enjoy!
---
RECIPE NOTES
You can reduce the amount of garam masala powder if you are adding red chili powder.
---