Bharwa Bhindi - Stuffed Okra
Learn to make Bharwa Bhindi Recipe | Stuffed Okra Masala Recipe with a simple and easy video tutorial. Bharwa Bhindi is a very crowd-pleasing side dish.
---
« Go back
Print this recipe »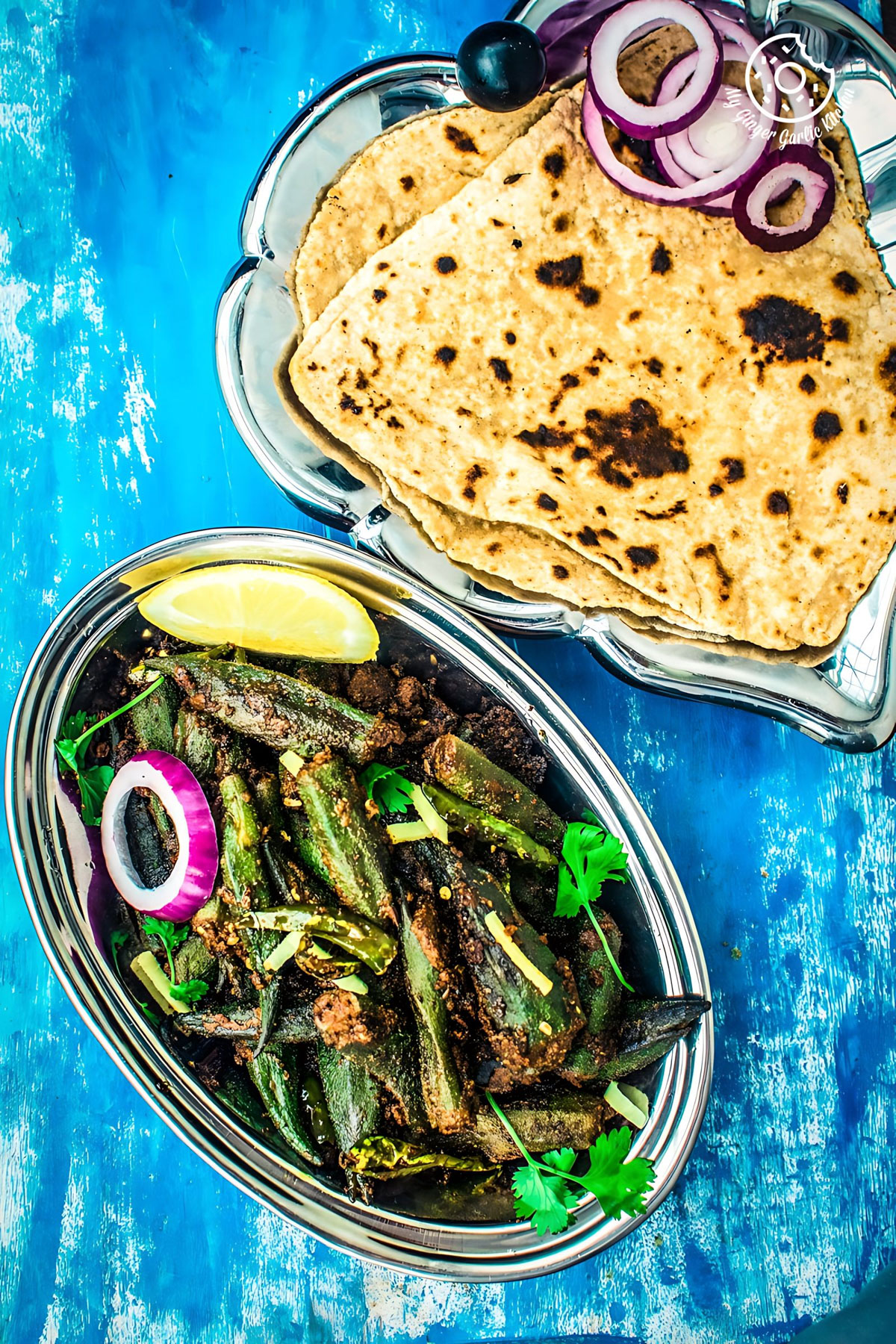 ---
Prep Time = 15 minutes
Cook Time = 23 minutes
Total Time = 38 minutes
Category = Side
Cuisine = Indian
Serves = 4-6
Nutrition Info = 151 calories
Serving Size = 1 Serving
---
RECIPE INGREDIENTS
» For Bharwa Bhindi:
498 grams/1.1 lb okra/bhindi (mine were around 34 pods)
1 tablespoon roasted cumin powder (bhuna jeera powder)
2 tablespoons coriander powder (dhania powder)
1/2 teaspoon turmeric powder (haldi powder)
1 teaspoon red chili powder (lal mirch powder)
1 teaspoon amchur powder (dried mango powder)
3/4 teaspoon salt, or to taste
pinch of asafetida (hing)
1.5 teaspoon cumin seeds (jeera)
1 teaspoon lemon juice
2-3 teaspoon water
3 tablespoons vegetable oil
5-6 small green chilies (hari mirch)
1 tablespoon chopped garlic (lehsun)
» For Serving:
Ginger slices
Cilantro (coriander) leaves
Lemon wedges
---
RECIPE INSTRUCTIONS
» Cutting Bhindis:
Wash the bhindi and wipe them using a kitchen/ paper towel. (Make sure that that bhindi is completely dry.) Trim the head of each bhindi.
Now using a knife make a lengthwise slit in each bhindi without cutting through the whole length. (The bhindis should still be intact in one piece, you can check the video I have shared above.)
Keep them aside.
» Making Stuffing:
To a mixing bowl add cumin powder, coriander powder, red chili powder, turmeric powder, dried mango powder, salt, asafetida, and 1 tsp of lemon juice.
Mix thoroughly with a spoon.
Now add 2 tsp of water Then add 2-3 teaspoons of water to the stuffing and mix it well with the spices.
The stuffing masala is now ready.
Take one bhindi and stuff it with the generous amount of stuffing masala using a spoon or with hands.
Stuff all the bhindis. Keep the remained stuffing aside, we will use it later.
» Cooking Bharwa Bhindi:
Heat 3 tablespoons of oil in a broad non-stick pan on medium heat.
Add cumin seeds and let them splutter.
Once the seeds start to splutter add the 5-6 green chilies and 1 tablespoon chopped garlic.
Let them sauté for 2-3 minutes.
Arrange all the stuffed bhindis in a single layer in the pan.
Cover the pan and cook on medium-low heat for 2-3 minutes.
Uncover the pan and gently stir and flip the bhindis/okras.
Cover the pan again and cook for 2-3 minutes.
After 2-3 minutes flip the bhindis again.
Cover and cook until bhindis/okras are soft and cooked. (keep stirring bhindis after 2-3 minutes.) After about 6 minutes bhindis should be nicely cooked.
Add 2 tsp of oil to the center and add 2 tsp of masala stuffing.
Mix well and cook for 4-5 minutes. Bharwa bhindi is ready.
» Serving:
Transfer bharwa bhindi to a serving dish.
Garnish with ginger slices, lemon wedge, and coriander leaves.
Serve bharwa bhindi hot with duppad roti, puri, or paratha.
---
RECIPE NOTES
No notes for this recipe.
---