Besan Paara (Fried, Air Fryer, and Baked Recipe)
Besan Paara or Besan Pare (Gram Flour Crackers) is a spicy, crispy, crunchy, and perfect bite-sized snack made with besan, and spices.
---
« Go back
Print this recipe »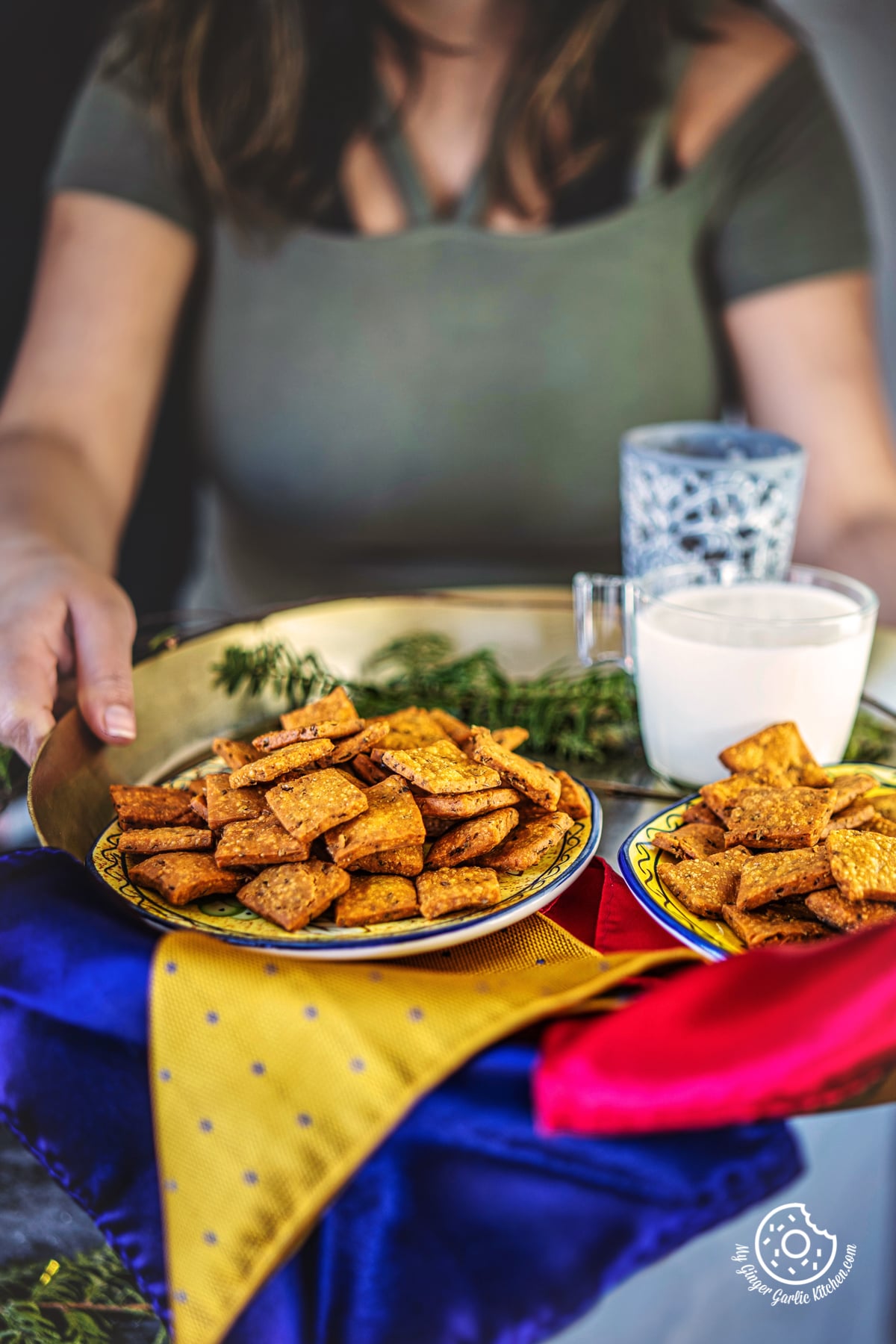 ---
Prep Time = 10 minutes
Cook Time = 15 minutes
Total Time = 25 minutes
Category = Snack
Cuisine = Indian
Serves = 10
Nutrition Info = 60 calories
Serving Size = 1
---
RECIPE INGREDIENTS
» Ingredients For Besan Paara:
2 cups besan (gram flour)
1 tablespoon semolina (skip it to make gluten-free besan paara)
A pinch of asafoetida (hing)
1/2 teaspoon turmeric powder
1 teaspoon red chili powder
1/2 teaspoon garam masala powder
1 tablespoon carom seeds (ajwain)
1 tablespoon cumin seeds (jeera)
1 teaspoon salt, or to taste
1.5 tablespoons Kasuri methi (dry fenugreek leaves)
1/4 cup oil
Warm water for kneading dough
Oil for deep frying
1/2 teaspoon baking powder (only use when you are baking besan pare)
---
RECIPE INSTRUCTIONS
» How To Make Besan Paara:
To a large mixing bowl add besan, carom seeds (ajwain), cumin seeds, turmeric powder, hing, red chili powder, Kasuri methi, salt, and oil.
Mix it well by rubbing the flour and oil mixture between the palms. Keep mixing until it oil is well incorporated in all of the flour. This would take about 3-4 minutes. At this point, it resembles crumbs and holds shape. To check, take some flour mixture between your palm and make a fist. If it holds the shape then you have added enough fat. If the dough falls to pieces, that means you need to add more oil/ghee.
Now add warm water little by little and knead into a semi-firm dough. The amount of water depends upon the variety of flour.
Once the dough is ready, cover it with a damp kitchen towel and keep it aside for 30 minutes.
After resting, uncover the dough and divide it into 2 equal portions.
Spray or brush the work surface with some oil. Take one portion and knead and press it slightly to flatten.
Now roll out the besan dough into a 1 cm thick sheet. Roll it slightly thicker than the roti.
Using a knife or pizza cutter, cut the rolled-out sheet into square or diamond shape pieces.
Discard the uneven pieces from the edges.
Transfer squares onto a plate and cover with a wet paper towel to prevent them from drying. Prepare all besan to pare the same with the rest of the dough ball.
» How to Fry Deep Fry Besan Paara:
Heat oil in a broad pan. When the oil is hot, turn the heat to medium-low and then drop besan pare (crackers). Do not overcrowd the pan.
Deep fry them on medium-low heat until they are golden and crispy. Once they start floating, flip them using a slotted spoon. And stir occasionally to get the even color. This would take 8-10 minutes for frying besan pare at one time.
Once the besan pare are golden brown from all the sides, remove them with a slotted spoon and transfer them on a kitchen tissue-lined plate. Fry all besan pare similarly.
Let them cool completely before storing them in an airtight container. They stay fresh for up to 1 month. Enjoy crispy and delicious besan paara with some hot tea.
» How to Air-Fry Besan Paara:
Preheat the air fryer at 150°C/300°F. Spray or brush the air fryer basket with some oil.
Place shaped besan pare in the basket keeping some space in between.
Air fry at 155°C/311°F for 14 minutes.
Once done, transfer them onto a plate and let them cool completely before storing them.
» How to Bake Besan Paara:
To bake, preheat the oven at 180°C/356°F. Line a baking tray with parchment paper.
Then arrange shaped squares on the tray. Spray or brush with little oil.
Bake at 180°C/356°F preheated oven for 10-12 minutes or until they are crisp and golden. Once baked, remove from the oven and let them cool down to room temperature on a wire rack before storing.
Store in an airtight container for 3-4 weeks.
---
RECIPE NOTES
Adding some kind of fat (oil or ghee) to the dough is much required to get soft yet crunchy and crispy besan paare.
I added 1/4 cup of oil to the dough, so use 1/4 cup oil for the best results. However, if you don't want too much oil, then use only 2 tablespoons of oil.
I cut the besan paara into square pieces, but you can also cut them into diamond or rectangle shapes.
Kneading the besan dough might be a bit tricky, so add a little water at a time. This step would help you in making the non-sticky perfect semi-firm dough.
The amount of water depends on the quality of besan. For 2 cups of besan + 1 tablespoon semolina, I used 1/4 cup of water.
Adding asafoetida (hing) enhances digestion. So it is a must for this besan paara recipe. If you want to make this besan paara gluten-free, then either use gluten-free hing or skip it.
---