Banana Strawberry Bread Pudding (Video)
This versatile Banana Strawberry Bread Pudding is made with strawberries, dried cranberries, and banana. It can be served warm, at room temperature, or cold.
---
« Go back
Print this recipe »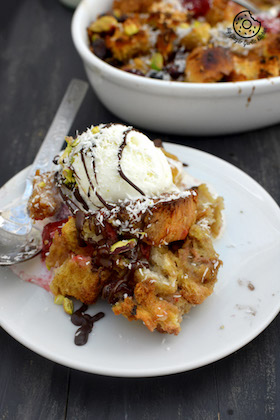 ---
Prep Time = 1 hour(s) 10 minutes
Cook Time = 10 minutes
Total Time = 1 hour(s) 20 minutes
Category = Dessert
Cuisine = French
Serves = 4-5
Nutrition Info = 306 calories
Serving Size = 1 serving
---
RECIPE INGREDIENTS
» How to Make Banana Strawberry Bread Pudding
2.5 cups french bread or brioche, cut into 1-inch cubes
2 eggs
1 teaspoon vanilla extract
1 teaspoon ground cinnamon
1 large banana, sliced
1/2 cup strawberries
5 tablespoons dried cranberries
1/4 cup powdered sugar
» For serving
Chopped, pistachio
Desiccated coconut
Vanilla ice-cream
Chocolate sauce
---
RECIPE INSTRUCTIONS
» Banana Strawberry Bread Pudding
Heat oven to 175°C/350°F. Line a baking pan with a parchament paper.
Arrange bread cubes on a baking tray and bake for 5 minutes.
Add eggs, sugar, cinnamon to a large mixing bowl.
Whisk well until combined.
Add bananas, strawberries, dried cranberries, and mix well.
Stir in bread cubes and toss well.
Grease a pan and pour the bread mixture into the pan.
Bake for 1 hour, or until a knife inserted near the center comes out clean and bread have browned.
Sprinkle pistachio and coconut.
Transfer pudding on to a serving plate.
Top with a dollop of ice-cream and drizzle some chocolate sauce on top.
Serve Banana Strawberry Bread Pudding warm or at room temperature.
---
RECIPE NOTES
No notes for this recipe.
---