Banana Pineapple Upside Down Cake - Video Recipe
This stunningly delicious and easy to make Banana Pineapple Upside Down Cake makes a great dessert, tea time snack, brunch or even breakfast.
---
« Go back
Print this recipe »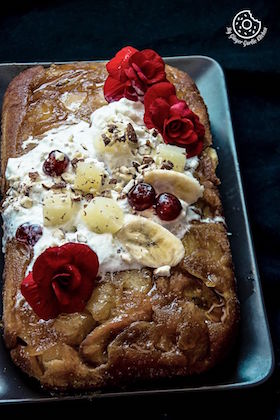 ---
Prep Time = 1 hour(s) 15 minutes
Cook Time = 1 hour(s) 0 minutes
Total Time = 1 hour(s) 15 minutes
Category = Dessert
Cuisine = World
Serves = 8
Nutrition Info = 365 calories
Serving Size = 1 slice
---
RECIPE INGREDIENTS
» For Batter //
1/4 cup unslated butter
1/4 cup brown sugar
2 large-sized bananas, peeled and sliced
3/4 cup pineapple cubed (i have used canned)
4 eggs
1 cup caster or icing sugar
1 teaspoon vanilla extract
2 cups whole wheat flour
1 teaspoon baking powder
1/2 cup olive oil
» For Topping //
Whipped cream
Ground nuts
Glazed cherries
Pineapple and banana
---
RECIPE INSTRUCTIONS
» How to Bake Banana Pineapple Upside Down Cake
Preheat oven to 150°C/300°F. Melt the butter in a pan.
Add brown sugar and cook over high heat, stirring continuously.
Bring it to a boil and cook for a minute.
Pour into a lightly greased 13×7?inch cake tin.
Arrange the banana slices, and pineapple overlapping slightly, onto the caramel. Set aside.
Place the eggs, caster sugar, and vanilla in a bowl.
Beat using an electric mixer for 7-8 minutes or until the mixture has tripled in volume.
Sift the flour, baking powder, and flour over the egg mixture and fold to combine.
Fold through the oil.
Pour the batter into the tin and bake for 55-60 mins, or until cooked when tested with a skewer.
Allow it to stand for 5-10 minutes before turning onto a platter to serve.
Top with whipped cream, pineapple cubes, banana slices, glazed cherries, and some nuts. Enjoy!
---
RECIPE NOTES
No notes for this recipe.
---