Banana Blueberry Baked Oatmeal
This Banana Blueberry Baked Oatmeal is a delicious breakfast or brunch recipe. This baked oatmeal recipe is laden with banana and blueberries.
---
« Go back
Print this recipe »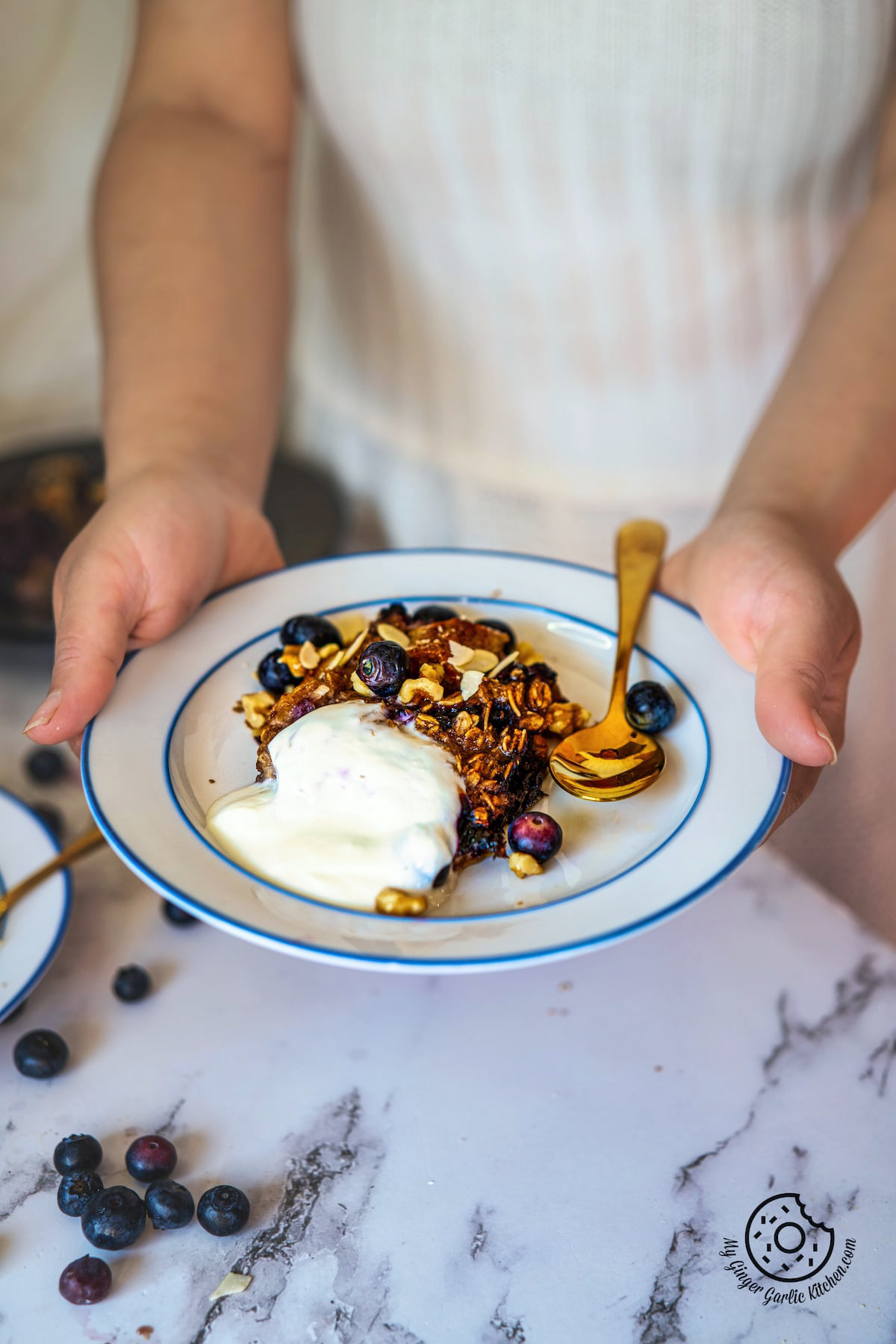 ---
Prep Time = 10 minutes
Cook Time = 25 minutes
Total Time = 30 minutes
Category = Breakfast/dessert
Cuisine = American
Serves = 6
Nutrition Info = 209 calories
Serving Size = 1
---
RECIPE INGREDIENTS
» For Banana Blueberry Baked Oatmeal
1 cup rolled oats (I used gluten-free)
2+2 medium-sized ripe bananas
1 cup fresh/frozen blueberries
3/4 cup milk (I used coconut milk)
5 tablespoons hot water
2 teaspoons of cinnamon powder
1/2 teaspoon vanilla extract
3-4 tablespoons maple syrup
» For serving:
1-2 tablespoons crushed walnuts
3-4 tablespoons fresh blueberries
Plant-based yogurt, extra maple syrup, optional
---
RECIPE INSTRUCTIONS
» Making blueberry banana baked oatmeal
Preheat the oven to 180°C/375°F. Add the oats to a bowl and cover with 4-5 tablespoons of boiling water. Keep it aside to soak for about 10 minutes, or until soft.
While the oats are soaking, lightly grease/spray a 7 x 11 inch or 9 x 9 inch glass/ceramic baking dish with a brush or cooking spray. Peel 2 bananas; add them to the baking pan, and mash bananas using a fork until they are smooth.
Now add milk, vanilla extract, maple syrup, and cinnamon powder to the pan and stir everything well. Tip: You can also add walnuts, raisins, chia seeds, or sunflower seeds.
Also, add in the frozen blueberries and mix well. You can also use fresh blueberries, I like frozen for a depth of flavor and deep color.
Once the oats have absorbed the milk and become soft, pour the oat mixture over the bananas and blueberries and mix until everything is well combined. Top with 7-8 pieces of ripe bananas.
Bake the oatmeal for about 25 minutes, or until the top is golden brown and the oatmeal has set. Remove from the oven.
Cut into 6 portions, sprinkle with chopped walnuts, sliced almonds, blueberries, and drizzle with some maple syrup if you want. Serve warm with a dollop of plant-based yogurt or sour cream.
---
RECIPE NOTES
This baked oatmeal has overnight oat consistency, so if you want firm slices then only add 1/2 cup of milk.
This recipe turns out best when rolled or old-fashioned oats are used. So don?t use quick or instant oats for this recipe.
Do not mix oats with ingredients before baking, or else they will soak up all the liquid and you will end up with dry textured baked oatmeal.
You can serve the baked oatmeal as breakfast, brunch, or as a snack.
---