Baked Feta Pasta Recipe
This Viral Baked Feta Pasta that is oozing with the goodness of cherry tomatoes, garlic, and cheese is sure to become a hit at your table.
---
« Go back
Print this recipe »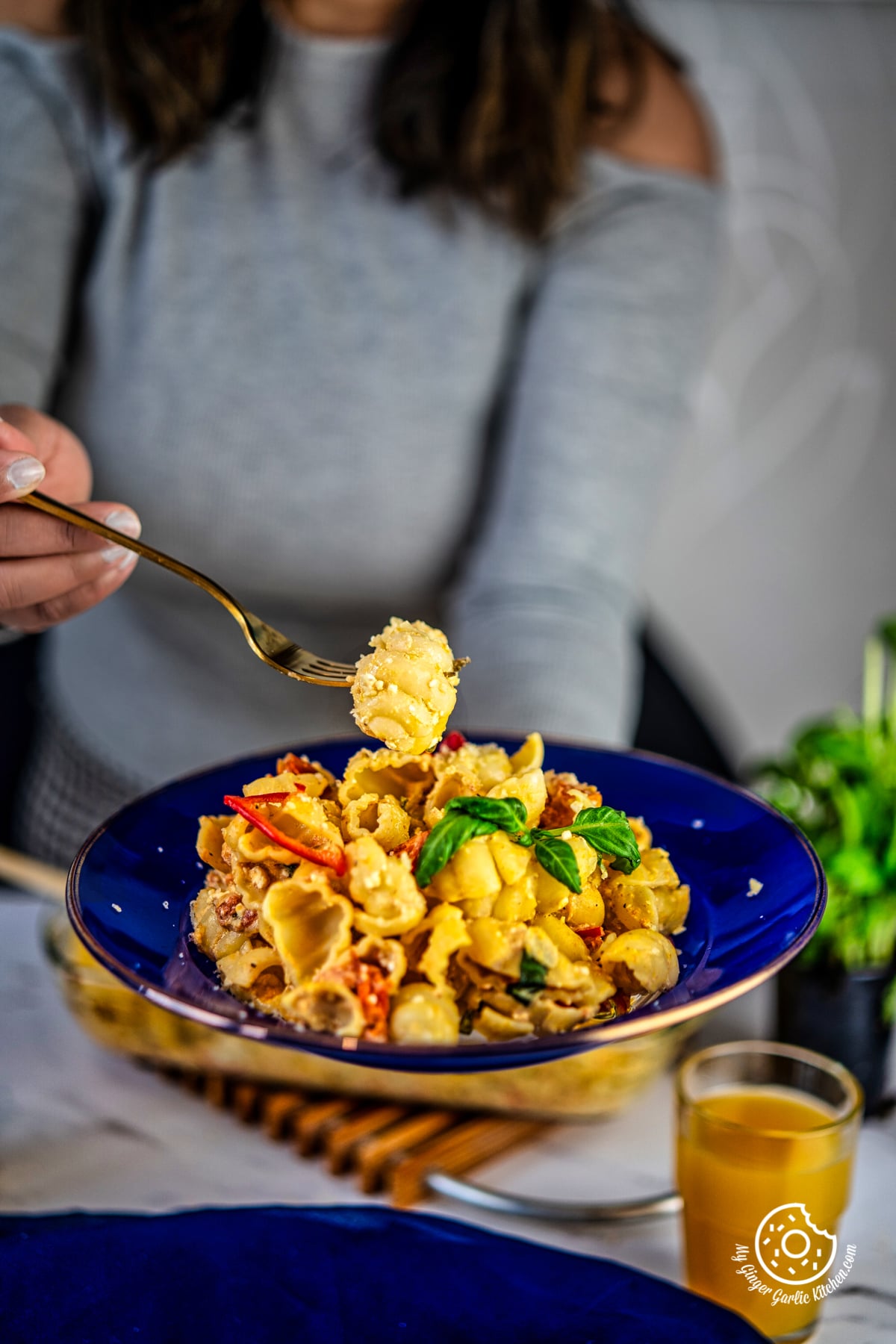 ---
Prep Time = 05 minutes
Cook Time = 30 minutes
Total Time = 35 minutes
Category = Main
Cuisine = European
Serves = 4
Nutrition Info = 289 calories
Serving Size = 1
---
RECIPE INGREDIENTS
» For Baked Feta Pasta:
350 grams of pasta (I used gnocchi, you can use any pasta of your choice)
1 block (200 grams or 7 oz) Feta cheese (I used Greek feta cheese)
6 tablespoon olive oil (I used Extra virgin olive oil)
1 red chili, chopped
1 1/2 teaspoons dried oregano (optional)
500 grams cherry tomatoes
6-7 garlic cloves, chopped
Freshly ground black pepper to taste
Salt to taste
A handful of fresh basil leaves, sliced
» For Serving:
Freshly grated parmesan (optional)
Basil leaves and sliced red chili pepper (optional)
---
RECIPE INSTRUCTIONS
» How to make Baked Feta Pasta:
Preheat oven 200°C/400°C.
Chop garlic cloves, red chili pepper, and basil leaves. Set them aside.
Place cherry tomatoes in a baking dish. Drizzle with 4 tablespoons of olive oil.
Also add chopped red chilies, chopped garlic, salt, pepper, and oregano.
Toss everything well.
Now make some space in the center and place a block of feta cheese in the baking dish.
Drizzle with 2 tablespoons of olive oil, and season with black pepper and dried oregano.
Bake in the oven for 25 minutes, or until cheese is melty and tomatoes have burst and are nice and juicy. Then turn the heat to 225°C/435°F and broil for 5 minutes.
Meanwhile, when the tomatoes and feta are baking, add water and salt to a pan and stir well.
Now add pasta and cook according to package instructions or until al dente.
Once pasta is cooked, drain off excess liquid and rinse with cold water.
After baking, remove the baking dish from the oven and smash the feta cheese and tomatoes using a fork until it turns into a creamy sauce.
Now add cooked pasta to the same dish.
Top with chopped basil leaves, and toss well until the pasta is evenly coated and everything is well combined. At this point, you can check for seasoning and add more salt and pepper, if needed.
Transfer pasta to a serving dish.
Top with some freshly grated parmesan, basil leaves, and red chili pepper. Enjoy warm or hot!
---
RECIPE NOTES
This pasta is made with basic tomato cheese sauce, but you can make it into a veggie pasta by adding vegetables such as, bell peppers, broccoli, mushrooms, or spinach.
I sprinkle pasta with some grated parmesan cheese, but that step is completely optional. It adds a nice tang.
If you want a meaty version of this dish, then feel free to use your favorite meat or seafood for this pasta.
You can also add some beans like cooked chickpeas or cooked kidney beans.
---