Avocado Paratha + Avocado Roti
Avocado Paratha and Avocado Roti are super delicious Indian Whole Wheat flatbread prepared with whole wheat flour and avocados.
---
« Go back
Print this recipe »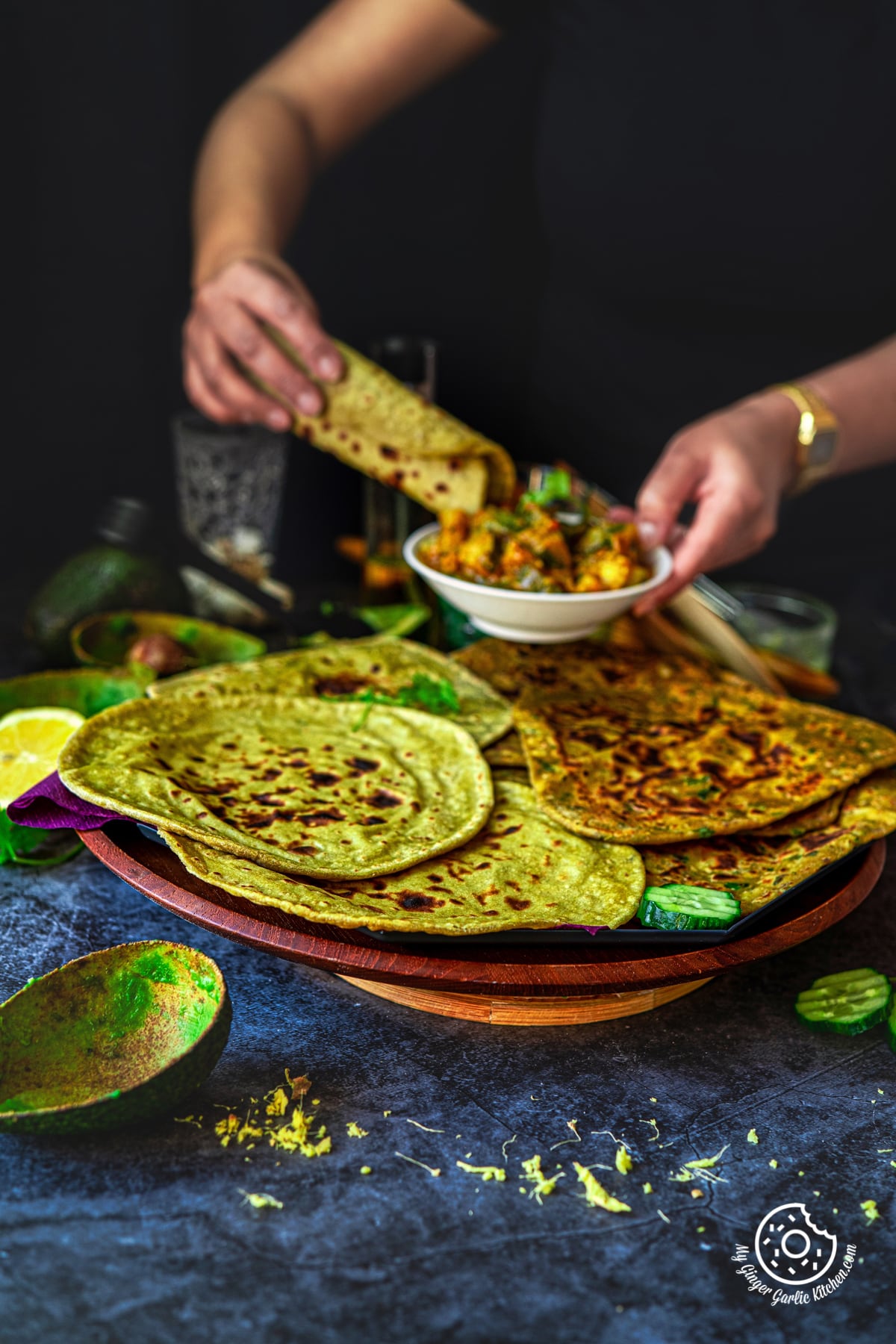 ---
Prep Time = 10 minutes
Cook Time = 20 minutes
Total Time = 30 minutes
Category = Side
Cuisine = Indian
Serves = 8
Nutrition Info = 125 calories
Serving Size = 1
---
RECIPE INGREDIENTS
» For Avocado Avocado Roti
1 1/2 big-sized ripe avocado [or 1 ½ cup mashed]
Salt, to taste
1 teaspoon lemon/lime juice
1 3/4 cup + 1 tbsp whole wheat flour
» Additional Ingredients For Making Avocado Paratha
1 teaspoon cumin seeds (jeera)
1 teaspoon carom seeds (ajwain)
1 teaspoon grated ginger
2 garlic cloves, minced or grated
1 small-sized green chili, chopped
1/2 teaspoon red chili powder
1-2 tablespoons chopped coriander (cilantro)
» For Cooking:
4-5 tablespoon ghee/oil for cooking roti and paratha
---
RECIPE INSTRUCTIONS
» Making Avocado Roti Dough:
Slice the avocados in half, remove the pit. Peel off the skin and scoop 3 avocado halves into a mixing bowl. Mash them well using a fork or a potato masher. Make sure that the avocado is ripe. You can also use 1 1/2 cup mashed avocados or pulp.
Add 1/2 cup of wheat flour, salt, and lemon juice to the bowl and mix well using a fork until all the ingredients are combined. Adding lemon juice prevents the Avocados from oxidizing and turning black, so adding lemon or lime juice is essential in this recipe.
Now add 1/2 cup of whole wheat flour (atta)and mix again. Now start kneading it and also keep adding dry flour gradually until it forms a smooth but firm dough just like the chapati dough. Do not add any water to the dough. The amount of flour depends on the juiciness of avocados you've used. I have used 1 3/4 cup of wheat flour in total, you might need to adjust the amount.
Avocado roti dough is ready. I am making avocado parathas with the same dough, that's why I have divided the dough into two portions. Shape the dough into a ball, cover with a kitchen towel or plastic wrap. Set aside for 20 minutes.
» Making avocado paratha dough:
Take half of the avocado roti dough. Add cumin seeds, carom seeds, grated ginger, chopped green chili, minced garlic, red chili powder, and chopped coriander (cilantro) to the dough.
Mix well until everything comes together. Add 1-2 tablespoons of dry flour if the dough seems sticky. Cover avocado paratha dough with a kitchen towel or plastic wrap. Set aside for 20 minutes.
» Making Avocado Roti:
Uncover the avocado roti dough and divide it into 4 equal portions. Roll each portion into a smooth ball and then flatten them with the palm of your hands. Set them aside.
After that, dust the work surface with dry wheat flour. Using a rolling pin, roll the flattened ball with light hands into a thin flat circle of about 6-7 inches diameter. Roll all the rotis the same way. Keep them covered. Sprinkle some dry flour on the roti, if it is sticking to the rolling pin or board.
Heat the flat pan/skillet over medium heat. Once the pan is hot, place the rolled roti over the skillet. When you see bubbles forming up, flip it, and cook on the other side for a few seconds or until you see brown spots.
Put a roti/papad stand directly on the induction/electric stove (using a roti stand is a must if you have an induction or electric stove). Hold roti with a tong and place it directly on the heat/flame. At this point, your avocado roti would begin to puff. Once the roti is cooked and puffed like a balloon, flip it and let it cook from the other side too. Repeat until all the avocado rotis are cooked.
Brush the cooked avocado rotis with ghee and serve hot with any dal or curry. Keep the rotis covered with a kitchen towel or muslin cloth.
» Making Avocado Paratha:
Uncover the Avocado Paratha Dough and divide it into 4 equal portions. Roll each portion into a smooth ball and then flatten them with the palm of your hands. Set them aside.
Now, take one dough ball and dust or coat it with dry wheat flour. Roll the paratha dough to make a 4-inch circle. Drizzle or brush ghee or oil generously on the rolled circle and sprinkle with some dry flour.
Fold the sides to make a semi-circle. Now, brush with ghee or oil again and sprinkle with dry flour. Then again fold to make a triangle. Brushing with oil or ghee separates the layers.
Dust and roll to make about 4-5 inch triangle and approx ? th of an inch thickness. Parathas are generally rolled slightly thicker than the rotis.
Heat a pan/griddle over medium heat. Transfer the rolled avocado paratha to the hot pan. When you see the color change and the paratha will puff in different places. Flip and brush the paratha with ghee or oil.
Cook until brown spots appear on the bottom side. Flip again and brush it with oil or ghee and cook until the paratha is golden brown from both sides.
Keep pressing the parathas with a spatula for even cooking. Cook all the parathas the same way.
Serve avocado paratha hot with curry, raita, chutney, or pickle.
---
RECIPE NOTES
Adding garlic and ginger enhances the flavor of avocado paratha, but adding them both is completely optional.
I have used cumin seeds and carom seeds to make the paratha dough. You can also add crushed coriander seeds, fennel seeds, or sesame seeds.
I have only used cilantro in this recipe, but you can also add mint leaves, dill leaves, spinach leaves, or fenugreek leaves to the dough.
I have only added some red chili powder to the avocado paratha dough. Other spices that go well in this dough are black pepper powder, garam masala powder, cumin powder, asafoetida, or dry mint powder.
---