Apple Hand Pies
These apple hand pies are pretty easy and simple to make. They are buttery, flaky, crisp on the outside and luscious and sweet inside.
---
« Go back
Print this recipe »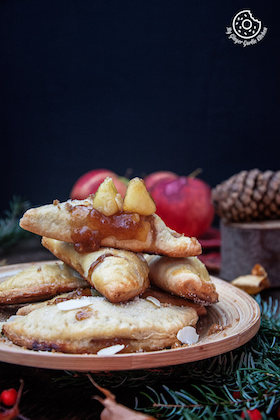 ---
Prep Time = 7 minutes
Cook Time = 35 minutes
Total Time = 42 minutes
Category = Dessert
Cuisine = World
Serves = 8-10 pies
Nutrition Info = 182 calories
Serving Size = 1 serving
---
RECIPE INGREDIENTS
» For Apple Pie Filling //
Apples, apples, peeled and diced - 3
Lemon juice - 1-1/4 tsp
Water - 1-1/2 cup
Powdered sugar - ½ cup
Brown sugar - ¼ cup
Cornstarch - 2 tbsp
Ground cinnamon - ½ tsp
Salt - ? teaspoon
» For Hand pies //
Apple pie filling
Frozen puff pastry thawed and lightly kneaded - 4 sheets
» For serving //
Sliced almonds
Apple pie filling or vanilla ice-cream(Optional)
---
RECIPE INSTRUCTIONS
» Making Apple pie filling //
In a large bowl, toss apples with lemon juice and set aside.
Combine sugars, cornstarch, cinnamon and salt in a bowl.
Boil water in a pan.
Add apples to the boiling water and boil for a minute.
After 1 minute, add cornstarch mixture to the pan.
Stir well, and boil for 2 minutes, whisk constantly.
Reduce heat to low, cover and cook until apples are tender, it would take about 6-8 minutes. Once done, remove from heat and let it cool for 30 minutes.
» Assembling //
Preheat oven to 180°C/355°F. Roll the dough until it is about ?-inch thick on a floured work surface.
Use a 5 inch round cookie cutter to cut the dough into circles.
Add one heaping tbsp of apple pie filling (without liquid) to the center of each dough circle.
Fold the dough in half and use a fork to seal the edges.
Use the tip of a sharp knife to cut few diagonal slits into the tops of each pie.
Use a pastry brush to lightly brush the tops of the hand pies with the melted butter.
Place hand pies on lined baking tray.
Bake the pastry pies for 25-30 minutes, or until the tops are lightly golden brown.
Once baked, remove from the oven. Brush apple hand pies with more butter.
Sprinkle with sugar and almonds.
Enjoy with some milk or hot coffee.
---
RECIPE NOTES
No notes for this recipe.
---