Aloo Bhujia - Aloo Sev (Crispy Potato Snack)
Aloo Bhujia is a very popular, crunchy, crispy, and deep-fried snack made with spicy potato and besan mix. This snack is best for munching at any time.
---
« Go back
Print this recipe »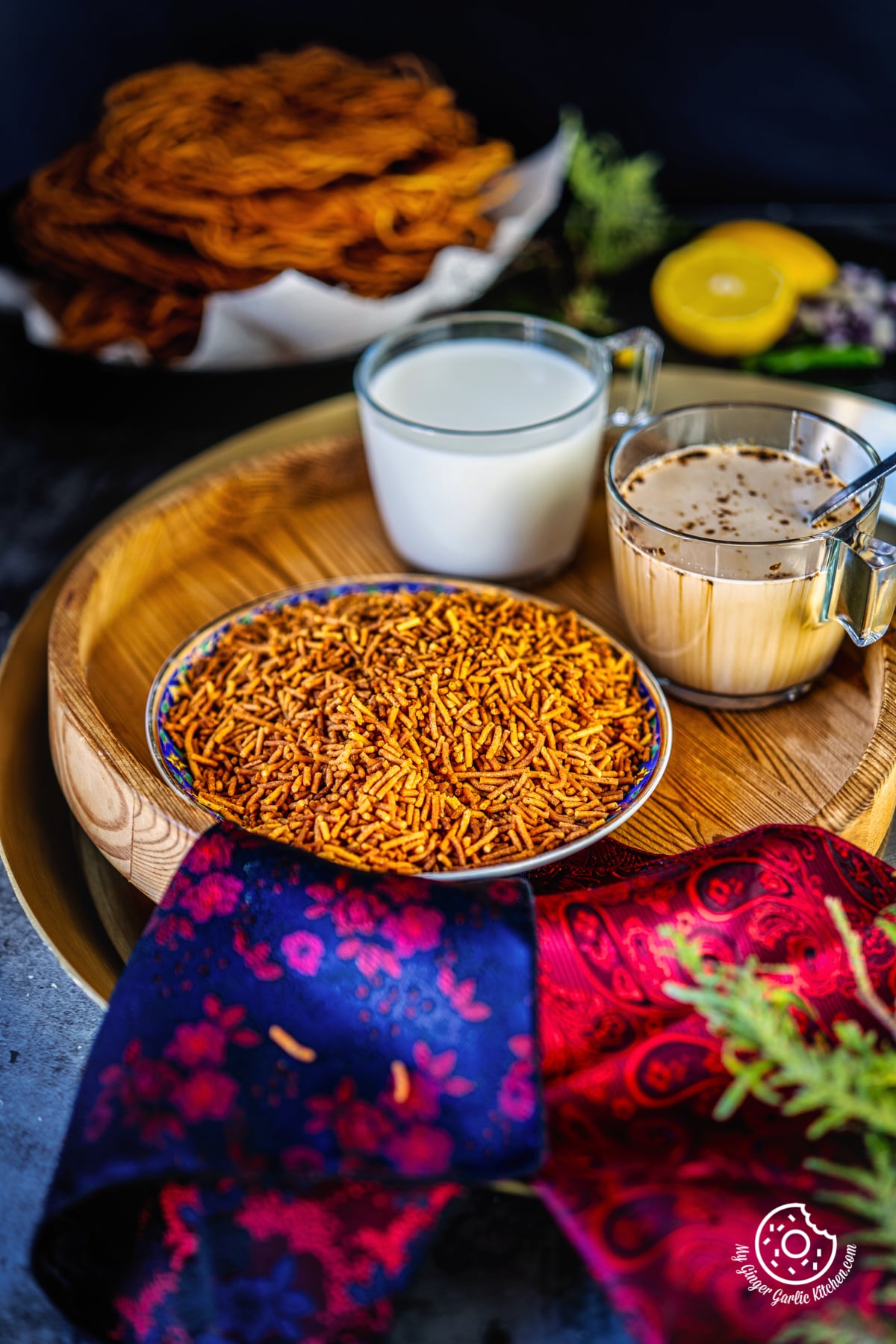 ---
Prep Time = 10 minutes
Cook Time = 35 minutes
Total Time = 45 minutes
Category = Snack
Cuisine = Indian
Serves = 10
Nutrition Info = 689 calories
Serving Size = 1
---
RECIPE INGREDIENTS
» For Aloo Bhujia:
475g or 4 medium-sized potatoes, boiled and peeled
2 cups or 264g gram flour (besan)
3/4 teaspoon black pepper powder
1/2 teaspoon turmeric powder
1 teaspoon Kashmiri red chili powder
3/4 teaspoon garam masala powder
1 teaspoon chaat masala powder
1/2 teaspoon black salt
1 teaspoon mint powder
Pinch of asafoetida (hing)
1 teaspoon salt, or to taste
1 tablespoon + 1 teaspoon oil
2-3 tablespoons water for kneading dough
Oil for deep frying
---
RECIPE INSTRUCTIONS
» How to make Aloo Bhujia:
Grate the boiled potatoes using a fine grater.
Add grated potatoes to a large mixing bowl.
Now add besan, and seasonings (black pepper powder, turmeric powder, red chili powder, garam masala powder, chaat masala, black salt, mint powder, asafoetida, and salt to the same bowl.
Mix everything together until combined.
Then add 1 tablespoon oil and mix again.
Now add a little water and knead into a soft and slightly sticky dough.
Add 1 teaspoon oil and lightly coat the dough with the oil.
Cover the dough with a damp paper or kitchen towel and set aside for 20 minutes.
Divide the dough into 2 portions and shape them into thick logs.
Now, grease the plate/attachment with the finest holes and namkeen maker.
Fill one log in the namkeen maker or press fitted with the greased plate.
Cover with the lid.
Heat oil in a wide pan over medium heat. To check, drip a small piece of the dough in the hot oil, if it comes up that means you are ready to fry the bhujia.
Once hot, move the handle in a circular motion or press down the namkeen maker over the hot oil to release the bhujia.
Fry bhujia on medium heat.
Once cooked from the bottom, flip the bhujia and fry until lightly golden and crisp.
Remove fried aloo bhujia using a slotted spoon and transfer it onto a tissue paper-lined plate to absorb excess oil. Fry all the bhujia similar way and let them cool completely.
Once cooled, break aloo bhujia.
Transfer them to a serving plate/bowl and sprinkle with some chaat masala powder. Toss and enjoy!
Store aloo bhujia in an airtight container for up to 1 month in an airtight container. Whenever you want to eat, take it in a bowl and enjoy.
---
RECIPE NOTES
Always fry aloo bhujia in medium oil to get the crispy bhujia.
I have used Kashmiri red chili powder, but you can also use regular red chili powder.
Don?t fry them in too hot oil, or else the bhujia would burn and get over fried very fast.
I didn?t add green chilies in the aloo bhujia dough. If you want super hot aloo bhujia, then you can also add 1 teaspoon green chili paste to the dough.
Don?t knead a firm dough. The dough should be soft and slightly sticky.
Make sure to add 1-2 teaspoons of oil if you want soft yet crunchy namkeen.
Adding oil to the dough would also help in handling the sticky dough.
If you don?t want to grate potatoes, then you can mash them using a potato masher.
---