3 Ingredient Almond Flour Cookies
These 3-ingredient almond flour cookies are healthy and delicious cookies that are gluten-free, grain-free, and refined sugar-free. Vegan and keto options too.
---
« Go back
Print this recipe »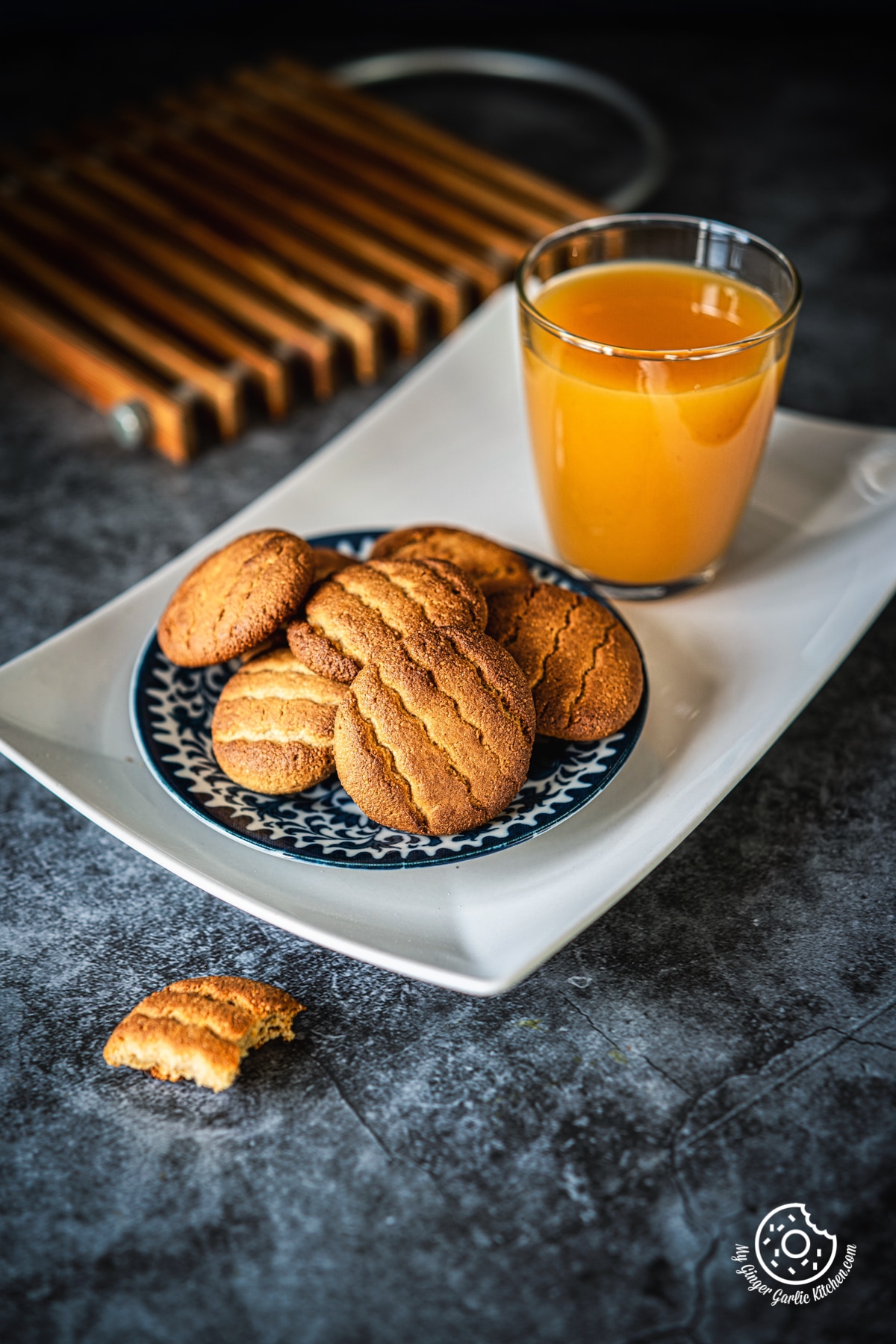 ---
Prep Time = 05 minutes
Cook Time = 10 minutes
Total Time = 15 minutes
Category = Dessert
Cuisine = American
Serves = 9 large cookies
Nutrition Info = 23 calories
Serving Size = 1
---
RECIPE INGREDIENTS
» For 3 Ingredient Almond Flour Cookies
1 cup almond flour
3 tablespoons honey or 2.5 tablespoons maple syrup (Keto option in notes)
1/4 teaspoon baking powder, optional
1 tablespoon of water or milk, or as needed
---
RECIPE INSTRUCTIONS
» How to make 3 Ingredient Almond Flour Cookies
In a medium-size mixing bowl, add almond flour, baking powder, and honey.
Combine all the ingredients with a spatula first, and mix well using your hand until everything is combined.
Now add about 1 tablespoon of water/milk and then squeeze dough with your hands. Mix well to knead until they form a smooth and slightly sticky cookie dough. Keep it aside for 5-7 minutes.
Preheat the oven to 350°F/175°C. Line a baking sheet with parchment paper.
Grease your palms, and scoop the dough with a measuring tablespoon, and shape about 9 large or 12 medium-sized balls.
Place them 2 inches apart on the prepared baking tray.
Now, flatten each ball with the flat bottom of a measuring cup or fingertips.
Use your fries knifeto create a design for cookies. To make a design, simply press the knife into the rolled balls. You can also use a fork for making designs.
Bake in a preheated 350°F/175°C oven for 10 to 12 minutes until the edges are slightly golden and slightly hard on top, and the centers no longer look wet.
Once baked, remove the cookies from the oven and let them cool on the baking tray for 5 minutes. At this point, cookies would appear a bit soft, they will harden once they are cooled. Now transfer them to a cooling rack, and let them cool down completely. Enjoy them with a glass of orange smoothie, milk, tea, or coffee.
---
RECIPE NOTES
I have used honey, but you can also use 2.5 tablespoon maple syrup. If you want to use sugar then replace honey with the same amount of sugar (brown sugar, coconut, or even white). When using sugar, then you will need some more liquid to shape the dough. So you can either use about 1.5 tablespoons of more water to the cookie dough.
If you want light colored cookies then bake these cookies only for 9 minutes.
Instead of plain water you can also use milk, ghee, butter, or coconut oil for forming dough.
Make sure to use white fine almond flour for this recipe.
Weighing the almond flour gives the best result, so make sure to measure the almond flour by spooning it lightly in a measuring cup.
I have honey in this cookie recipe, so if you want to make these cookies Keto-friendly then simply swap honey with low-carbs and Keto-friendly sugar.
---