Aamras Recipe - Sweet Mango Puree
Aamras is a traditional sweet made by pureeing mangoes with sugar, and a little milk/water. This sweet is served with hot puri (deep-fried Indian flatbread).
---
« Go back
Print this recipe »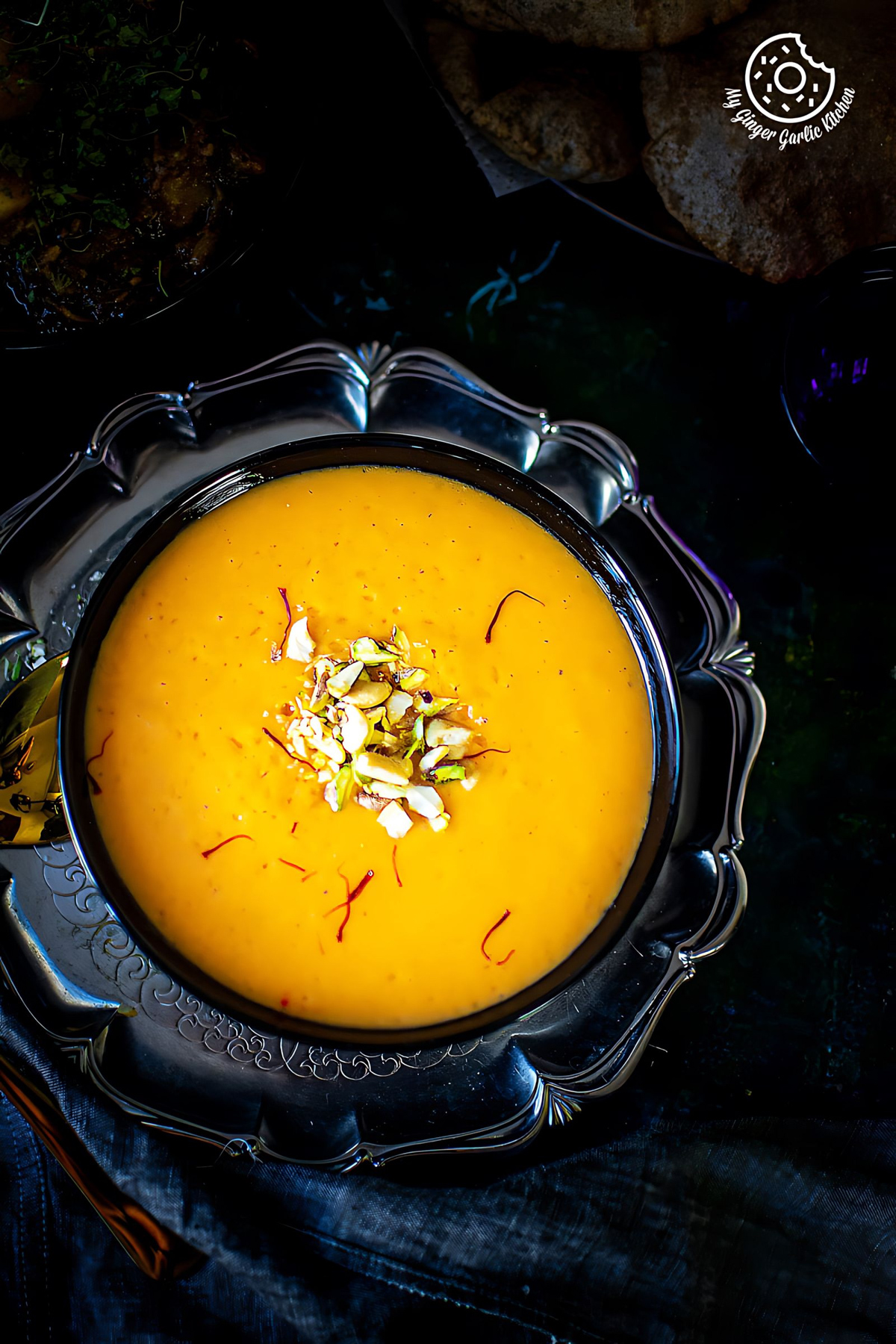 ---
Prep Time = 10 minutes
Cook Time = 3 minutes
Total Time = 13 minutes
Category = Dessert
Cuisine = Indian
Serves = 4
Nutrition Info = 59 calories
Serving Size = 1 serving
---
RECIPE INGREDIENTS
» For Aamras //
2 large ripe mango (kesar, alphonso or any other mangoes you like)
3 tablespoons sugar or to taste
250 ml chilled milk or water, (optional)
1/4 tsp cardamom powder (you can also replace it with ginger powder or saffron strands)
» For Serving //
Pistachios, chopped (optional)
Saffron strands (kesar ki pattiyan)
Puri
---
RECIPE INSTRUCTIONS
» Instructions //
Rinse and pat dry the mangoes. Peel them and cut away the mango's flesh into small pieces. Discard the seeds. Then transfer chopped mangoes to a mixer grinder or the blender jar of a blender.
Also, add sugar to the same jar.
Now, blend to make a smooth puree.
Once blended, add chilled milk/water, and cardamom powder.
Blend again for 1-2 minutes.
Transfer aamras to a serving bowl. Chill in the refrigerator for 2-3 hours.
Garnish with chopped pistachios and saffron strands.
Serve it chilled with potato bhaji and poori or simply with ghee smeared chapati.
---
RECIPE NOTES
If you are looking for a variation, then you can add a few saffron strands along with cardamom powder to add a bit more zing to Aam Ras. It tastes great. 
2. I like the rich taste of ?Aamras? when milk is added to it. Thus, I have added chilled milk to this recipe, but if you want your ?Aamras? thicker then you can skip the milk part.  
---