Aam Panna Recipe
Aam Panna is a refreshing and delicious Indian summer drink made of unripe green mango pulp, a few aromatic spices, and a sweetener. Perfect summer cooler.
---
« Go back
Print this recipe »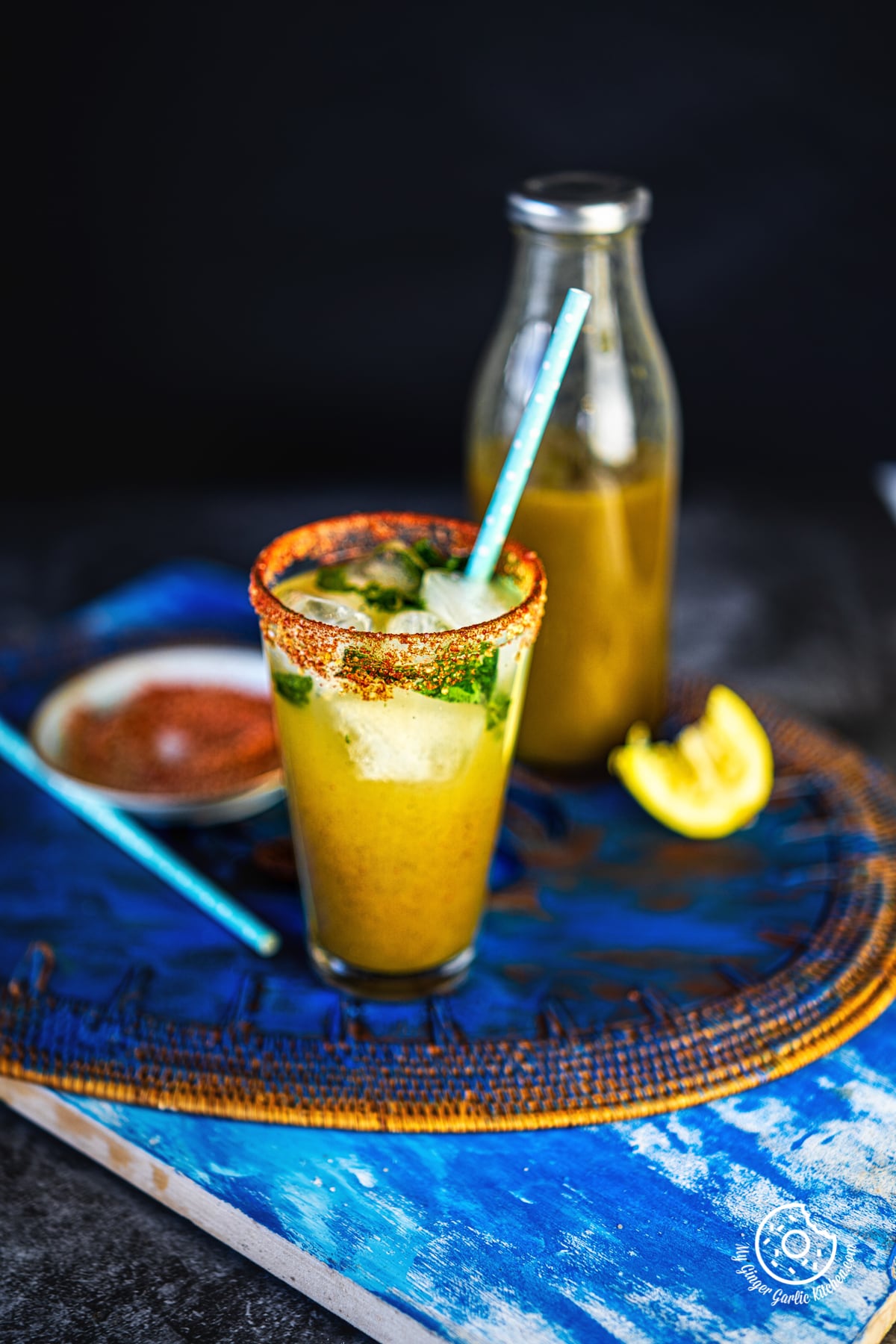 ---
Prep Time = 10 minutes
Cook Time = 30 minutes
Total Time = 40 minutes
Category = Drinks
Cuisine = Indian
Serves = 16
Nutrition Info = 120 calories
Serving Size = 1
---
RECIPE INGREDIENTS
» For Aam Panna
300 grams raw mangoes
1/2 cup sugar, or to taste
3 1/2 cups or 825 ml water
1/2 tablespoon roasted cumin powder
1/2 teaspoon black salt
1 teaspoon dried mint powder
1/2 teaspoon black pepper powder
Salt to taste
» For Serving
A handful of mint leaves
Ice cubes
Sugar, salt, and red chili mixture (optional)
Chilled water
---
RECIPE INSTRUCTIONS
» Make Aam Panna:
Peel the raw mangoes and cut them into halves. Discard to stone and slice them roughly.
Add sliced raw mangoes to a saucepan along with 1 1/4 cups of water and salt to taste.
Heat the saucepan over medium and stir the mixture. Let it come to a boil. Once the mixture starts to boil, turn the heat to medium-low. Cover the saucepan and cook until mangoes are tender and soft.
Uncover the pan, and check the doneness of mangoes by mashing them with the back of a fork or spoon. Mangoes will smash easily if they are cooked. At this point the turn off the heat and let the cooked raw mangoes cool down completely to room temperature.
Once cooled, transfer the cooked raw green mangoes (along with the water in which it was cooked) to a blender. Also add 2 1/4 cups of water, black salt, sugar, roasted cumin powder, black pepper, and mint powder.
Blend everything well to make a smooth paste. At this point, you can serve the aam panna by adding some water and ice. But we are making concentrate here, so we will cook the mixture.
» Make Aam Panna Concentrate:
Strain the mango mixture using a strainer in a saucepan pan.
Now heat the mixture for 6-7 minutes on medium-low heat or until the raw taste is gone. Let the mixture cool down completely.
Your aam panna concentrate is ready. To store, transfer aam panna concentrate to a sterilized glass bottle and keep it refrigerated for up to 2 months.
» Serving Aam Panna:
For serving, rub a lemon slice through the rim of your glass, or dip the rim into lemon juice. Then carefully dip the moistened glass into the brown sugar, salt, and chili powder mix.
Fill the glass 1/4th to 1/3rd of the glass with aam panna concentrate, then add some ice cubes.
Add some crushed mint leaves to the glass and after that fill the remaining with chilled water.
Stir and enjoy aam panna chilled with some Masala French Toast.
---
RECIPE NOTES
Feel free to adjust the sweetness and spiciness by adding more or less.
If you don?t have black salt, then you can use any other rock salt of your choice.
Aam panna concentrate can be stored for about 2 months in the refrigerator.Make sure to use unripe raw mangoes that are sour, because they make them best aam panna.
If the raw green mangoes you are using are not tangy enough, then the aam panna won't be tangy enough. So in that case, feel free to add some fresh lemon or lime juice to aam panna.
---