Smoked food has a matchless aroma that makes any food taste irresistable. This post shows how these 8 Vegan Foods can be smoked in a Charcoal Smoker.
Smoke acts as a seasoning to enhance the taste. And a charcoal smoker makes sure to preserve every bit of this flavor.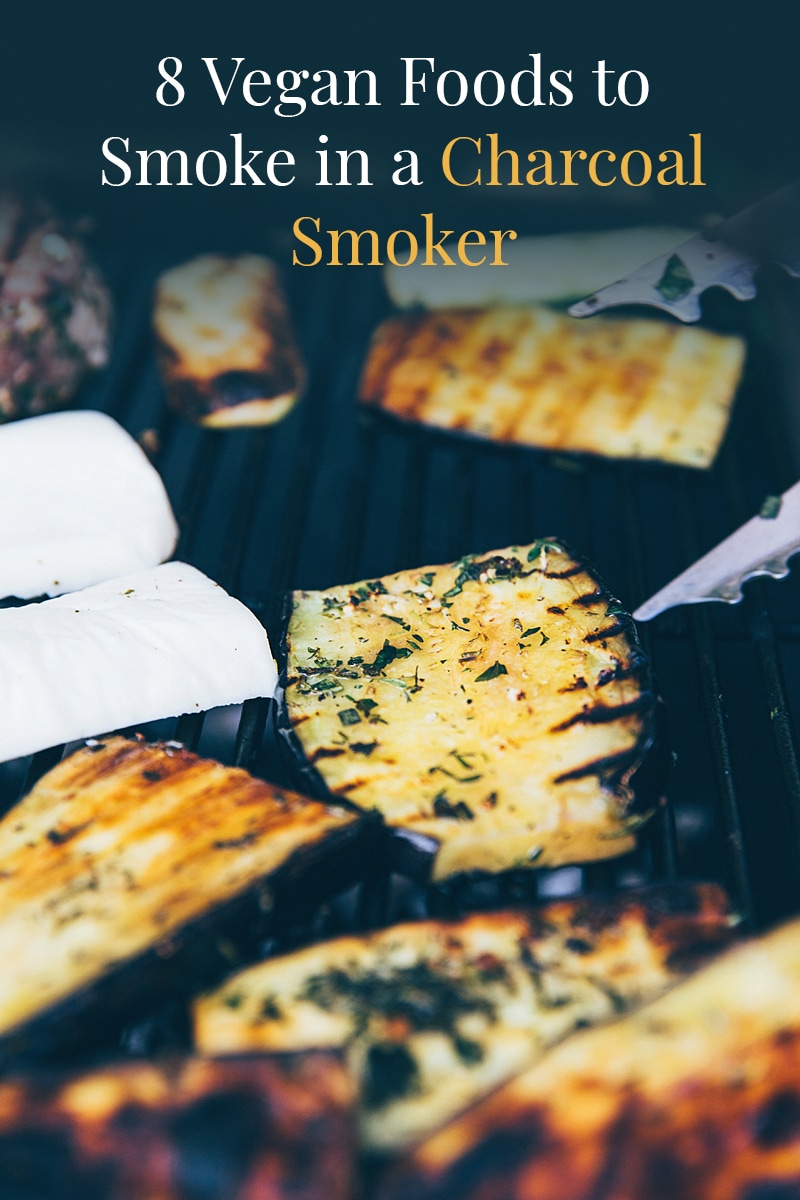 If you are vegan and love that smokey touch, read this post until the end to know 8 vegan foods that are ready to go into your charcoal smoker.
1. Tomatoes
Ripe tomatoes are rich in amino acids that leave an umami-rich aftertaste in your mouth when being served smokey. 
To make them smokey, cut tomatoes into halves and brush them with some good quality olive oil. Arrange them with the cut side down on the tray. Next, season them liberally with salt and pepper. Smoke them for about an hour or until they are juicy and soft. 
You can relish the smoked tomatoes as they are. Or you can use them in a sauce, they make a twisty ingredient for sauces too.
2. Potatoes
Potatoes are rich in antioxidants and low in calories, and they are a darling to many.
Potatoes can be best described as a handy vegetable due to the countless number of recipes you can create using them. So why leave out the smoked version of this godsent veggie?
Though all potatoes are good for the smoked version, fingerling potatoes are simply the best.
First, toss fingerling potatoes with olive oil and arrange them on a tray in a single layer. Sprinkle with some kosher salt and pepper. Place them on the smoker for an hour or until they turn tender.
Let them cool for a few minutes before serving warm.
Alternatively, you can also slice them into halves and scoop out the flesh into a bowl. After that add some margarine and tofu. Scoop it back into the potato skin to serve as a side dish.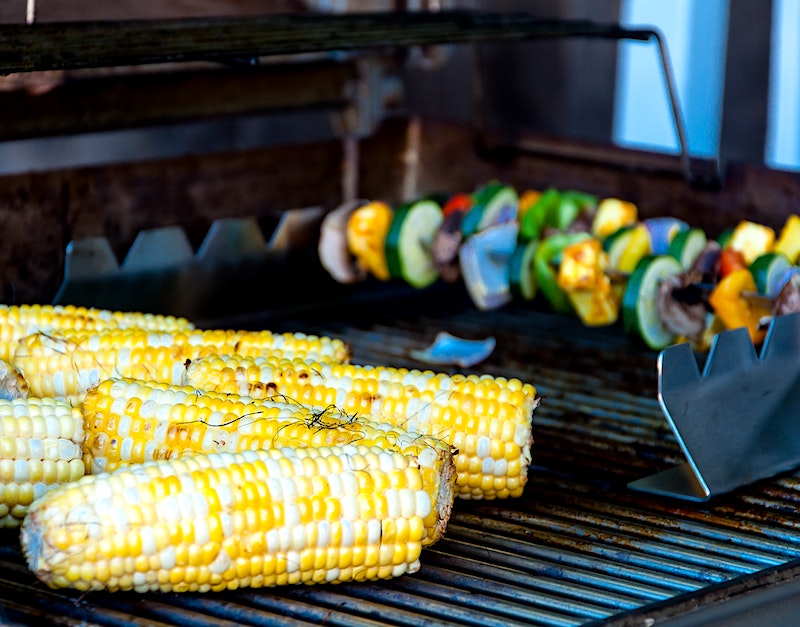 Image source: Unsplash.com
3. Corn
There are so many different ways to cook corn on the cob, and smoking ensures to give it an authentic touch.
As smoking is a slow cooking process, it takes a good amount of time compared to the other cooking methods, but it is definitely worth the wait.
Start by removing the husk. Then brush the corn with olive oil. Flavor it with your favorite seasoning and then smoke it for 1 hour. Remember to flip it in between so that you get evenly smoked texture.
Rub the corn with some unsalted vegan butter (and herbs, if you fancy) and serve sizzling hot. 
Related: Corn Cream Cheese Flatbread with Orange Vinaigrette
4. Cabbage
Many use cabbages only as a base for other salads. But you shouldn't miss out on the fact that it is both vegan and keto-friendly.
Remove the outer leaf and dice the cabbage into wedges. Dab them with olive oil and season well.
Smoke each side for 20 minutes and serve.
Alternatively, you can dig a pit at the stem and stuff the cabbage with your choice of spices. Wrap it in aluminum foil and smoke it for an hour.
Remember to choose a firm cabbage so that it doesn't leave any mess in your charcoal smoker.
5. Capers
Capers have a sour and tangy taste that makes them suitable to be smoked.
Let the capers completely dry and place them on a tray. Brush them with olive oil, followed by a sprinkle of salt and black pepper.
Smoke them for 40 minutes and serve when they cool down.
6. Peaches
Smoked ripe peaches make for a classic dessert.
Divide peaches into halves and discard the pit. Place the peaches with the cut side on the try. Smoke them for 10 minutes at low temperature. Serve warm or cold with a scoop of vegan vanilla ice cream or sour cream.
Simple, smokey, and delightful! That's what this peach dessert is all about.
Related: Peach Bruschetta with Whipped Ricotta and Zucchini
7. Olives
Put olives on a paper towel and let them dry thoroughly. It might take about an hour.
Put the olives on a foiled tray and coat them with olive oil. Sprinkle seasoning of your choice. Smoke them for 20-25 minutes.
Serve instantly or let them sit for an hour to soak up more flavors.
You can smoke green and black olives together if you desire.
8. Nuts
Smoked nuts are perfect for your next family party. You can make them in a few hours at home rather than buying from the store.
Smoke different types of nuts separately or make a bowl of mixed nuts. 
Soak raw nuts in water (or even vinegar) for 10 minutes before you place them on a foil tray. If you're making savory nuts, season them with salt and ground black pepper. For a sweeter version, you can white granulated sugar or raw coconut sugar.
Smoke them for 40-45 minutes and then serve. You can also use them as a topping to sides and desserts.