Glass cabinets add a touch of class to any kitchen design starting from the old traditional kitchen style to ultra-modern kitchen style that makes the display appealing.
Depending on the specs of the glass cabinet, the glass varies in thickness, weight, texture, and appearance.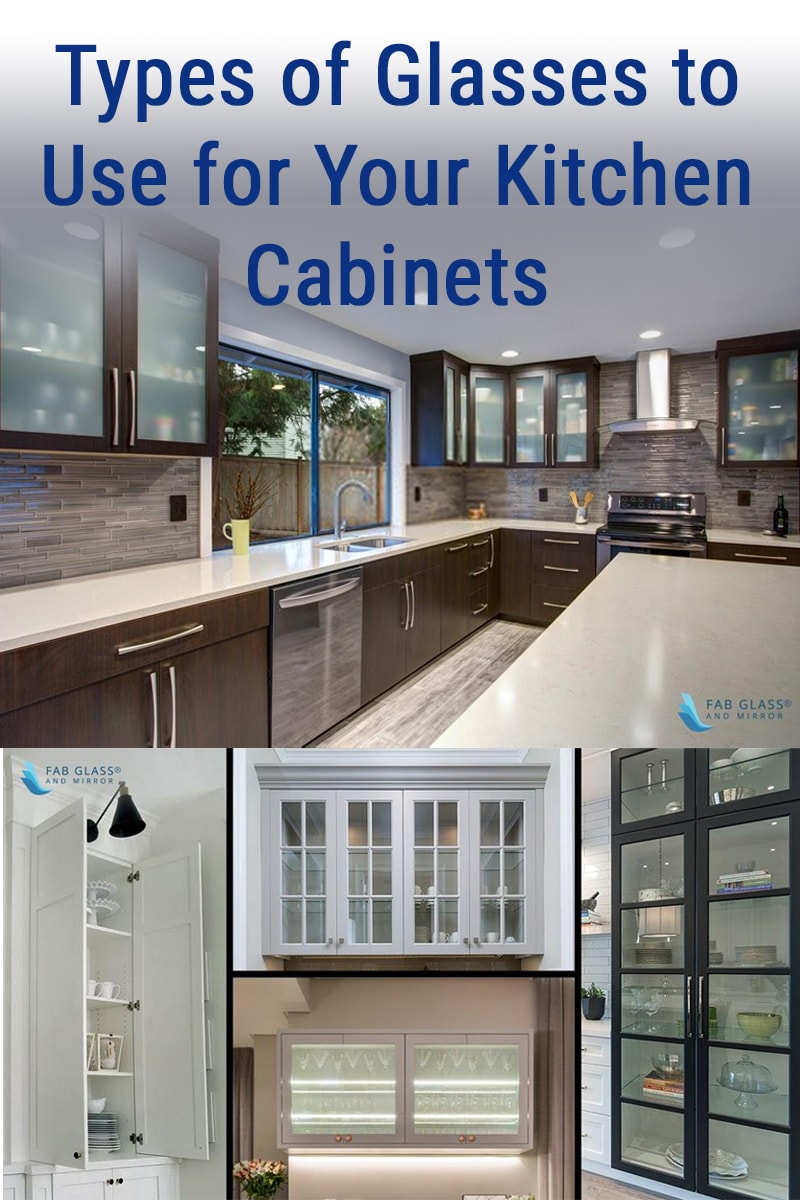 The type of glass cabinet displayed at the front of your kitchen cabinet has a significant impact on the entire display of your kitchen. Below are the various types of glass cabinets that you can choose from including:
1. Transparent Glass a sturdy and strong choice 
Transparent glass is widely used since it is affordable and comes with different variances. This type of glass is decorative and elegant and suits all types of kitchen styles since it focuses on the display of the content.
For you to choose a transparent glass, it should be simply appealing and single flat-paneled toughened glass to guard against easy smashing or decorative design to enhance your kitchen cabinet's look. Transparent kitchen glass cabinets are more prone to greasy, oil splashes and smears from hands, therefore you are required to wipe them often for it to be appealing.
2. Frosted Glass – great for distorted view
Frosted glass has a distorted view that allows you to see colors and shapes through. Frosted glass achieves its translucent quality from sandblasting or grit that gives it a cool and clean sleek design that elegantly matches with a sleek stainless steel finish of a modern kitchen cabinet.
You can use the frosted glass to partially secrete your content in your kitchen cabinet and mount puck light on your kitchen cabinets to make the content display more visible through the frosted glass. The advantage of purchasing a frosted glass is that it can assist in masking fingerprints and splashes.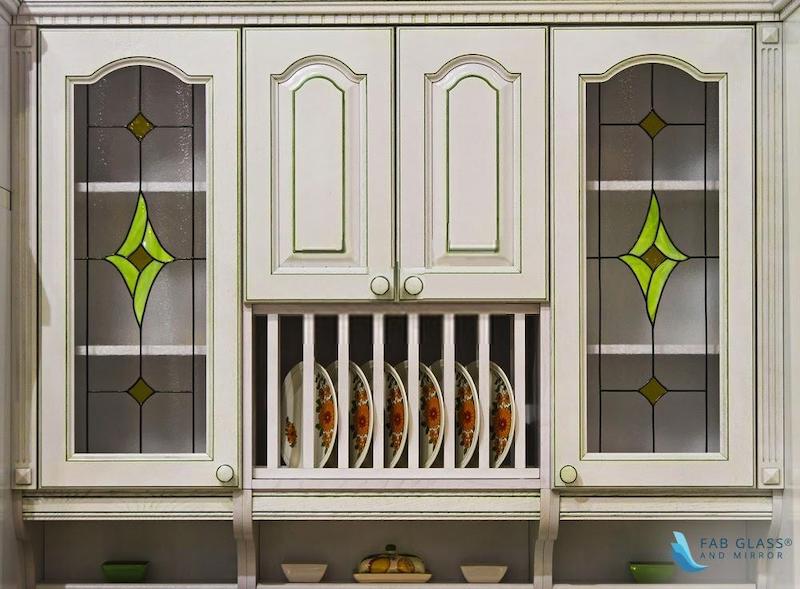 3. Textured Glass – for classy appearance
The textured glass comes with many different designs and patterns. It can be floral, wavy, pebbled, reeded, ribbed, fluted, aquatic, arctic, rain or yacare. Similar to frosted glass, textured glass is more translucent depending on the density of the glass you want.
Textured glass has an ancient aspect appearance for kitchen cabinets glass since it was commonly used in designing traditional kitchen cabinet glass. The glass patterns in the textured cabinet add an aesthetic appearance to your kitchen. Textured kitchen cabinet glass can be customized to any decorative design styles you desire. Unlike other types of glass, they enable a kitchen to appear more spacious and open.  
4. Seeded Glass – for perfect vintage expression
Seeded glass is similar to textured glass but with a vintage look, which has been there since ancient times. It has a touch of either tiny, average or big bubbles where it gains the term seeded.
It has a natural fit for a modern kitchen that also allows you to see the colors and shapes of the displayed content, depending on the density and bubble size of the seeded glass. You can also mount puck lights to make your kitchen cabinet more attractive and appealing in the entire interior kitchen.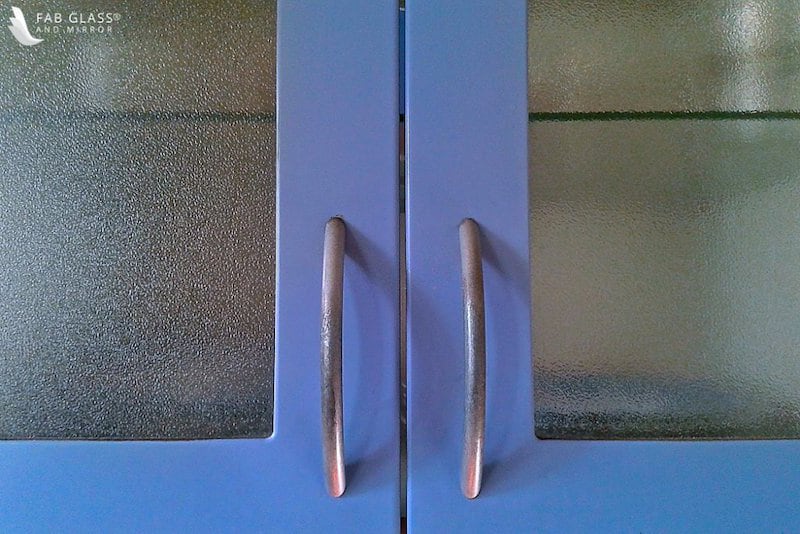 5. Leaded Glass – for seamless and arty look
Leaded glass offers a great look to modern kitchen design and it's commonly known as crystal glass made of multiple small pieces of joined glasses that give it the appealing look. The leaded glass has a unique look characterized by the heavy metal and the tint that gives the glass an enhanced art.
The greatest advantage of leaded glass is that you can design it to your own preference in terms of direct placement, color, and art glass. You can make your leaded glass more attractive by adding some backlight to enhance the look of your entire kitchen.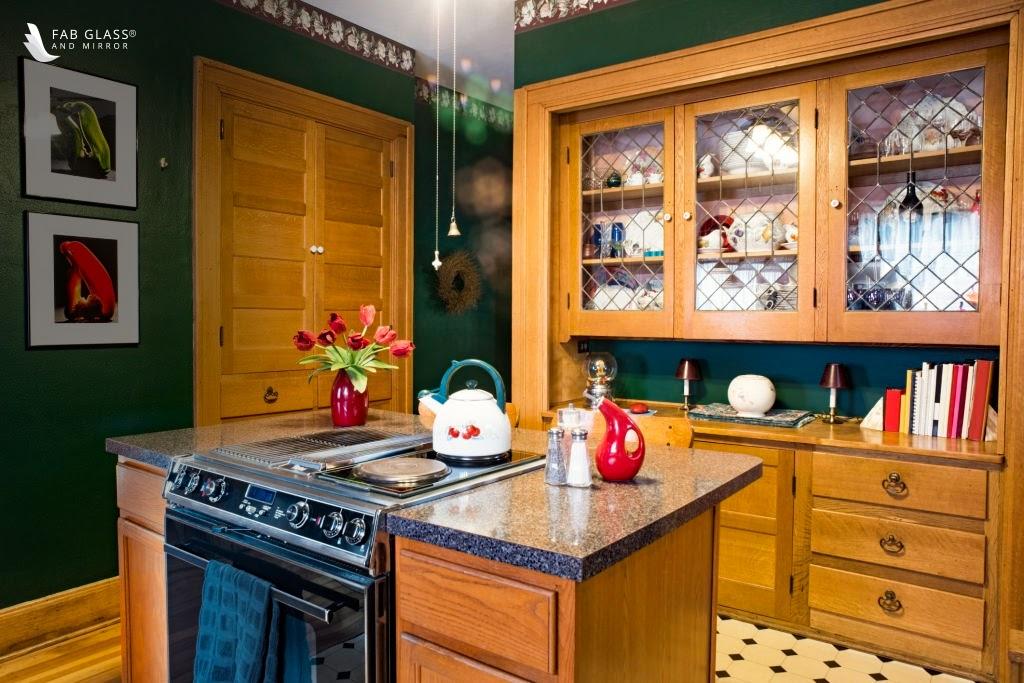 6. Sumiglass – for stylish interior look 
Sumiglass is made of different layers of compressed materials made of layers consisting of two or more panes thus its decorative look. Sumiglass is also a great choice for your kitchen cabinet because of its high-class glass equipment.
Sumiglass is made up of exclusive and advanced technology that ensures a permanent bond between each glass pane attached. Sumiglass has a variety of colors you can choose from and can be designed to your preference, which giving your kitchen cabinet a stylish interior décor.
Given the different types of kitchen cabinet glass, the best type of glass cabinet to choose from is the frosted kitchen cabinet glass.
Frosted glass has a clean sleek design that elegantly matches with a smooth stainless steel finish of a modern kitchen cabinet. It partially conceals your kitchen utensils making it ideal for those who are not comfortable with putting their kitchen utensils on display.
Where to Buy Your Desired Kitchen Cabinet Glass from?
There are various ways in which you can acquire a reliable glass vendor who will help you in attaining your desired . First of all, conduct thorough research on different glass vendors including those selling their kitchen cabinet glass on online platforms.
You can also contact the vendors to evaluate their opinions after which you should choose one that offers affordable charges and customization services. You can customize any design you wish with the frosted glass. However, it is advisable to get assistance from your vendor who will assist in scoring the glass to accurate dimensions of your kitchen cabinet.
The vendor will also help in V – grooving, which involves engraving the desired designs to create a more decorative imprint on your kitchen cabinet glass. cabinet can be engraved with interesting patterns that can mask fingerprints and hand splashes.