Father's Day is a great holiday when you can show your appreciation to your father or grandfather. In addition to the presents, cooking something on your own can be a great idea for a family gathering.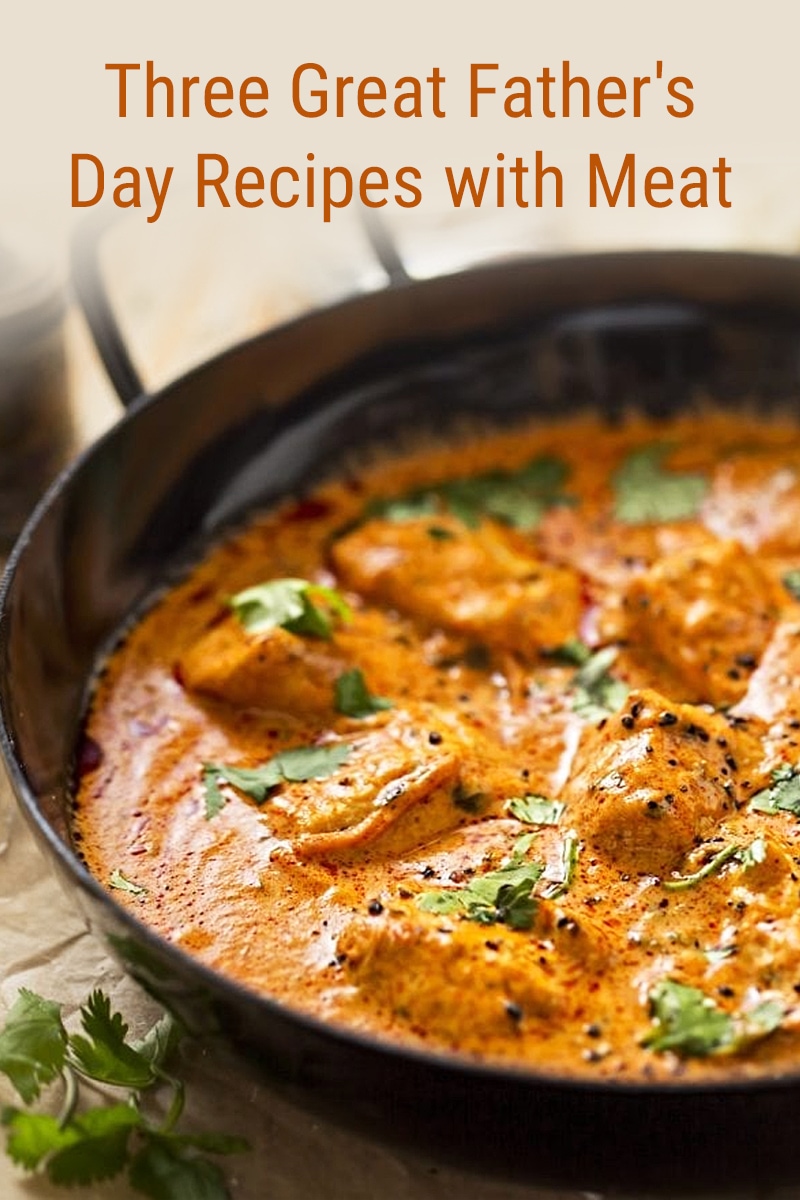 Everyone knows that men are very sensitive to delicious recipes with meat, especially those prepared with love by their daughters. Get inspired by how to surprise your dad and how to spend Father's Day with these three great recipes of international cuisines.
How to Select Meat
In order to buy high-quality meat for your Father's Day recipes, you need to choose it correctly. Buy meat in proven places in order to be sure of its quality. If you want to save on the groceries, you can view before going to the supermarket. If you prefer buying meat at the farmers' markets, you need to pay attention to its smell, color, and texture:
Smell: it should not be sour or rotten. Fresh meat should have a pleasant smell. If you decide to buy some frozen meat, it usually does not smell. To smell it, you need to defrost it, which of course cannot be done during the purchase.
Color: it should be the same color throughout the piece, without dark spots. Gray pieces are a sign of poor quality. Beef should be saturated red, pork should be from pale pink to saturated pink, lamb may be pink to red, depending on the age of the animal. The poultry should be whitish-yellow, without dark spots.
Texture: chilled meat should be firm and in no case flabby. There should be no bumps in the cut of meat. A wet or sticky cut is a sign that the meat has started to deteriorate.
As soon as you have bought meat to impress your father with delicious dishes, you can decide on the exact recipe. We have collected these 3 delicious recipes, which will be 100% appreciated by your family members.
1) Butter Chicken
This recipe of soft and juicy spicy chicken came from Indian cuisine. If you want to make something unusual from the poultry meat, this recipe is a perfect option. It could be served with rice, roasted potato, or fresh salad. Here are the ingredients:
500 g of chicken thighs
100-150 ml of chicken broth
125 g of natural yogurt
50 g of butter
3 tomatoes
1 red onion
some garlic
1 tsp of paprika
1 tbsp of tomato paste
1 tsp of sugar
a mix of garam-masala spices
salt
Pre-cook the chicken broth. If you do not have time, it can be replaced with water. Cut the chicken thigh meat. Put the chicken in a bowl and marinate in salt, paprika, and grated garlic for 15-20 minutes. 

To cook the sauce, cut the tomatoes and onion into large pieces. Put it into the pan and cook with tomato paste, chicken broth, and sugar. Then add the mix of garam-masala spices, butter, and yogurt to the sauce. 
2)  Porchetta
Porchetta is one of the Italian traditional dishes, which is prepared from baked pork. No holiday is complete in Italy without this delicacy. Porchetta is a rather high-calorie dish, so it tastes better with a green sauce based on parsley and lemon juice. 
The delicious crust and delicate taste of baked Porchetta will certainly please your father.
Ingredients:
2 kg of fatty pork
100 g of olives
100 g of walnuts
3-4 pickled green peppers
1 pack of dry oregano
6 cloves of garlic
4 tbsp of grainy mustard
1 onion
some vegetable oil
salt
Finely chop the olives and nuts and put them into a bowl. Spread the pork on the surface and rub it with salt and oregano. Spread the olive and nut filling evenly on a piece of pork, leaving some space around the edges. 

Cut three cloves of garlic and spread on the surface of the meat. Then, add the pickled peppers and 1 tbsp of mustard seeds. Make a roll of the meat and gently dress it with culinary thread on all sides, so that the roll does not lose its shape.

Put the roll in a baking dish, pre-greased with a small amount of olive oil. Add the remaining cloves of garlic and the onion. Bake the roll in the oven at 190 degrees for 1.5 hours. Cut the finished roll into portions and serve with two kinds of sauce.
3) Wellington Beef
One of the most common British dishes is Wellington Beef. This is a surprisingly tasty and easy-to-prepare dish, especially if you know a few secrets. The first one is quality meat – you need to take a soft tenderloin. All the other tricks are in the recipe.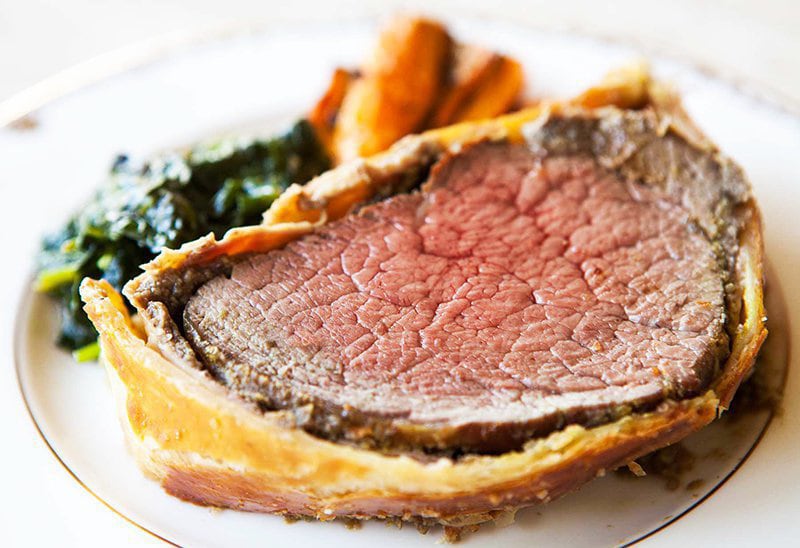 Ingredients:
600 g of beef (tenderloin)
300 g of champignons
500 g of puff pastry
100 g of bacon
2 cloves of garlic
2 sprigs of thyme
some olive oil
1 egg
salt and pepper
Finely chop the mushrooms and fry in a pan with olive oil until they turn brown. Add some salt to taste. 

It is very important to evaporate the liquid from the mushrooms, otherwise, the dough in which you will wrap the meat will get wet. Grind the cooled mushrooms in a blender. 

Add some salt and pepper to the tenderloin and fry in a pan with olive oil, garlic cloves and thyme sprigs for flavoring. Fry the meat on all sides to a brown crust.

Defrost the puff pastry and lay on the surface sprinkled with flour. Top with thinly sliced bacon and mushrooms. Then put the fried meat, pre-greased with mustard, and wrap the dough in the form of a roll. 

Make cuts on the top of the dough and then brush with a beaten egg. Put in a preheated oven for 25-30 minutes in convection mode. When the top of the dough becomes of an amber color, you can take out the meat. Remember, it should remain pink and juicy inside. Bon appetit!
Recipes source: Delish.com and Bonappetit.com
Image source: Pixabay
In Conclusion
Father's Day is a perfect occasion to gather all the family members in the father's house. Give yourself several hours to cook any of the dishes with meat and show your love and appreciation to your father this day. If you have a barbeque at your house – Steak Ribeye with baked vegetables or caramelized pork ribs may be the best option for dinner. Collect the ideas for the family table or select one of the above options. Good luck!