There are very few industries which managed to thrive in 2020. While most were struggling to hang on, it was mostly mask and sanitiser companies that were seeing increased success. However, one unrelated industry that did manage to take off is the meal kit industry. There are so many and around the world that now have millions of new customers.
If you're unfamiliar with the concept, meal kit companies make it easy to cook delicious, healthy dinners, even when you have had a long day at work. They send a box with ingredients that have been chopped, portioned, and prepared, along with a simple recipe. All you need to do is follow that recipe and pop it in the oven.
Considering the fact that we were all stuck inside during 2020, it became more important than ever to cook for ourselves and our families. grew in popularity because they provided an alternative to takeout for even the most amateur cooks.
It helps that they have some truly delicious dishes. Need proof? These are some of the best meal kit dishes around the world in 2021.
(Chefs Plate)
If you're looking for an incredible vegetarian dish, Canada's Chefs Plate has just the dinner. Their deconstructed sweet potato sushi bowl uses edamame, crunchy cabbage, and avocado to provide all the distinctive flavours of a good Japanese sushi. The sweet potato itself is a delicious core ingredient that is also filling enough to make for a full meal. Topped with a sriracha-mayo dressing, it will be a favourite even among those ardent meat eaters.
(HelloFresh)
HelloFresh Canada is going classic with their chicken and biscuit pot pie. While you may think this dish is nothing special, it is in fact a great spin on the traditional pot pie. It manages to provide the comfort food experience we expect from these types of meals, while also providing more complex flavours and a wider range of textures. HelloFresh has presence around the world, but this dish is distinctly North American.
(UCOOK)
If you're living in South Africa and want to expand your palate, UCOOK has the Radiant Ostrich Salad for you. It is one of their Vitality HealthyDining dishes and it is as nutritious as it is delicious. It comes with piquanté peppers, roast butternut & an orange-mustard vinaigrette and it is marketed to health nuts. It will also likely show some people that being healthy can taste even better.
(The Cookaway)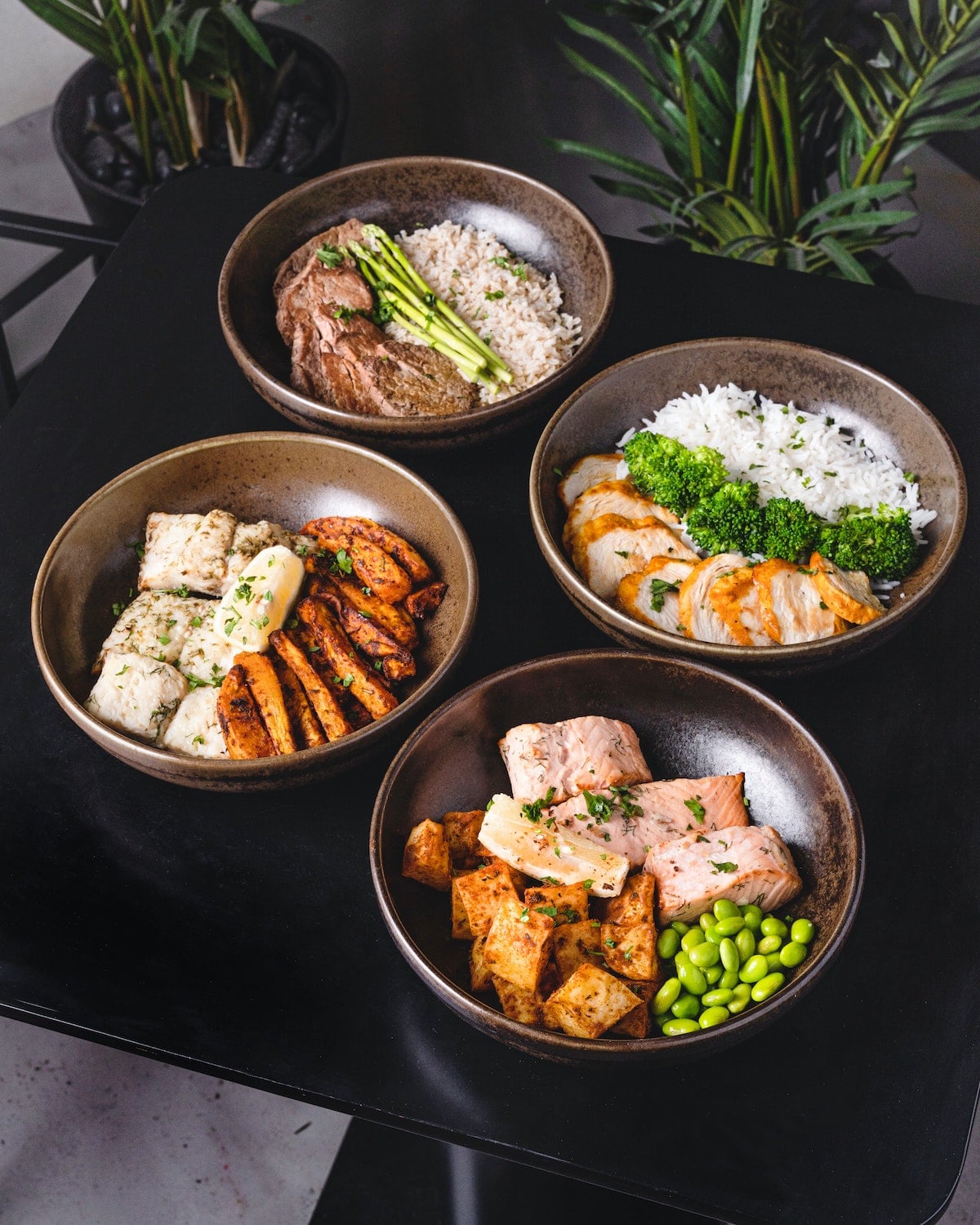 This incredibly British dish comes from the UK's The Cookaway. While they create dishes based on flavours throughout the world, this British staple may be just what you need on a cold night in lockdown. Cooked in a red wine sauce, the chicken Wellington soaks up tons of flavour and is served with the perfect balance of creamed veggies.
(Home Chef)
What is so great about Home Chef's fish cakes is that you serve them with banchan – traditional Korean side dishes. The fish cakes themselves are fantastic, with distinct Korean flavours. But along with the sides, it is a meal you won't stop talking about. Definitely something to return to time and again.
(Blue Apron)
are ideal for meal kits, as you can cook a perfect meal with very little clean up afterwards. Blue Apron have outdone themselves with their One-Pot Chocolate & Chipotle Beef Chili. Some may be a little skeptical about the combination of chocolate and chipotle flavours in a beef dish, but that comes from a lack of experience. Chocolate ups the taste-level of this meal, making it more complex, striking, and memorable.
(Purple Carrot)
Okonomiyaki is traditional Japanese street food. It is essentially a savoury pancake made from a wheat-flour batter. Purple Carrot uses it as the basis for this plant-based dish. Purple Carrot provides solely plant-based meals, which is why they do such a good job of elevating the ingredients. This dish may be a little bit more complicated for the amateur chef, but it is still straightforward and difficult to mess up.
These are just some of the delicious meal kit dishes being served up around the world. There are many more, and probably some great options wherever in the world you are. Meal kits serve as proof that cooking doesn't need to be difficult to taste great. While they make it even easier for you, your skills develop as you cook more often and learn what goes into a great-tasting meal.
More meal delivery related articles you might want to check out are: