Italian food is one of the most well-loved cuisines all over the world. Italy is home of the most gastronomic dishes you can possibly think of, including their world-famous pasta and pizzas. People travel to Italy for the food experience, and it is a one-of-a-kind culinary journey that most people wouldn't want to miss in their lifetime.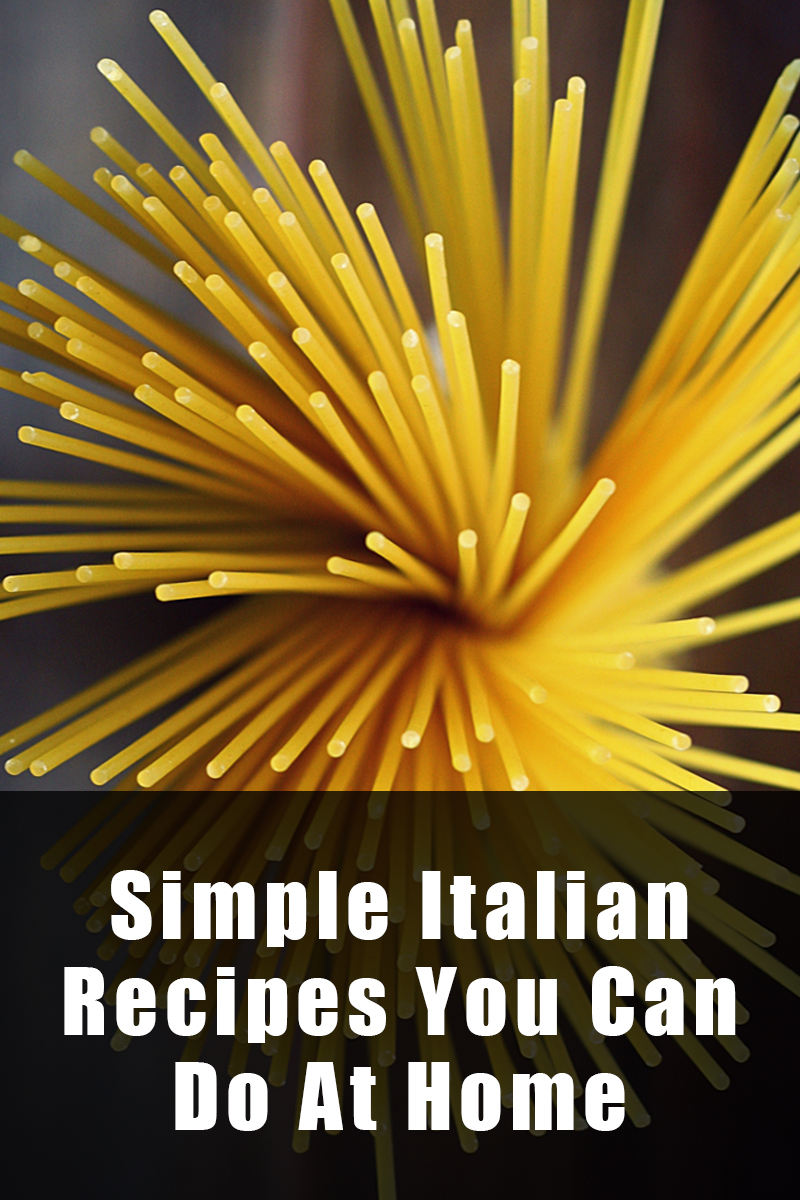 However, not everyone has the luxury to fly to Italy whenever it pleases them, and those quaint Italian restaurants around town are often beyond the usual lunch budget. The good news is that, those Italian dishes are not out of reach, and you can actually do them in the comfort of your own home.
Here are some simple Italian recipes you can do at home in under one hour:
Recipe 1: Arancini Sicilian rice balls
For a truly Italian dining experience, start your dinner with an antipasto or what is referred to as an appetizer, and one of the most popular Italian side dishes are the Arancini Sicilian rice balls. These rice balls are easy to make that even an amateur cook like you could make it taste like a true Sicilian dish.
Preparation and cooking time: 30 minutes
Serving size: 11 rice balls
Ingredients:
2 cups uncooked short-grain rice (Arborio or Carnaroli)
1 egg yolk
2 egg whites
½ cup grated Parmesan (Parmigiano- Reggiano) cheese
¼ cup melted butter
⅓ pound ground beef
1 chopped onion
½ cup tomato sauce
½ cup thawed peas
¼ teaspoon of salt
¼ teaspoon of pepper
1-½ cups seasoned bread crumbs
2-inch level of vegetable oil
Cooking instructions:
Cook the rice in a pot or rice cooker. Once cooked, leave the rice until slightly cooled.
Mix in the egg yolk, parmesan cheese and melted butter with the rice.
Cover the mixture and refrigerate until chilled.
In a large skillet, pour in a little oil and then cook your beef and onion on medium heat.
Make sure that the beef is no longer pinkish and then drain.
Pour in the tomato sauce then the peas, and season with salt and pepper. Stir all ingredients together.
Take out the rice mixture from the refrigerator and make 11 patties out of it.
Put a tablespoonful of your cooked beef filling into one of each patty.
Form each one into a ball to pack the filling in it.
In a shallow bowl, put the egg whites and should be slightly beaten.
Put your breadcrumbs in a separate plate. Dip your rice balls into the egg whites first, then roll it into the breadcrumbs.
Heat your 2-inch level oil to 370 degrees Fahrenheit.
Fry a few balls at a time for at least 2 minutes or until golden brown. Drain the excess oil with paper towels.
Arancini Sicilian rice balls are best served warm. You could invite your friends and family over, and they'll enjoy a little taste of Italy.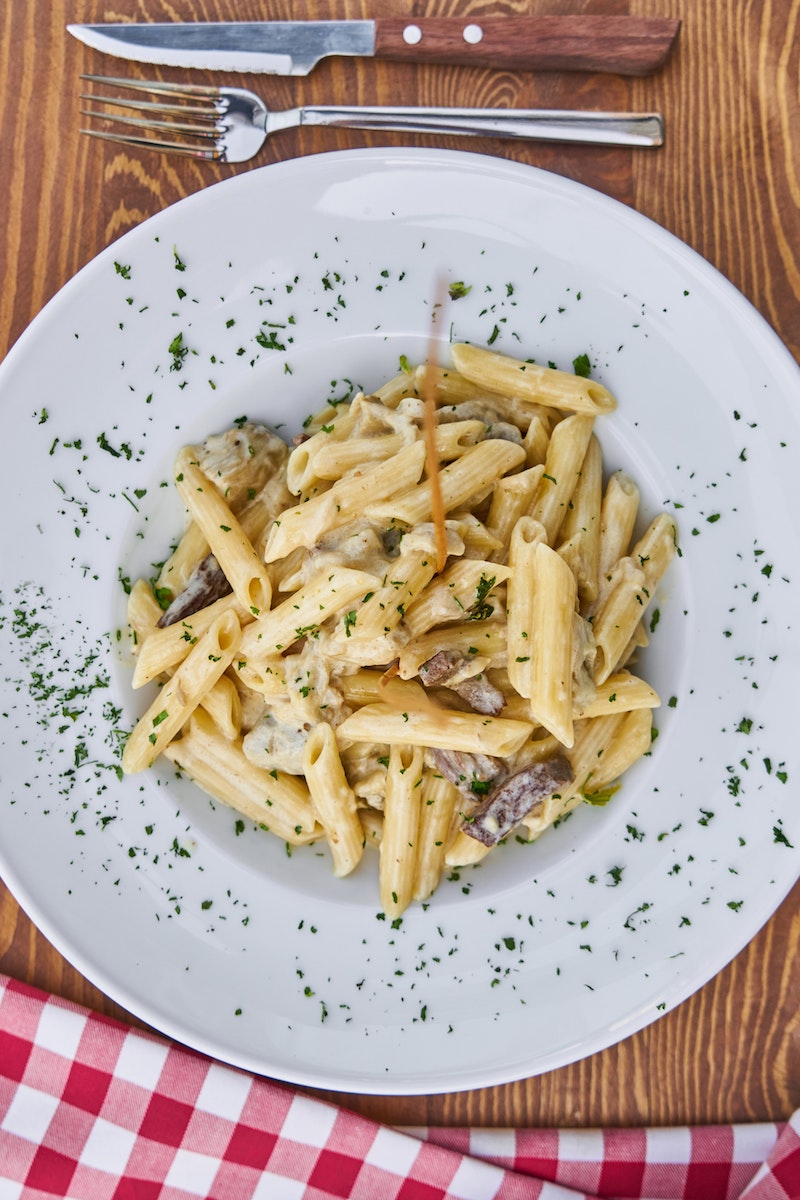 Recipe 2: Italian macaroni and cheese
The Italians are best known for their pasta recipes like lasagnas, carbonaras and spaghettis. Amp up your pasta game and try cooking this easy macaroni and cheese recipe with an Italian twist. While you're at it, you can try out some kitchen hacks to make your cooking more fun.
Preparation and cooking time: 30 minutes
Serving size: Serves four people
Ingredients:
500 grams elbow macaroni or pasta of your choice
500 grams Italian sausage (sweet style)
1 tablespoon of butter
3 chopped cloves of garlic
2 tablespoons of olive oil (extra-virgin)
12 sliced cremini mushrooms
Salt (add gradually)
Pepper (add gradually)
1 cup of cream
1 cup of chicken broth
2 tablespoons of sifted flour
2 and ½ cup of cheese, preferably four-cheese blend
1 can of drained diced tomatoes
½ cup parmesan cheese
Cooking instructions:
Pour in some water in a large deep pot and wait until it boils.
Add a pinch of salt into the boiling water, add a little olive oil, and cook your pasta for about 7-9 minutes.
Make sure to stir it once in a while so that the pasta won't stick into the pot.
Meanwhile, in a non-stick skillet, press down on the sausage until crumbled and cooked. Set it aside on a plate with paper towels.
Using the same skillet, add in the olive oil, butter, chopped garlic, and sliced mushrooms. Saute and season it with a little salt and pepper.
Do it for 3 minutes or until mushrooms become slightly golden.
Have your broiler preheated on a high heat.
Put in your cooked mushrooms and add flour, stir and cook for about 2-3 minutes.
Pour in the stock and the heavy cream, whisk them to mix until it bubbles. Add in the 2 cups of four cheese blend and continue stirring.
When you see that the cheese has already melted, add in your diced tomatoes.
Wait until you see that the sauce is bubbling and remove from the heat. Taste to adjust your seasonings.
Combine your sausage with the cheese sauce and pour it over the pasta on a flameproof baking dish, mix thoroughly.
Top it with grated parmesan cheese and the remaining four-cheese blend, place it on the heat until the cheese on top melts and becomes golden brown.You may serve it as is on a baking dish ; you may add in some toasted garlic bread to complement your mac and cheese. This is best to cook if you're having a little party at home or a get-together. Even with the short preparation time, you can cook a bigger batch to serve more people; and the taste is all up to you.
Italian Recipes Don't Have to be Complicated
These recipes are just two of the hundreds of dishes in Italian cuisine. While most of the food in Italy are fairly simple, with two to four main ingredients; their ability to adapt different spices and tastes into their culinary choices make them unique to other cultures.
People have made personal creative twists into Italian recipes, but the basics and techniques come from authentic Italian origins. So, if you're trying to become a chef or just an ordinary home cook, try these recipes and eventually experiment or try other ones soon.