My calendar is usually jam-packed, and it's rare when I have time to pull something together at the spur of the moment. If it's not in the calendar, then it's probably not happening. (Paper calendar for life!) But just last Thursday, I had an impromptu dinner party with friends and it made me realize that I should be giving more time to the people and not the projects in my life. Also, that I should be eating more lasagna.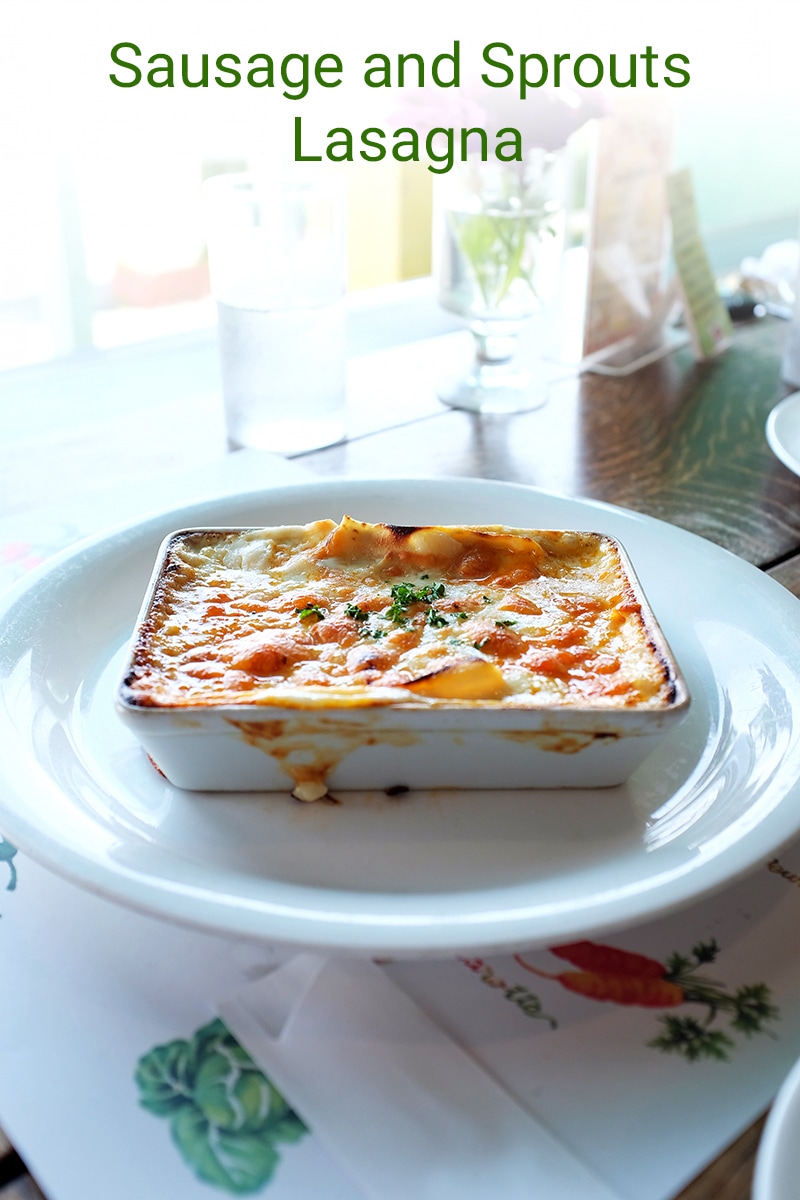 My friend Kate and I already had friend-date scheduled for that night, so luckily, I'd already had the ingredients assembled before we decided to invite a few more people to join us. Call all the friends and dice the shallots? Can do!
It was an unseasonably cool week, and the crisp in the air whispered to me…"baked pasta…make baked pasta…" But, a run-of-the-mill lasagna just wouldn't do plus I was kinda in the mood to test my , so I started poking around the internet and ran across this recipe for Brussel Sprout Lasagna from I really like the recipe, so you know how did I get the idea of making Sausage and Sprouts Lasagna.  
Brussel sprouts are without a doubt, hands down, 100%, my favorite vegetable. Those tiny cabbages are the champions of my palate, so obviously, I was very excited about this idea. Add in some turkey Italian sausage, decadent bechamel, and 3 kinds of cheese and it was a winner of a meal!
Let's start making it.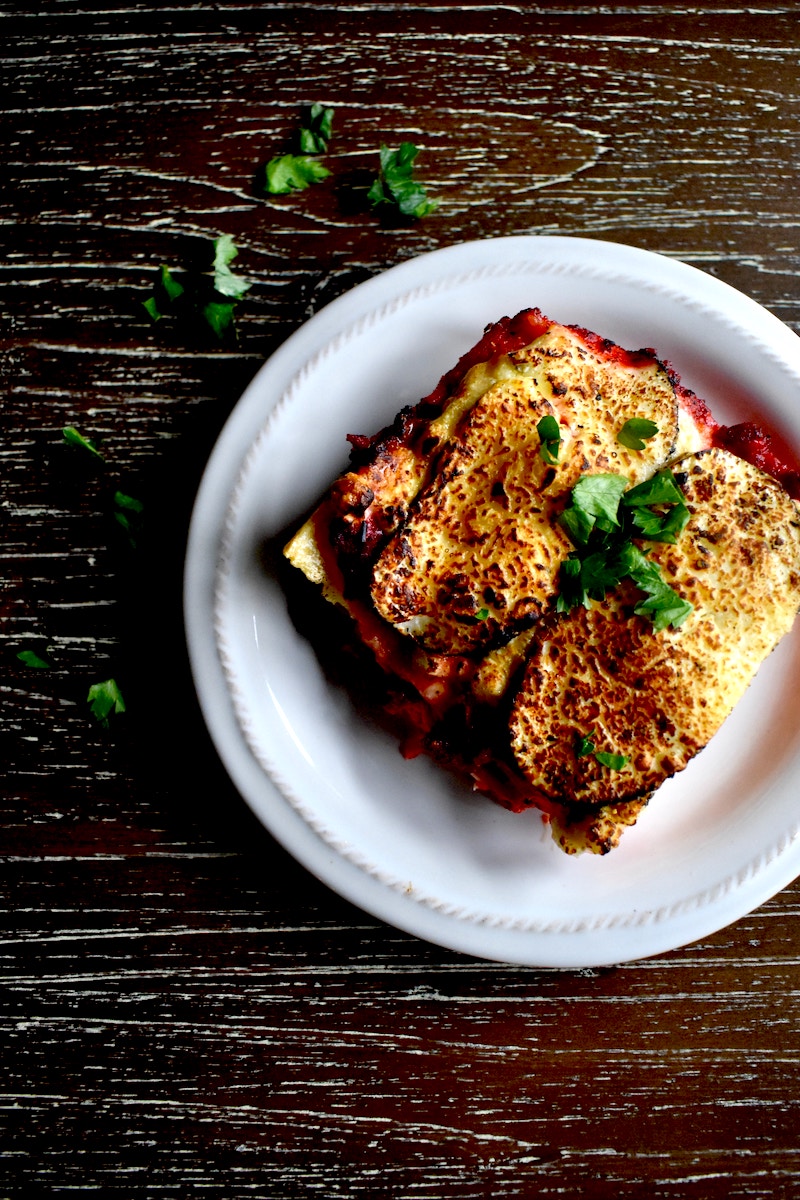 Sausage and Sprouts Lasagna
1 box of lasagna noodles
1 lbs. brussels sprouts
1 big shallot
2 tablespoon balsamic vinegar reduction
3 cloves of garlic
a pinch of red pepper flake
1/2 stick of unsalted butter
1/4 cup of flour
2 1/2 cup of 2% milk
1/4 teaspoon nutmeg
1 1lbs. turkey Italian sausage
8 oz. provolone cheese. shredded
3/4 cup of low-fat ricotta cheese
1 cup of parmesan cheese
salt and pepper to taste
This is how we make it:
Now, I must admit that I used no-boil lasagna noodles because I was trying to cut corners when I made this for the first time, and while the dish was still delicious, some of the noodles on the bottom were a little crunchy. Next time, I'm planning to use wheat noodles and boil them first just because I think the texture will be better. We live and we learn, eh?
You know the drill…go ahead and preheat your oven to 400 degrees. Ok, veggie prep- ahoy! Cut off the bottoms and take off the tough outer leaves on your sprouts and thinly slice them. Then, finely dice your shallot and mince the garlic cloves. DONE!
In a skillet, saute the Italian turkey sausage until it's cooked through. I picked turkey Italian sausage to cut down on the fat in the dish, but to keep the flavor. My grocery store carries it ground as well as in links. If you can only find it in links, you can just cut off the casing and crumble it into your skillet. Once the sausage is cooked through, season with a pinch of salt and pepper, drain it on a paper towel and set it to the side. 
Put your skillet back on the burner and add a little bit of olive oil. Once it's hot, throw in your brussels sprouts, shallot, and garlic. Season with some red pepper flakes, salt, and pepper. Saute until the brussels sprouts are bright green and a little wilted but still have a little crunch, which should take about 5 minutes. Then, add in your balsamic reduction and toss to coat. Just like with the sausage, set it to the side while you work on the bechamel and try not to eat all of it.  
In the meantime, bring a pot of water to boil and boil your lasagna noodles until al-dente. Drain and drizzle with olive oil, so they don't stick together. Toss to coat and set to the side. 
This is how you make bechamel sauce:
In a small saucepan, melt the butter and then add in the flour. Let it cook for a minute or two, so you can cook out the flour flavor, then add in the 2% milk. You could use whole milk, but again, I was trying to cut down on the fat, but keep the flavor. Whisk, whisk, whisk until mixture starts to thicken. 
Then, season with nutmeg, 'cause your bechamel will just be missing something without it. Oh, and don't forget to salt and pepper to taste! Then, add in half of provolone and parmesan and stir to combine. Cheese sauce! Yes! You can also check out the video recipe of .
Now, comes the assembly! Spray a 9 x 13 pan with non-stick spray and then coat the bottom with your cheesy bechamel sauce. Then add a layer of noodles. It's okay if they overlap a little bit in order to cover the bottom of the dish. Then, add half of the bechamel sauce and dollop on some ricotta cheese, then sprinkle on half of the sausage and half of the sprouts. Then, make another layer! Pasta, sauce, ricotta, sausage, sprouts. 
Finally, sprinkle the remaining provolone and parmesan on top and drizzle with a little olive oil. Then, pop that baby into the oven for 30 minutes until golden and bubbly on top. And, here comes the hard part. You have to wait 20 minutes before you can cut into it! 20 whole minutes. But it'll be worth it. I promise.