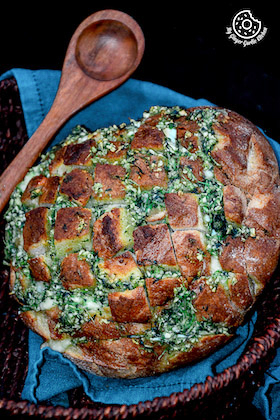 Is it okay if I give you just a little warning at the beginning of this post? The warning is that I am mildly excited about this post. Sorry, actually I take 'mild' word back and now I say, I am supremely excited...
51 Must Try Valentines Desserts Ideas for 2019 Keep love in your heart. A life without it is like a sunless garden when the flowers are dead. -Oscar Wilde //cdn.mygingergarlickitchen.com/mggk-07-scripts/3-mggk-google-pali-adverts-random-code.js The clock is ticking...
How to Make Gulkand Pista Kulfi | Rose and Pistachio Kulfi. This Rose Jam and pistachio flavored frozen dessert have an authentic chewy texture, they are super cute, and they taste SO GOOD. It's not just the exotic flavorings that makes it taste so yum, it's really...
French Style Puff Pastry Filled With Raspberry Crème Fraîche - These gorgeous little Raspberry Creme Puffs are easy to make and are a perfect treat to make for Valentine's Day. They are simple and so light. Plus, these are so easy to prepare. Also they look and...
Learn to make popular Steamed Besan Gatte Ki Sabzi Recipe Video | Rajasthani Adhar Bele Ki Sabji recipe with video instructions. is an authentic and delicately rich curry. In this Rajasthani curry, chickpea flour dumplings are cooked in a spicy and tangy yogurt and...
Learn How To Make Aloo Gobi Sabji | Dhaba Style Dry Aloo Gobi Sabji Recipe Video with easy and quick video tutorial. This hearty and flavor-packed cauliflower and potato dish (Aloo Gobi) is one of the most beloved and widely eaten vegetarian side dishes in every part...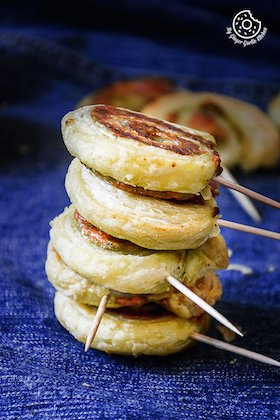 These 4-Ingredient Cheese and Pesto Swirls - Puff Pastry are so simple to cook. To make them you just need some puff pastry sheets, basil pesto, garlic powder and mozzarella cheese. I promise that these 4 basic ingredients make these swirls shine, literally. They make...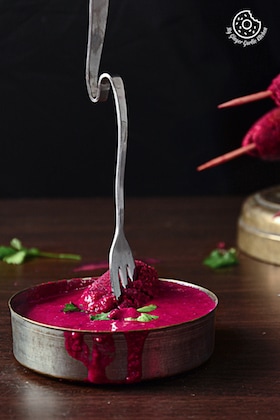 Beetroot Kebab Recipe — These kebabs are packed with goodness, full of yummy flavors, and pan fried. And yes, they are even more delish when paired with this sweet and tang beetroot dip. This gorgeous combo of delicious kebabs with an awesome healthy dip is a great...
Homemade Ginger Garlic Paste | How to Make Ginger Garlic Paste recipe with deatiled video instructions. The ginger-garlic paste is used regularly in Indian cooking. It is a must-have in an Indian kitchen like mine. You'd know I love ginger-garlic to the extent that I...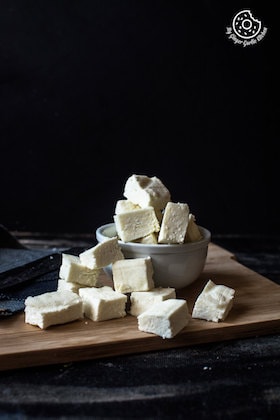 Learn How to Make Paneer at Home | Homemade Paneer recipe - Cottage Cheese Recipe with a simple video tutorial. Paneer is a fresh, unsalted Indian cottage cheese which is widely used in Indian cooking especially in curries....
– IMPORTANT NOTE –
This page lists only a few recipe categories. To see all the recipe categories, please click on the dropdown box which says "SELECT RECIPE CATEGORY", located at the top right of this page.