Everybody loves pasta and what's better than a colorful-looking pasta with a lot of cheese? There are two main elements to this comforting dish: the pasta and the sauce.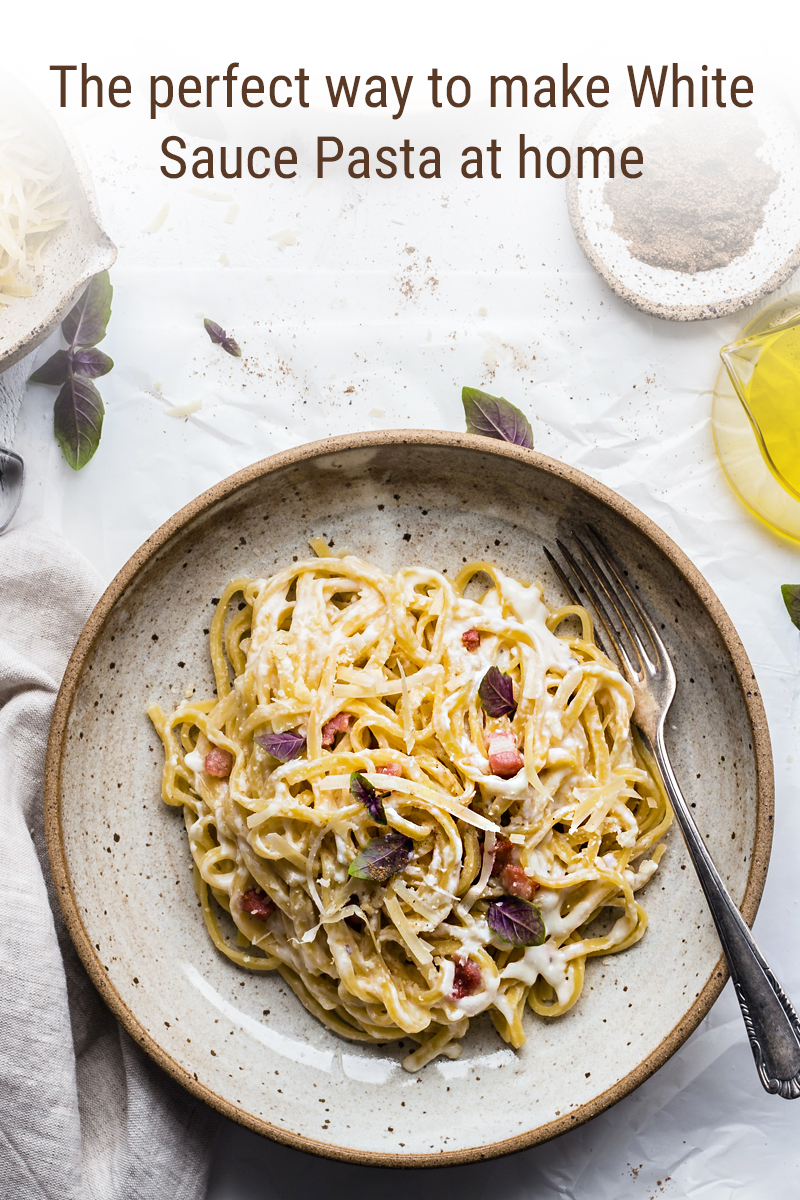 The sauce provides the dish with taste, flavor, color, and the aroma while the pasta takes care of the texture, allowing it to lift the sauce as much as possible. 
Pasta originated in Italy where it still is a staple food. There is no point in buying pasta from a takeaway or supermarket as it is usually unhealthy and bland. It is better to make pasta at home. Godere!
Making the pasta
Here I am using the Fettuccine style, also known as ribbon pasta. You can choose your favorite type of pasta (from macaroni to lasagna). To begin, take semolina flour and all-purpose flour in a 1:1 ratio and mix them in a bowl with eggs, curd, salt, and pre-activated yeast. Yeast can be activated by adding sugar or warm water (just wait for bubbles to appear). 
Prepare the dough by kneading it well on a flat surface. The texture of the dough needs to be runny and soft, which can be achieved by kneading for 10-15 minutes. 
When the dough is ready, put it in an airtight container and let it rest. Make sure that you oil the container and dough well. You should allow the dough to rest for at least six hours or leave it overnight for better results. 
Once the dough has risen, knead it again and flatten it out in a rectangular sheet using a rolling pin. Now, roll your sheet like a cigar and cut it into equal parts. 
Once you open the components, you'll see your beautiful ribbons. Coat them in flour and air-dry them until further use. In a deep vessel, bring water to a boil and add your fettuccine, sprinkle some salt, and keep stirring so that it doesn't stick. 
You don't want to cook your pasta thoroughly. If this sounds like a challenge for you, consider using a to get the texture right. It should be 80% cooked so that you can finish cooking it in the sauce; cooking until it is al dente.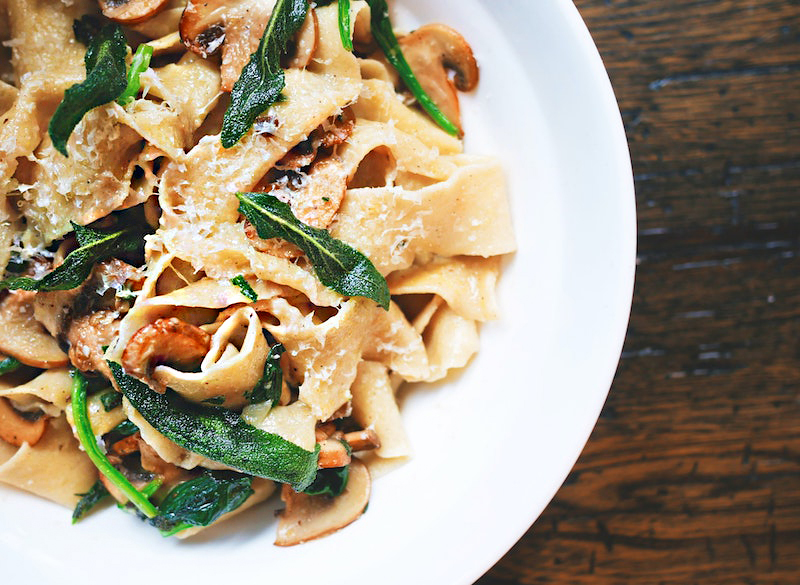 Image source: Unsplash
Cooking the white sauce (bechamel sauce) 
In a pan, heat some olive oil and sauté your favorite set of veggies (preferably bell pepper and broccoli) with salt & pepper and set them aside. Lower the heat and add some butter in the same pan; once the butter has melted add in minced garlic and sauté until the rawness is gone. 
Add some all-purpose flour and lightly sauté on low heat. The flour needs to be cooked entirely or it will leave a raw taste in the pasta. The idea is to keep stirring or it will turn into 'halwa' (an Indian dessert). 
You want to make sure that the flour is not changing color; if you increase the heat, it will take on a brown color, and you'll have to start from the beginning. 
Once you feel that the flour isn't raw, slowly add warm milk in small quantities and keep stirring so that there are no lumps. 
Cook until you have reached the desired consistency and add salt and pepper according to taste. If you feel that it is thicker than needed, you can thin it down by adding warm milk or pasta water. 
Now add the pasta and make sure that it doesn't overcook. The pasta will take a few minutes to soak and get coated in sauce. You can now add some fresh cream and mix gently so that you don't break the fettuccine. 
As soon as the cream sets, add your sautéed veggies and switch off the heat. This is the moment where you add the cheese as mixing cheese while the heat is on tends to burn it. 
Throw in a handful of coriander and basil leaves on the top and cover the pan so that all those beautiful flavors can infuse. After a few minutes, the cheese will start cooling down and create a thin crust––that's the best time to serve. 
Buon appetito!
This pasta also tastes good when served as a side with cajun potatoes.