Learn How To Make Quick Mango Kulfi Recipe | No Cook Mango Kulfi Recipe with simple step-by-step video instructions. Making this entirely no cook mango kulfi is very easy to make and only needs 10 minutes of mild work. This sinfully rich, delicious, creamy, and irresistible mango kulfi has a perfect authentic chewy and creamy texture. It tastes so great when flavored with ripe mango. This extremely delicious kulfi is laden with one of my all-time favorite things — mangoes, and loads of mangoes.
read more…
Learn to make Vada Pav Recipe | How To Make Mumbai Vada Pav recipe with step-by-step video instructions. Vada Pao, Wada Pav, or Wada Pao is a budget-friendly and gratifying Indian Style Burger which hails from the streets of Mumbai. The origin of this sandwich is the Indian state of Maharashtra, but this street snack is widely popular across all parts of India.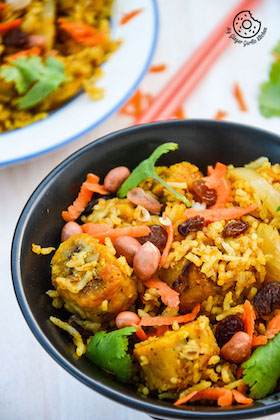 Learn to make Royal Rajasthani Gatta Pulav Recipe | Gatta Pulao recipe with step-by-step pictures. Royal Rajasthani Gatta Pulav is exclusive and flavourful rice dish made with gram flour/chickpea flour dumplings. Royal Rajasthani Gatta Pulao is made on festive occasions when plain steamed rice is not suitable. This rice is usually served with plain yogurt or raita.
Learn How To Make Strawberry Panna Cotta | Strawberry Panna Cotta Recipe video instructions. Strawberry Panna Cotta is one of such modern desserts which is so light and refreshing enough to make for a weekend treat. The individual servings of this dessert look so presentable, sophisticated, and perfect for any get-together.