Learn to make Holiday Fruit and Nut Ice Cream Recipe | Eggless Praline Ice Cream Recipe with step-by-step video instructions. This delectable Holiday Fruit & Nut Cardamom flavored ice cream is swirled with creamy, sweet and salty nutty praline and candied fruits. If you ever wished you could eat 'candied fruits' in an ice cream form, this is your chance.
Learn how to make Indulgent Steamed Veg Momos With Spicy Chili Chutney | Vegetable Dim Sum Recipe Recipe with step-by-step video instructions. Recipe for Tibetan steamed veg momos aka dim sum with the spicy and sweet chili tomato sauce. Momos are also known as dim sum, wontons.
Top Five Foods for Sous Vide Cooking – Have you ever thought of upgrading your at-home way of preparing meals to that of a five-star restaurant?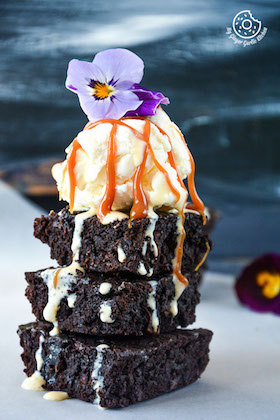 Learn how to make Small Batch Of Fudgy Carrot Brownies Recipe with step-by-step photo instructions. Imagine the taste of a chilled fudgy brownie topped with some vanilla custard, a dollop of vanilla ice-cream and a drizzle of caramel sauce. Uummm! Doesn't that sound sinfully delicious?