When cooking oxtail, the main idea is to melt/discard as much fat as possible in the process of cooking it.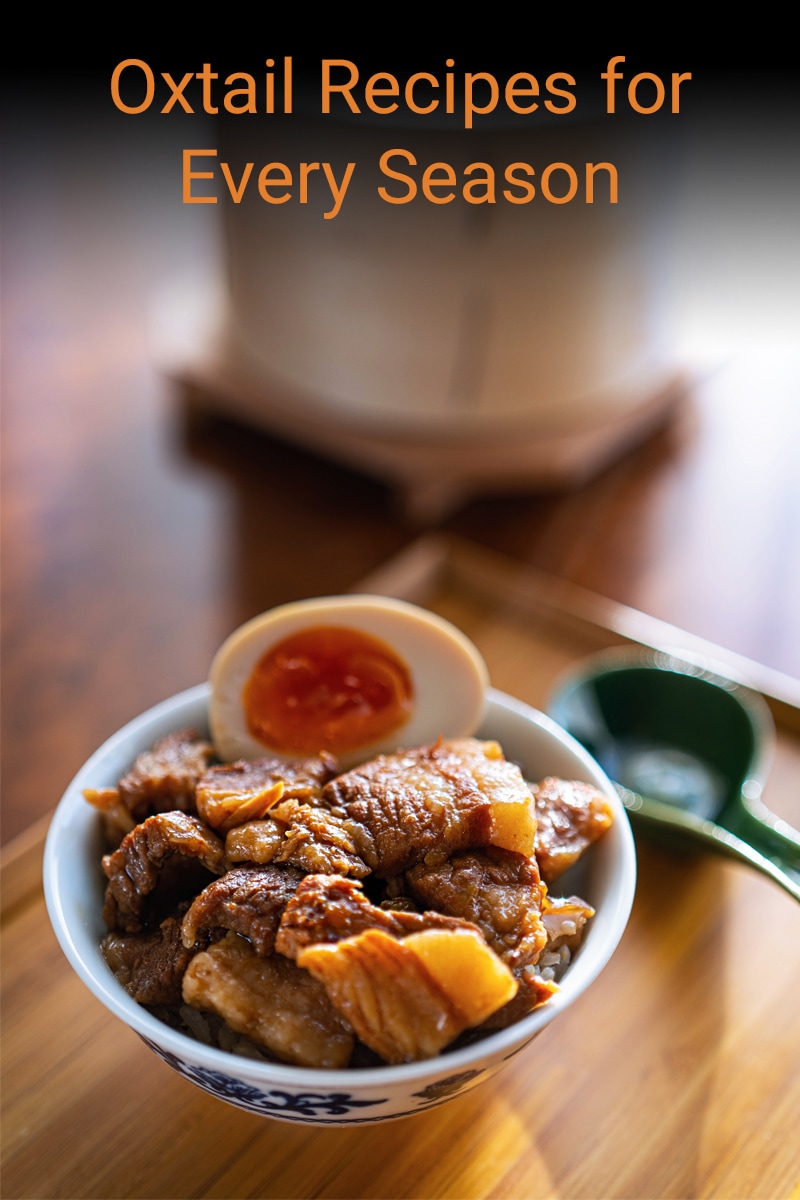 Nearly 50 percent of its weight is bone with a small amount of meat surrounding each piece.  It makes delicious soups and stews and oddly enough the best way to eat it is with your fingers and pull the meat off the bone. Similar to a chicken wing.
The preferred method for most when cooking oxtail is to slowly braise in a liquid such as a soup or stew. Oxtail is a bony, gelatin-rich meat, which is usually slow-cooked as a stew or braised.  It is often a traditional stock base for a .
Cooking the oxtail slowly turns the bone and cartilage into gelatin which can make a tasty sauce and brings out the rich flavors and provides optimal tenderness. 
Although traditional preparations often involve hours of slow cooking, modern methods usually take a shortcut by utilizing a pressure cooker. 
Most people consider cooking oxtail in the colder months as a hearty stew, but here are some oxtail recipes for every season.
Winter:
Ingredients:
Rumba® Beef Oxtails (4 lbs., cut in 2-inch pieces)

2 tbsp (plus more for dusting) flour, all purpose

Vegetable oil (as needed)

1 cup onions, minced

1 tbsp paprika

1 qt beef broth

2 cups canned diced tomatoes

8 oz fresh or 10 oz frozen okra, sliced

Salt and pepper (to taste)

Hot pepper flakes (to taste)
Instructions:
Rinse oxtails and dry well with paper towels. Season with salt and pepper. Dust with flour.

Heat a small amount of vegetable oil in a large heavy stewing pot. Brown oxtail pieces in small batches, adding more oil to the pan between batches if necessary. Hold browned pieces on the side.

Add the onions to the pot and brown slowly. Sprinkle in flour and paprika and mix well.

Add broth and tomatoes and bring to a boil. Lower heat to a simmer and return the oxtails. Simmer gently until tender, about 3-4 hours.

When the oxtails are nearly tender, add the okra and hot pepper flakes and simmer until the okra is tender, about 10 more minutes (less time if using frozen okra).

Season the stew with additional salt and pepper as needed.

Serve with white rice, boiled potatoes or buttered noodles.
Related: 8 Vegan Foods to Smoke in a Charcoal Smoker
Spring: Wine Braised Oxtail
Ingredients:
4 pounds large oxtail pieces (patted dry)

2 tbsp safflower 

1 cup all-purpose flour

Salt and pepper

1/2 cup of your favorite red wine

1 bunch watercress, trimmed
Instructions:
Generously season the oxtail with salt and pepper. 

In a large Dutch oven, heat oil over medium-high. 

In a shallow pan add the flour and some salt and pepper. Dredge oxtail in the mixture until well coated. Be sure to shake off any excess. 

Sear the oxtail in the Dutch oven until well browned on all sides (about 15 minutes each). Remove from oil and set aside. 

Wipe out Dutch oven and add the oxtail back in along with the wine and enough water to cover the oxtail halfway. 

Bring to a simmer and cook partially covered, turning oxtail to prevent drying out for about 3 hours.

After 3 hours, add additional 2 cups of water if necessary. Continue cooking until meat is tender and pulls away from bone (approximately 3 more hours). 

Remove oxtail and set aside. 

Pour cooking liquid into a fat separator and then pour defatted cooking liquid back into the pot. Cook over medium-high heat until reduced and thickened, about 15 minutes. 

Return oxtail to pot and stir in watercress. Cook until the oxtail is heated through, about 5 minutes.

Pour reduced cooking liquid and watercress mixture over meat and serve immediately.
Summer: Caribbean Oxtail Stew
Ingredients:
3 tbsp. canola oil

2 lb. oxtails, cut into 2″ pieces

Kosher salt and freshly ground black pepper, to taste

3 tbsp. tomato paste

1 tbsp. minced ginger

2 large yellow onions, chopped

1 small carrot, chopped

6 cloves garlic, minced

1 rib celery, chopped

2 tbsp. flour

4 cups beef stock

1 tbsp Worcestershire sauce

4 scallions, roughly chopped

1 tbsp. whole allspice berries

4 sprigs thyme

2 habanero chiles

2 tbsp light brown sugar

Cooked rice, for serving
Instructions:
Heat oil in an 8-qt. Dutch oven over medium-high heat. 

Season oxtails with salt and pepper and add to Dutch oven until browned, about 5 minutes per side. 

Transfer to a plate; set aside. 

Add tomato paste, garlic, ginger, onions, carrot, celery and cook until softened. 

Add flour and stir until smooth, about 2 minutes. 

Return oxtails to Dutch oven along with allspice, thyme, and chiles and bring to a boil. Reduce heat to medium-low, cook covered until oxtails are tender (approximately 1.5 hours). 

Add sugar and Worcestershire to pot and cook until liquid is reduced, about 5 minutes. 

Serve with rice and top with chopped scallions.
Autumn: Pumpkin Oxtail Stew
Ingredients:
Olive oil

Oxtail pieces

Shallots, roughly chopped

Carrots, roughly chopped

Garlic cloves, crushed

Red wine

Italian tomatoes - chopped

Thyme sprigs

Rosemary sprigs

Zest of ½ orange, in long peelings

Bay leaves 

Cinnamon sticks 

2-star anise

Pumpkin or squash, peeled, deseeded and cut into cubes
Instructions:
In a large casserole dish add 2 tablespoons of olive oil and turn the heat fairly high. 

Preheat the oven to 350°F (we will use it in a bit)

When the oil is heated brown the oxtail pieces, rotating often, 4-5 minutes,

As the oxtail browns, transfer it to a colander over a plate and leave to drain off excess fat/grease.

Add the shallots, carrots and garlic. Return to heat and cook until the veggies are golden.

Add the wine and scrape the base of the pan with a wooden spoon to mix in any and all flavorful bits. 

Bring to a boil and then simmer for about 5 minutes until almost evaporated. 

Add the tomatoes, orange zest, bay leaves, cinnamon, star anise, 1 teaspoon of freshly ground black pepper and some salt and then tie thyme and rosemary sprigs together. Add the oxtail back in and bring to a simmer.

Cover the dish with a lid and cook in the oven for 2-3 hours or until the meat is done or pulls off the bone easily. 

Once the meat is done remove it from the pan along with the spice sprigs and orange zest. 

After the oxtail has cooked remove it from the bone and add back into the sauce with the squash and some water. 

Bring it to a boil and then let it simmer until the pumpkin/squash is soft. 

Season to taste and serve. 
Try them all!
Whether you prefer cuddling on the couch with a warm soup and a fire going or eating a nice meal out on the patio with a glass of wine - there is an oxtail recipe to fit every season. There is no reason you can't try them all! 
Related: Creamy Sweet Potato Carrot Soup