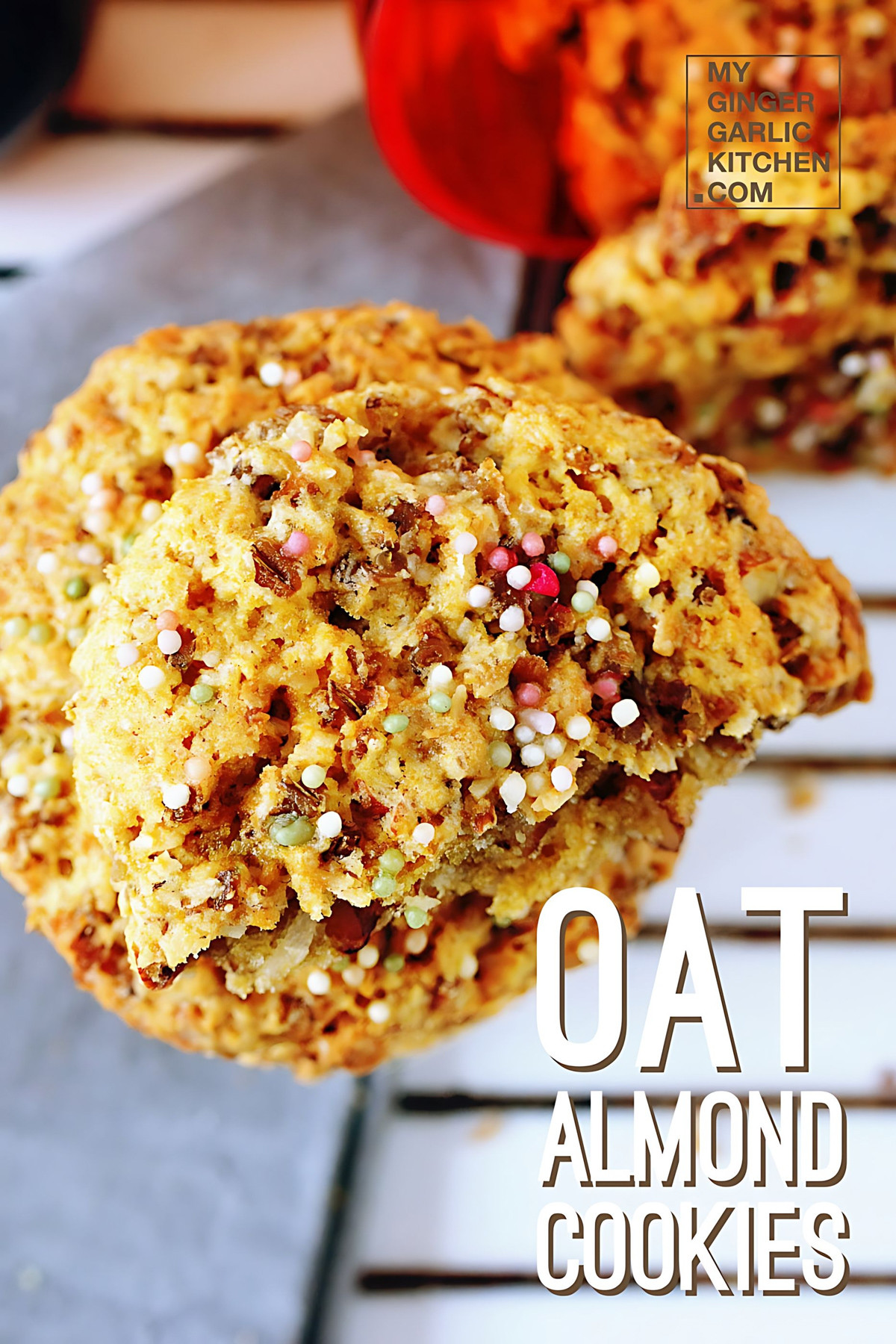 Prep time: 10 minutes
Cooking time: 12 minutes
Servings: 4

What  are Oat Almond cookies?
Oat almond cookies is a vegetarian dish full of flavors. These are very easy to bake, and have crumbly texture.  These cookies have a crispy outer layer and a very soft inside, and they just melt in your mouth.
Why are these cookies so special?
Adding coconut to these cookies make them special & desirable. Cookies are everyone's favorite, and when they come along with oats and almonds, they are simply priceless.
[glg_short_divider]
Let's learn to make Oat Almond Cookies in 8 quick and easy steps.
Ingredients:
1/2 cup steel cut oats, washed and soaked in water for 2 hours
1/2 cup vegetable margarine
1 tsp almond extract
1 cup all purpose flour
1 cup brown sugar
1/2 tsp baking soda
1/2 tsp baking powder
3/4 cup almonds, chopped
1/2 cup desiccated coconut
2 tbsp of sprinkles (optional)
[glg_short_divider]
Method:
Preheat the oven at 350F/180C for 15 minutes. Line baking sheet with baking paper.
Take a large mixing bowl. Add margarine, brown sugar, almond extract, and cream them well.
Sift together all purpose flour, baking soda, baking powder, and mix well.
Drain water form oats, and add them to the flour with chopped almonds. Mix well to make a dough.
Take the cookie dough, and roll into walnut sized balls. This would make 8-10 balls. Spread sprinkles on the top of cookies.
Place all the cookies on baking tray. And bake for 12 minutes. At this time cookies are just setting, so they will be really doughy and delicious.

If you like them more crisp, cook for 3 more minutes, or until just they turn light brown in color.
Remove the cookies from the sheet, and let them cool for 5 minutes on the wire cooling rack.
Enjoy these delicious warm cookies with a glass of milk, coffee, or tea.
Happy Cooking 🙂
[glg_short_divider]
 Liked this post, then you will like this too.