Ketogenic and Sugar-Free Chocolate Modak Recipe
When you think about Ganesh Chaturthi you think about life-size idols of Lord Ganesha, incredible dance moves, and an all-around good time. But most importantly, you think about the food – particularly Modak.
If you're on a ketogenic diet then you know that you aren't supposed to eat sugar, but the taste of modak is just so tempting. It may be extremely hard to endure ten days of Ganesh Chaturthi without the delicious treat. So, who says you have to go without it? Just because you're on a keto diet doesn't mean you can't enjoy your favorite keto dessert treats.
Here's a ketogenic recipe for Sugar-Free Chocolate Modak that are only 65 calories per modak and takes only 20 minutes to prepare.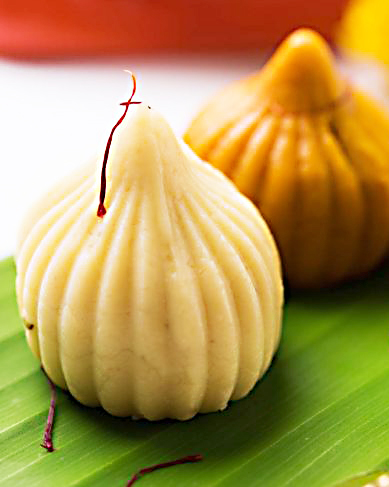 Ingredients:
· 1 cup of desiccated coconut
· 1 cup of almonds
· 2 ounces of butter
· 1/2 cup of fresh cream
· 2 ounces of cream cheese
· 2 tablespoons of cocoa
· 2 tablespoons of stevia
Directions:
Grind the almonds to create an almond flour. Almond flour is gluten-free and lower in carbs than regular flour.

Mix the dry coconut with the almond flour.

Melt the butter in a pan over medium-heat.

Once melted, add the cream, cocoa powder, and stevia to the butter while stirring.

Take the melted mixture off the heat and let it cool slightly.

Now, add the cream cheese and stir well.

Once cooled, add in the coconut and almond flour mixture to the cooled cocoa butter mix.

Take small amounts of the mixture and shape them with a modak mold. (If you don't have a modak mold, dip your fingers in water or grease. Shape it into similar sized balls. Then using your thumb, make a dent in the center and spread the dough in a circular motion so that it is flat. The edges of the flat circular dough should be thinner than the center. Then, make pleats about ¾ inches apart along the outside of the circle. Bring the pleats together and pinch so that the dough forms an onion shape.

Refrigerate your completed modaks for one to two hours until they harden.

Serve cold.
These modak can be shared with family and friends to help them get into the festive spirit, while still maintaining their diet. They will definitely make sure that you and your family enjoy your Ganesh Chaturthi.
Related: Kaju Katli
If you enjoyed this recipe, then please further help me by FOLLOWING me on:
Instagram // Facebook // Pinterest // Twitter // Google+ // YouTube
If you cook this dish, be sure to tag your photo with this hashtag: #mggk
Happy Cooking and Keep Sharing! 🙂