Eating healthy is a long-term practice, but it can be difficult when you're on a tight budget.
Healthy eating appears to be associated with a lifestyle dependent on money, social position, and plenty of leisure time in our culture. The fact is that eating healthy does not have to be costly. It can be done fast, easy, and on any budget.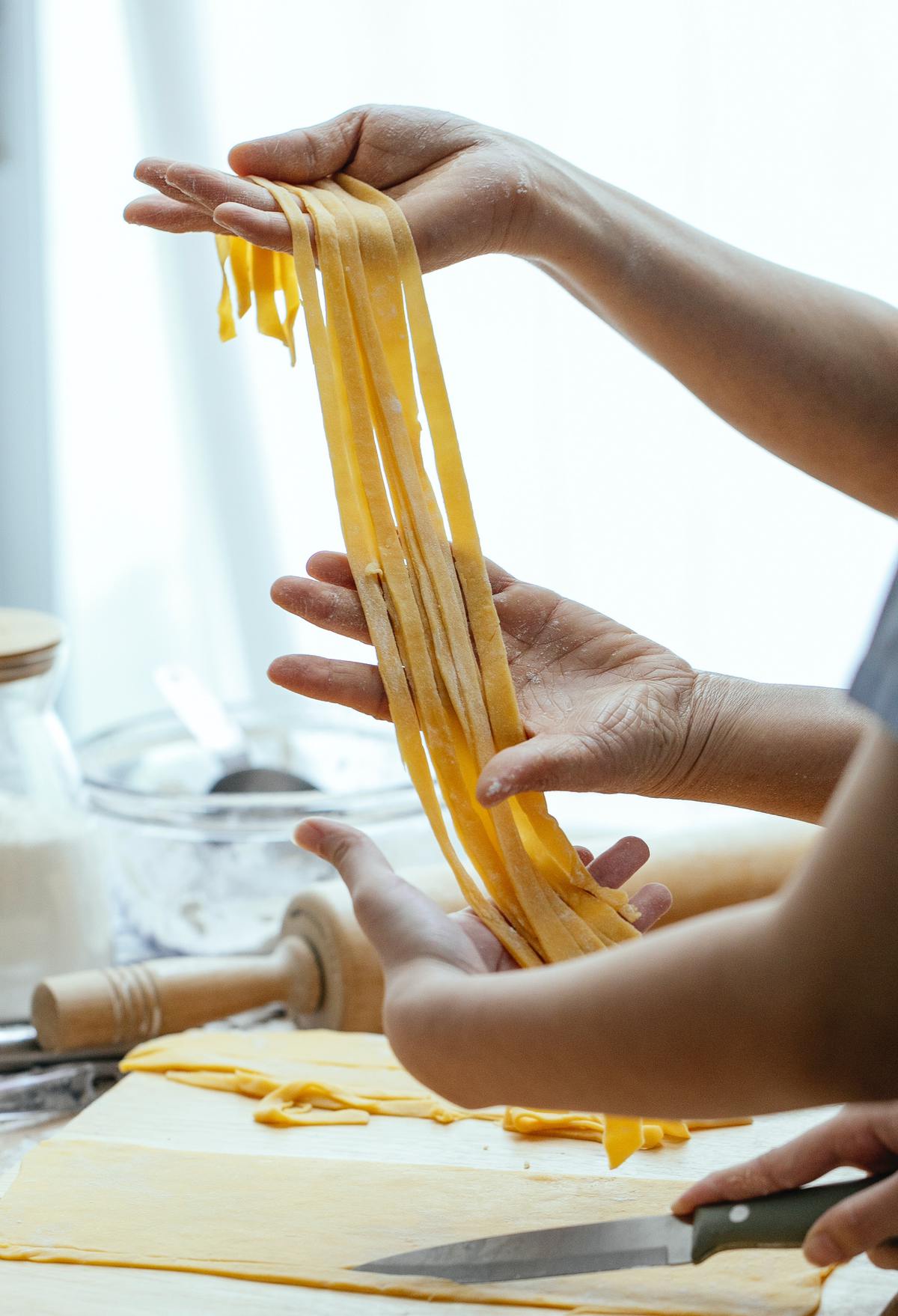 Ideas for Eating Healthy on a Budget
Purchase Fresh Produce From Farmers' Marketplaces
Seasonal produce is usually cheaper and more nutritious. Whenever possible, freeze the extra items or use them for future meals. Buying produce in bags is also a good idea. 
Maintain a Limited Grocery Bill
With a list in hand, you'll be less tempted to buy impulse items, which can blow your budget.
Change With the Seasonal and Local Produce
Whenever possible, buy produce in season; it's cheaper and tastier. Take advantage of sale items that last a long time. Whenever you see fresh food near its expiration date, buy it if you can use it right away or freeze it before it goes bad. Always use coupons when you are likely to purchase items anyway.
Plan Your Meals Ahead of Time
Plan your meals once a week. If you're on a budget, see what you already have and what's on sale. You can keep eating healthy by using those items. Utilize leftovers to prevent them from going to waste.
Consume More Plant-Based Foods
A few times a week, swap meat for plant-based protein to save money. Tofu costs about $2.50 per pound, while lean ground beef costs about $6.00.
Purchase Non-Perishable and Frozen Goods in Bulk
In the summer, fruits, berries, and vegetables are usually in season for only a few months, and they can be quite costly. Fresh produce is just as nutrient-rich as frozen produce. It's also cheaper and available all year round.
You can use frozen produce for cooking, smoothies, toppings for oatmeal, or even as a snack. Additionally, you can only remove the items you are going to use. The rest will remain in the freezer and not go bad.
Compare Prices at Supermarkets
Almost every grocery store sells products under its own brand. The taste and nutrition are the same as name-brand foods. When buying store brands, you can be healthy and still save money.
Top Low-Calorie Budget-Friendly and Nutritious Meals
#1: Spring Vegetable Pasta Alfredo
A lighter version of Alfredo Sauce transforms a pasta toss into something delicious and creamy. It is one of the out there!
INGREDIENTS (6 servings)
8 ounces fresh asparagus; trimmed and cut into 1 1/2 inches
8 ounces fresh sugar snap peas; trimmed and halved
1/2 cup green peas; frozen
4 ounces cavatappi or penne; uncooked
1 tablespoon olive oil
3 cloves garlic; minced
1 1/4 cups reduced fat milk
1 teaspoon all-purpose flour
3 ounces cream cheese
1 teaspoon kosher salt
1/2 teaspoon black pepper
2 cups arugula
1/2 cup Pecorino Romano cheese
INSTRUCTIONS
Fill the large Dutch oven with water; bring to a boil. Cook asparagus, peas, and green peas for about three minutes until bright green. Transfer vegetables and rinse well with cold water in a colander using a slotted spoon.
Bring boiling water to a boil; cook pasta as directed on the package. Let pasta drain.
In a Dutch oven, heat oil over medium heat. Stir constantly for 30 seconds to allow the garlic to become fragrant. In a mixing bowl, whisk milk and flour. Add milk mixture to garlic and bring to a boil. Stir frequently for one minute, until just thickened. Stir in cream cheese, salt, and pepper, and whisk until cream cheese melts. After reducing heat, stir in pasta and pea mixture. Remove from heat; let stand for 5 minutes (sauce will thicken after standing). Garnish with shaved cheese and arugula. Pair it with and a glass of white wine and you are all set for a gourmet dinner.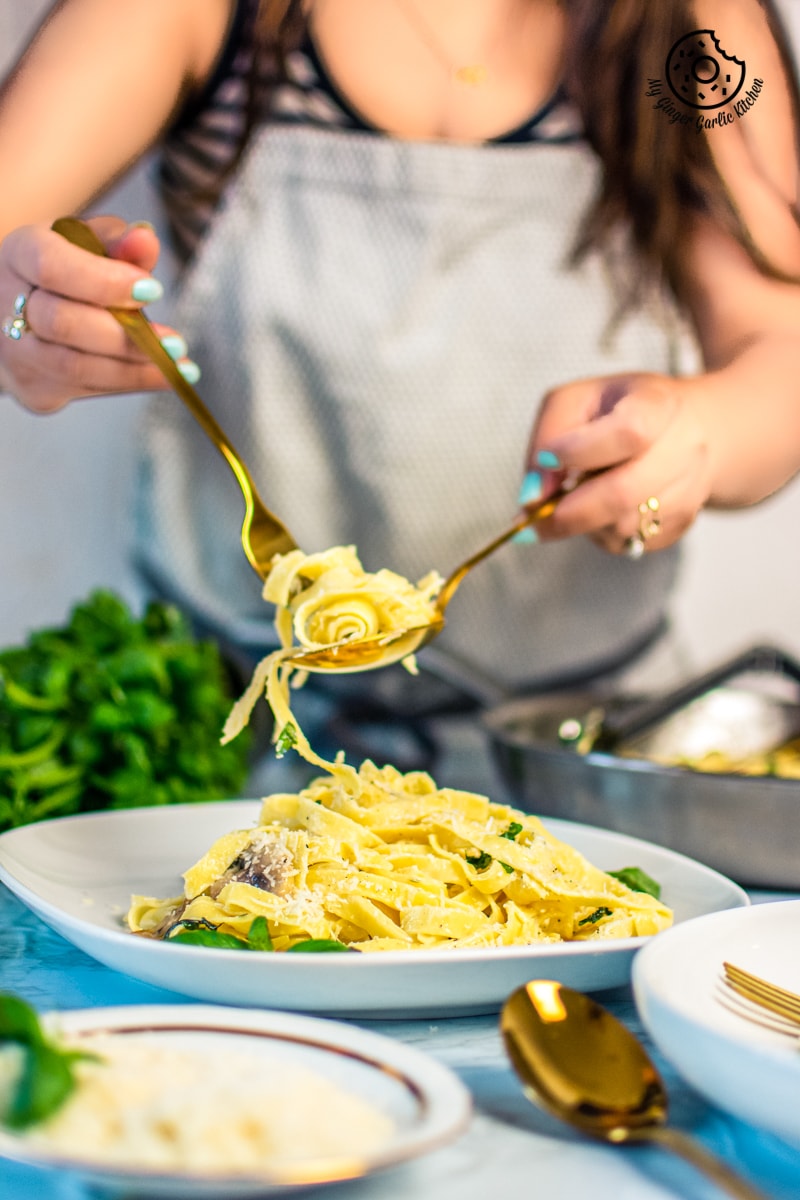 #2: Creamy Pesto and Kale Pasta
Kale makes a great earthy pesto at an affordable price! You can give this Kale Pesto pasta extra flair with add-ins, or keep it simple for the perfect summer side dish.
Prep Time: 15 minutes  •  Cook Time: 15 minutes  •  Total Time: 30 minutes
INGREDIENTS (6 servings)
1 lb pasta 
4 cups kale, chopped, loosely packed 
1/3 cup olive oil, or as needed 
1 large lemon (1/4 c juice, 1 tbsp zest) 
1 clove garlic 
1/4 cup chopped walnuts 
1/3 cup Parmesan, grated 
1/2 tsp salt, or as needed 
Freshly cracked pepper to taste 
4 oz. mozzarella (optional)
INSTRUCTIONS
Bring salted water to a boil in a large pot prior to boiling the pasta. The pasta should be added once the water has boiled, and boiled until tender. When the pasta has cooked, drain in a colander and let cool.
Prepare the pesto while the pasta is cooking. Chop the kale leaves into thin strips after removing the woody stems. Rinse the kale in a colander under cool water. Ensure that excess water is drained away.
The chopped and washed kale, garlic, walnuts, Parmesan, olive oil, 1/4 cup lemon juice, and salt and pepper are added to a food processor. Purée until the mixture is smooth and bright green. If necessary, add a little more oil to make the sauce thick and smooth. Make adjustments to the salt, pepper, and lemon juice according to your taste. Place the pesto aside.
Transfer the pasta to a large bowl after it has been drained and cooled to the point where it isn't steaming. Spread half the pesto evenly over the pasta, and stir until well combined.
Cube the mozzarella and add about a tbsp of lemon zest to the pasta. Gently stir together. Top with more pesto until everything is well coated. Sprinkle with more fresh cracked pepper and serve, or refrigerate until ready to eat.
#3: Baked Eggs With Italian Sausage
You can enjoy eggs in a delicious, mess-free way with this egg bake! Each egg is stuffed full of lean turkey sausage, onions, bell peppers, spinach, and shredded potatoes. It's great for a brunch-worthy meal.
INGREDIENTS (12 servings)
12 ounces lean Italian turkey sausage, casings removed
1/2 medium onion, chopped (approx. 1/2 cup)
1 medium red bell pepper, chopped (approx. 1 cup)
2 cloves garlic, finely chopped
1 bag (10 ounces) frozen chopped spinach or kale, thawed and drained well
4 cups shredded hash brown potatoes (can use frozen or refrigerated or make your own; certified gluten-free if necessary)
12 large eggs
3/4 cup almond milk (or another milk of your choice)
1 teaspoon dried basil leaves
1/2 teaspoon salt
1/2 teaspoon pepper
INSTRUCTIONS
Set the oven to 350 degrees F. Coat a 13" x 9" (3 quart) baking dish with cooking spray.
Saute sausage on medium-high heat until no longer pink, stirring occasionally, and then drain. Stir in onion and bell pepper, and cook for 3 minutes. Garlic should be added at this point; cook and stir for 1 to 2 minutes longer until crisp and tender. Finally, stir in spinach or kale.
Bake sausage and potato mixture in a baking dish. Blend eggs, milk, basil, salt, and pepper in a medium bowl. Pour egg mixture over mixture in baking dish. If you don't plan to bake right away, you can cover with foil and refrigerate until you are ready.
Bake for 1 hour at 350 degrees F with the foil cover on. After 15 to 20 minutes, uncover and bake for one more time. Let it stand for 5 to 10 minutes before serving.
#4: Tuna Burgers
Tuna burgers can be made from canned tuna, eggs, breadcrumbs, and salad greens. Pair these protein-rich patties with whole-grain bread or a salad.
INGREDIENTS
1 large egg, lightly beaten
1/2 cup dry bread crumbs
1/2 cup finely chopped celery
1/3 cup mayonnaise
1/4 cup finely chopped onion
2 tablespoons chili sauce
1 pouch (6.4 ounces) light tuna in water
2 tablespoons butter
4 hamburger buns, split and toasted
Optional: lettuce leaves and sliced tomato
INSTRUCTIONS
The first six ingredients should be blended, then the tuna should be folded in. Form into four patties.
Heated over medium heat, place butter in a cast-iron or other heavy skillet. Lightly brown the patties on each side, for about 4 minutes each. Place on buns. Add lettuce and tomatoes, if desired.
#5: Butternut Squash and Potatoes with Roasted Chicken
In one pan, roast chicken, butternut squash, and potatoes for convenience. You can enjoy this classic fall/winter meal anytime of the year. This dish is also perfect for a busy weeknight.
INGREDIENTS (4 servings) 
2 tablespoons minced garlic, divided
1 teaspoon salt, divided
¾ teaspoon freshly ground black pepper, divided
½ teaspoon dried rubbed sage
1 (3 1/2-pound) roasting chicken
Cooking spray
12 ounces red potatoes, cut into wedges
1 ½ cups cubed peeled butternut squash (about 8 ounces)
2 tablespoons butter, melted
INSTRUCTIONS
The oven should be preheated to 400°.
Mix 1/2 teaspoon salt, 1/2 teaspoon pepper, and 1 1/2 teaspoons garlic and sage in a small bowl. Discard the giblets and neck of the chicken. Gently insert your fingers between skin and meat, starting at the neck cavity, to loosen the skin on the breast and drumsticks. Tuck the wing tips under the chicken. Spread garlic mixture underneath loosened skin. Put the chicken on the rack of the broiler pan, breast side up, and spray it with cooking spray. Put the broiler pan on the rack.
The potatoes, squash, butter, salt, pepper, and 1 1/2 teaspoons of garlic should be combined. Place vegetables around chicken. For 1 hour, bake at 400° or until a meat thermometer registers 165°. Allow to sit for 10 minutes. Remove skin.
#6: Salad With Waldorf Chicken
This recipe is flexible, so you can use whatever ingredients you have.
INGREDIENTS (6 servings)
½ cup chopped walnuts
3 cups chopped cooked chicken
1 cup seedless red grapes, halved
1 large Gala apple, diced
1 cup diced celery
½ cup mayonnaise
½ cup honey mustard
Salt and pepper to taste
INSTRUCTIONS
The oven should be preheated to 350°. In a shallow pan, bake walnuts for 6 to 8 minutes, stirring halfway through, or until toasted and fragrant.
Stir together the chicken and the next 5 ingredients, then add walnuts. Season with salt and pepper to taste.
#7: Blackened Tilapia With Cumin and Cayenne
Whenever you're bored of chicken, and the price of pork or beef is too high, buy a bag of frozen tilapia fillets. With just a few herbs and spices from your pantry, you can whip up a tasty dinner in no time.
INGREDIENTS: 4 servings (serving size: 1 fillet)
1 tablespoon olive oil
4 (6-ounce) tilapia fillets
2 teaspoons ground cumin
1/2 teaspoon salt
1/2 teaspoon garlic powder
1/2 teaspoon ground red pepper
1/4 teaspoon freshly ground black pepper
Cooking spray
INSTRUCTIONS
Broiler should be preheated.
Oil the fish evenly. Sprinkle fish with cumin, salt, garlic powder, and pepper. On a broiler pan coated with cooking spray, arrange fish; broil for 5 minutes or until fish flakes easily, or you have reached the degree of doneness you wish.
Make Healthy Eating Easier by Planning Ahead
Healthy and budget-friendly meals are available through HelloFresh. In the future, grocery shopping will no longer be necessary, and takeaway food will no longer be an inconvenience. We have the best recipe collection for great-tasting meals, and can bring them right to your door.
Healthy living doesn't have to be difficult. There are plenty of foods you can eat if you're creative about it. The key is to plan your nutrition and food intake ahead of time. Making a meal plan beforehand can help you avoid overspending on food and eating unhealthy foods when feeling hungry.