Gut-Friendly & Delicious Indian Kanji for Your Tummy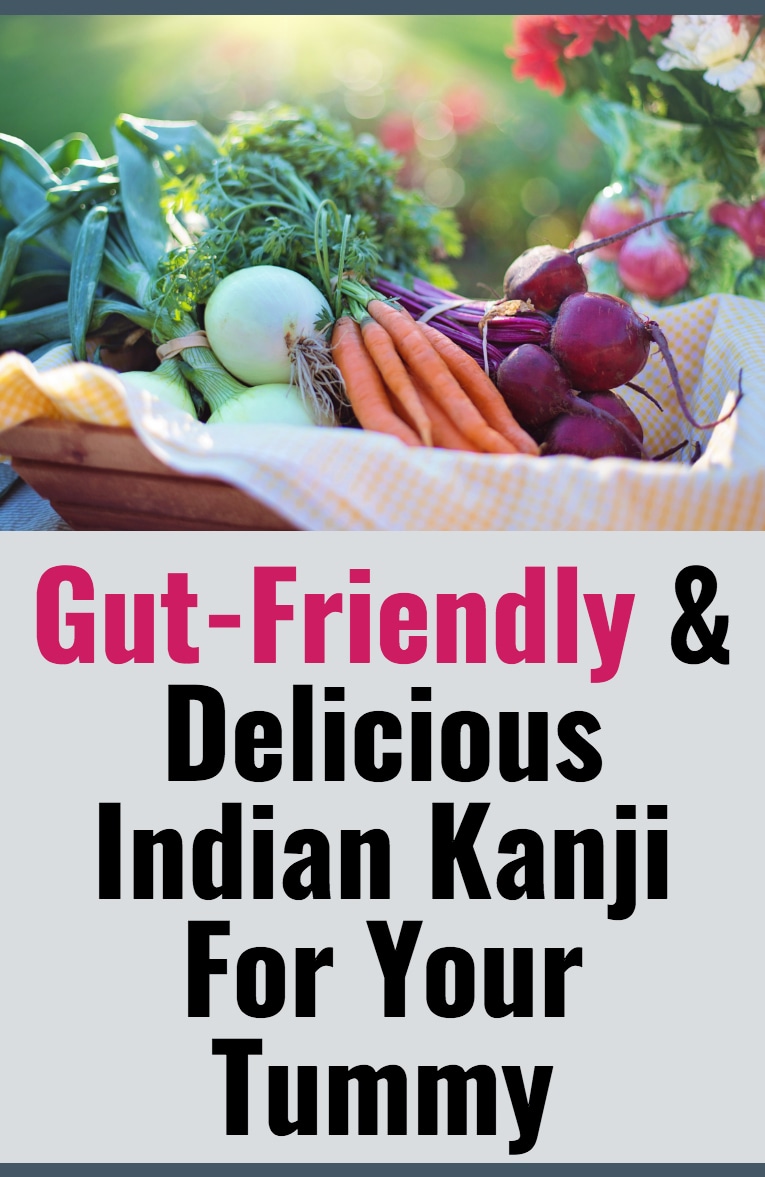 There has been a boom in fermented food consumption around the world. It seems that everybody is rushing to consume or drink some type of fermented food. Every country has a rich history with fermented foods and this includes India, which boasts many delicious recipes like Kanji.
What is Kanji?
Kanji is a very popular drink that might have originated in Northern India. It is a tangy and fun drink that is consumed after it has been chilled, especially during those hot summer Indian days. No one called it a fermented drink because that is a modern interpretation of the process but that is what the drink is.
Granted, the idea of drinking something that is a little sour and slightly salty does not always sound appealing. Most people cannot wait to drink something sweet and chilled during those hot summer days, but fermented drinks are natural pops, which is something people have to get used to.
Think of this drink as kombucha, which is already pretty popular or beet kvass, but get ready to be surprised by its unique flavor.
Why Should you try This Drink?
Kanji, like other fermented foods or drinks, is filled with probiotics. These are beneficial bacteria that the body needs to aid digestion. It is known for leaky gut treatment supplements and reducing bloating along with gas. People have largely stopped consuming naturally fermented foods, making it vital that you add them to your diet.
Those who are already consuming some type of fermented food or drink should also consider the fact that every fermented food contains different probiotics due to the ingredients used. Kanji, for example, contains L. pentosus, L. paraplantarum, and L. plantarum just to name some of its unique probiotics. This means that trying different recipes is actually a good idea. Plus, you'll be trying something different.
You probably think that your Rajasthani Dal Dhokli, topped with your favorite natural dressing from dedicated food manufacturers in Melbourne, was already great, but pair your dumplings or your favorite Indian meal with Kanji. You'll experience a taste explosion.
What do You Need to Make the Drink?
You are going to need the following tools for this fermentation project:
● Half gallon glass mason jar, decontaminated
● A clean cheese cloth, linen cloth, or just use the mason jar's lid
● Your trusty wooden spoon
● Large bowl that can fit all ingredients
The reason you need a wooden spoon is because probiotics do not react well to man-made metals, so do your best to use a wooden spoon during your fermentation.
You will need the following ingredients to make your drink:
● 1 tablespoon of crushed mustard seeds
● 4 or 5 peeled and sliced carrots
● 1 peeled and sliced beet
● 6 to 7 cups of filtered spring water
● 1 tablespoon of your favorite sea salt
Instructions for Your Kanji Drink
Combine all the vegetables in a bowl. Add the salt and mustard seeds, and mix just like you would a salad. This can be done by hand to make sure the seasonings are blended well.

Transfer your mix into your glass mason jar.

Fill the mason jar with the filtered spring water. Make sure the vegetables are completely covered; add water if necessary.

Place the mason jar in a sunny area. Cover the jar with your cheese cloth, linen cloth, or just lightly place the lid over the mason jar.

Now, you want to make sure that your home is relatively warm. Ideally, you want your home to be close to room temperature or a bit warmer so that the drink ferments well. This is not to say that your drink will not ferment if its slightly colder but it may take longer.

You are going to let the drink ferment for three days though it can take a full week.

Check your drink a couple times a day. Mix it with a wooden spoon to make sure your vegetables are not poking out of the water.

Taste your drink after three days to see if it is ready. What you want is a flavorful and sour taste.

Strain the drink, and place it in the fridge. Drink it when it's nice and cold.

Do not throw away those pickled vegetables because they will be great for sandwiches or whatever meal you can stuff them in.
As you can see, making this traditional and delicious Indian Kanji drink is simple enough and it is good for you.
This recipe is inspired from this Kanji Recipe.
You may also like these other fascinating and refresing Indian Drinks: