Need to find the perfect cuisine-based binging material for a good night in? Then see what's on the menu with these five great cooking shows.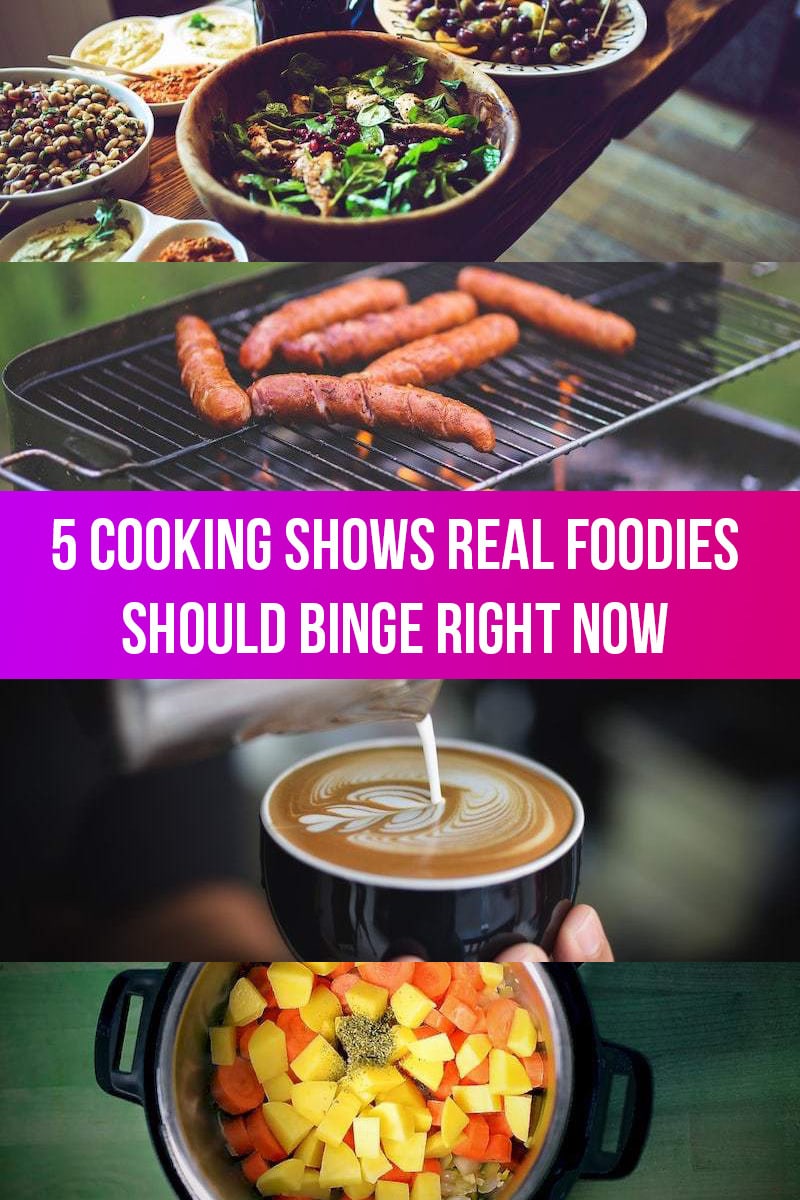 People have a lot of different reasons for watching cooking shows. They're a feast for the eyes, and they give a glimpse into innovative creations that people might never make at home. Some people watch competition-based cooking shows for the sizzle and excitement, while others prefer a comfort-food approach. 
Luckily there's no lack of options with the broad selection of streaming platforms available right now. But that also means that there's a lot to digest. Here are the top five cooking shows that both casual and serious foodies should be watching right now.
This Netflix series will now enter its third season of amateur bake-off disasters. It's a wildly entertaining cooking competition that does away with the professionals. Instead, each episode has three amateur bakers go up against each other to see who can create one masterpiece. Or, at least, come the closest to it. Hilarity always ensues as the bakers try their best to recreate a baking challenge set by a master baker.
Who should watch this: Anyone who's interested in seeing delicious confectionary creations but doesn't care about perfection. There's no way these home bakers can pull off the intricate goals set before them, so just sit back and enjoy the flops they produce.
Most cooking shows pit people of relatively equal skill against each other. This show turns that concept on its head. Going up against a professional chef would seem like a nightmare to most people, but these ordinary cooks are up for the challenge. First, two cooks battle it out, and then the winner goes up against Bobby Flay in a bid to see if they can outdo the culinary whizz. Luckily, the outcome isn't always too predictable, and Bobby keeps it entertaining through plenty of compliments and trash talking.
Who should watch this: Anyone interested in seeing a cooking competition show that's a little different.
3. Anthony Bourdain: Parts Unknown ()
Anthony Bourdain practically created the concept of travel food shows, and this is the late TV host's last big project. Parts Unknown takes the viewer to different cities and villages all over the world for a look at their food and culture. Anthony believed that food had a magnificent connection with culture and he brought that concept through in his informative journeys.
Who should watch this: Those longing to see different parts of the world and the way they developed their own unique recipes. Some things will seem familiar (he even visits places in Punjab in season three) while other places will seem totally alien. It's an exciting adventure for both the foodie and anthropologist.
Ever wondered how truly different the 1% eat from ordinary people? Worth It is a Buzzfeed series that explores the same foods but at different pricing tiers. The hosts take meals such as American burgers and Asian noodles then see which is better: the affordable meal or the insanely expensive one. It's a very unique concept for a cooking show and answers an important mystery: is more expensive food really all that better?
Who should watch this: Those who are interested in getting an in-depth look at the differences between cheap and expensive food. The show also does a good job of answering some of the harder topics around quality cuisine.
5. Gordon Ramsay's Ultimate Cookery Course ()
Whenever people mention this infamous chef, they think of his dramatic antics and foulmouthed rants. But Gordon Ramsay's Ultimate Cookery Course shows a wholly different, calmer side of the culinary artist. He's learned the tricks of the trade from some very talented people and taught plenty of others himself. Now he's taking to the screen to give viewers simple tricks and tips that will help them save money. And create amazing recipes, of course!
Who should watch this: This is a definite must for any Gordon Ramsay fans, but it's also a highly informative show. The Ultimate Cookery Course will teach anyone the basics of being a modern cook.
The Struggle of Watching Shows Abroad
While there are plenty of streaming services available now, some content is unfortunately still missing here. Those on the list above are the best cooking shows available in the world. But some streaming services, like Hulu, are restricted to certain countries. 
The biggest reason for not having a show available is the content restrictions placed on streaming services by production companies. Shows that are available in countries like the US don't always show up in other countries due to these restrictions. There's not much people can do about it, but resorting to illegal streaming is not the answer. People who are struggling to find the shows they like could consider getting an Indian VPN service (like this one) to help with this problem.
If you like this post, then you would surely love our very own cooking channel on youtube: