Chopped Greek Salad can be served as a main dish salad or side salad. Made with romaine lettuce, tomatoes, cucumber, kalamata olives, red pepper, chickpeas, artichoke hearts, red onion, feta cheese, and a simple Greek dressing, the flavors are incredible.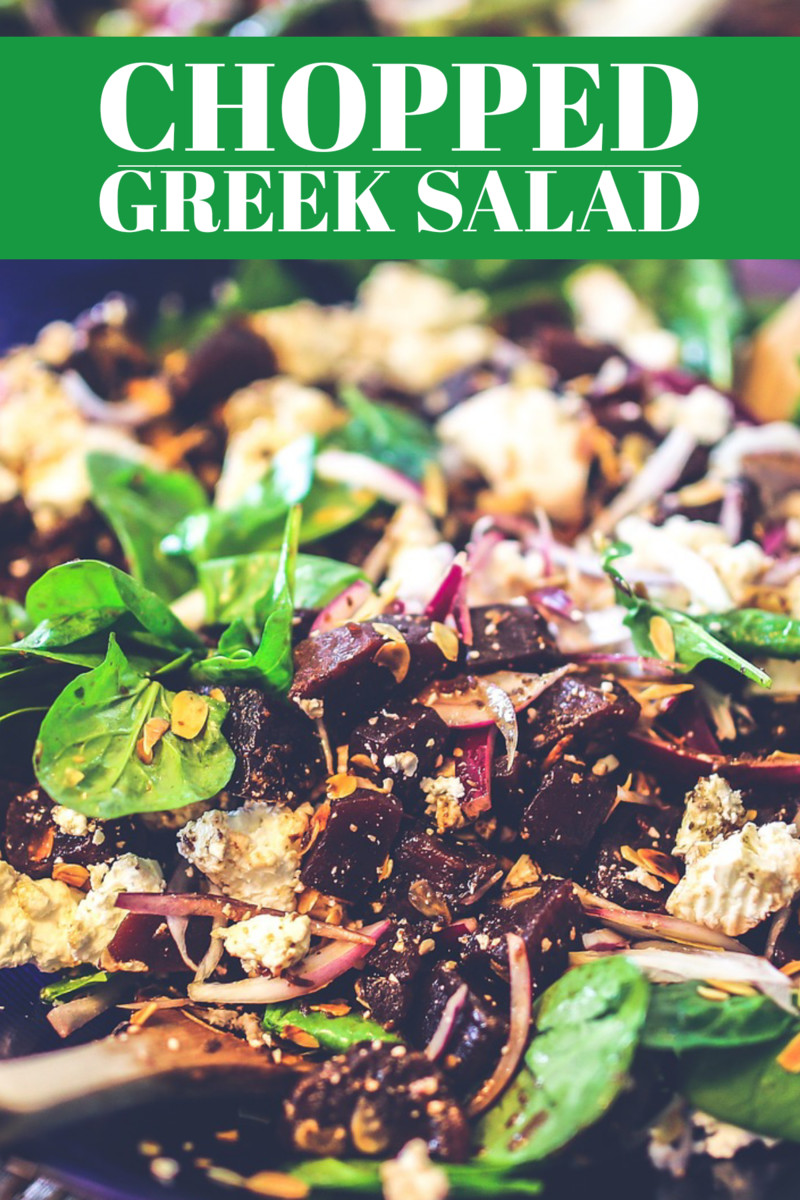 Many people will want salads for lunch and dinner when the weather starts to warm up a little. Considered amongst the all-time favorite salads is this healthy and easy Chopped Greek Salad. This Chopped Greek Salad has everything you need to help you stay healthy. Packed with minerals and vitamins, you can enjoy this loaded salad for lunch, dinner or serve it as a side salad with any meal you want to. This salad will get good reviews from family and friends every time you serve this salad. The flavors are bold, fresh and very delicious.
Ingredients
This Chopped Greek Salad is loaded with so many ingredients. Probably the best thing about this salad is that you get so many flavors in one salad. You should be able to get most of these ingredients from a grocery store or you could make use of these and save a little money.
Traditional Greek salad doesn't have lettuce but we suggest adding chopped romaine to bulk up the salad and add a fresh crunch. Look for a cool, crisp, and crunchy seedless cucumber. You could chop up regular tomatoes too but we would recommend using grape or cherry tomatoes. You should add a little red bell pepper for color and sweetness. You should use pitted kalamata olives as no one will want to bite into an olive pit while enjoying the salad.
Normally artichokes aren't a part of . You should be able to find artichoke hearts in the canned vegetable aisle. Add chickpeas as a source of protein. You can also add chicken, steak, salmon, or shrimp to make the salad the main meal. Cut a little red onion into thin slices. The purple color should also make the salad look pretty. Get a block of feta cheese and chop it up into little cubes. You can add pita chips as well. Store-bought pita chips should work but if you want you can make at home. You can serve them on the side or even break them up and toss them into the salad just like you would with croutons.
Greek Salad Dressing
The dressing for Chopped Greek Salad is very easy to make and simple. It can be made with a few ingredients that you probably already have in your kitchen.
You will need olive oil, lemon juice, red wine vinegar, garlic, Dijon mustard, salt, dried oregano, and pepper to make the salad dressing. In a small bowl or a jar, mix all of the ingredients together. You can store the dressing in a container inside a refrigerator for about one week.
How to Make Chopped Greek Salad
Once you have your Greek Salad dressing made and all of the ingredients chopped up and ready to go, you are ready to start making the . Take a large bowl, add all of the salad ingredients that you have and then drizzle the salad dressing over the ingredients. Use your desired amount and toss until you have reached a point where all of the ingredients are well coated. Serve instantly for best results or within the same day.
This Greek Salad could also be a meal prep salad. You could chop up all of the required ingredients in advance and store them in the refrigerator and they should stay fresh for a little over one week. You can keep the ingredients and even the dressing stored in until you are ready to make the salad. You could also try putting all of the ingredients into a meal prep container. That way you will have a grab and go salad ready in your fridge. Just keep the dressing in a separate container and this should work perfectly for work lunches or easy dinners.