Most people could probably describe, from memory, the distinctive uniform of a professional chef. What they certainly cannot do is explain the function of each of the uniform's components. The unique uniform chefs wear did not become what it is or stayed the same for so long without good reason. Each item plays a role in helping the chef complete his task.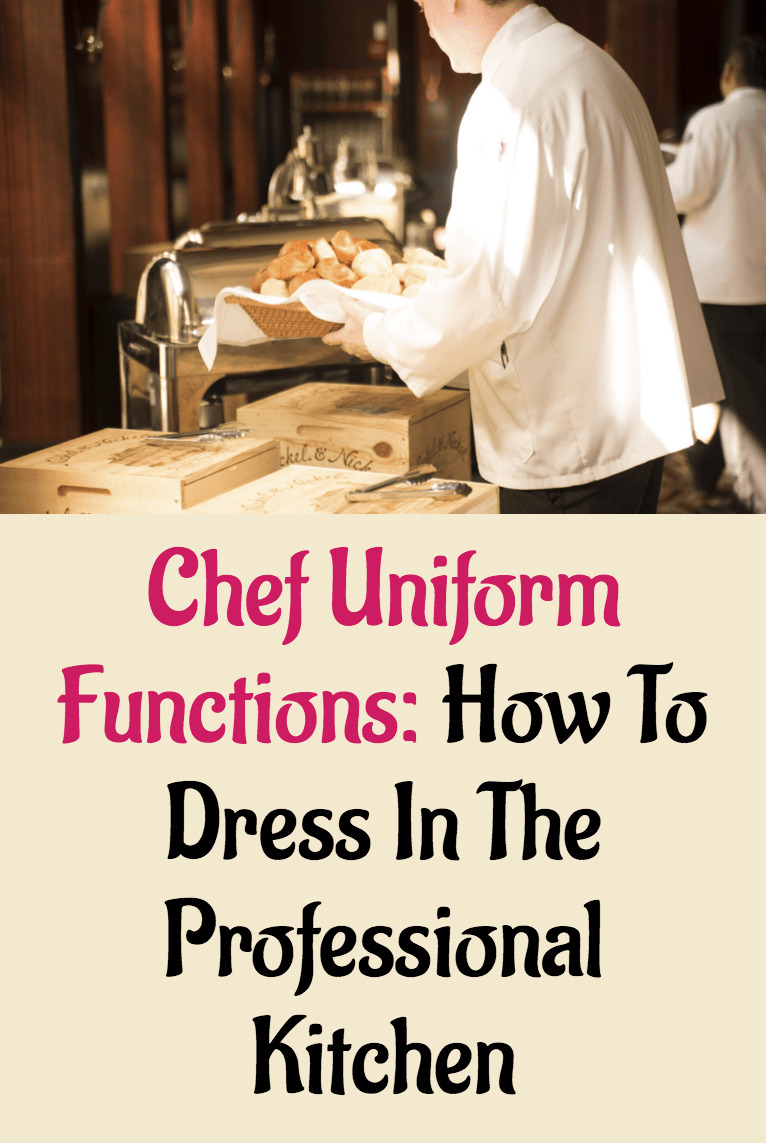 Related: Why do chefs wear a uniform that is so distinctive?
Starting from the top, the "toque blanche" or white hat helps the chef stay cool in the kitchen and prevents sweat and hair from falling into the food. Other options are now offered such as hair nets, skull caps, mob caps and head scarves. Which ever head covering you choose, its purpose is to keep you cool and prevent the unfortunate incident of presenting plates with a hair in it.
Traditionally, chefs wore a white neck tie that absorbed perspiration. Since most kitchens are now air-conditioned, this item is no longer necessary. The tie continues to represent a sign of respect for the trade and might be worn by professional chefs.
Related: Avoid Messy Disasters – Keep Clean While in the Kitchen
When choosing a jacket, double breasted remains the norm, but you can now choose between traditional white or more practical black. Even though black jackets might appear less messy, a white jacket seems more professional. Consider buying a jacket with a pen pocket as it might prove useful in the kitchen. Some restaurants insist you wear a name tag, if that is the case, it is worn on the left side of the jacket and can be embroidered. Pants should be black and baggy to protect you from spills and hot food.
Related: Restaurant Style Paneer Do Pyaza
An apron is necessary to offer protection from the waist to the knees. Aprons are white, folded over and tied around the waist. Chefs tie their aprons at the front to ensure quick removal if they need to change it. The apron should fall just below the knee so it is neither too short nor too long. A torchon, or hand towel, hangs on the apron strings and is used to pick up hot plates or pans, wipe surfaces or dry hands. The last item in the uniform are the shoes, an element to choose with consideration since a chef spends all his working hours standing. You want shoes that are slip-resistant and that cover the top of the foot, protecting it from burns or cuts.
Related: 10 Kitchen Hacks To Slice And Cut Without A Knife
A chef's uniform should never be worn in public. It should be changed daily, more frequently if it is stained. Jackets and aprons should be ironed before wearing. Now that you know how to dress, you also need to pay attention to other details that will show your professionalism. Fingernails should always be cut short and kept clean. Remove all jewelry when before entering the kitchen. Maintain good personal hygiene as you only have one chance to make a good first impression. By following these guidelines, you will find that your safety and comfort are ensured as you joined the proud fellowship of the culinary experts.
Related: Restaurant Style Dal Makhani