Flakey, smokey, and healthy, salmon is the perfect choice for any meal. There's a great protein in salmon to boot! If you're looking for a new recipe, one—or all—of these is sure to be a winner!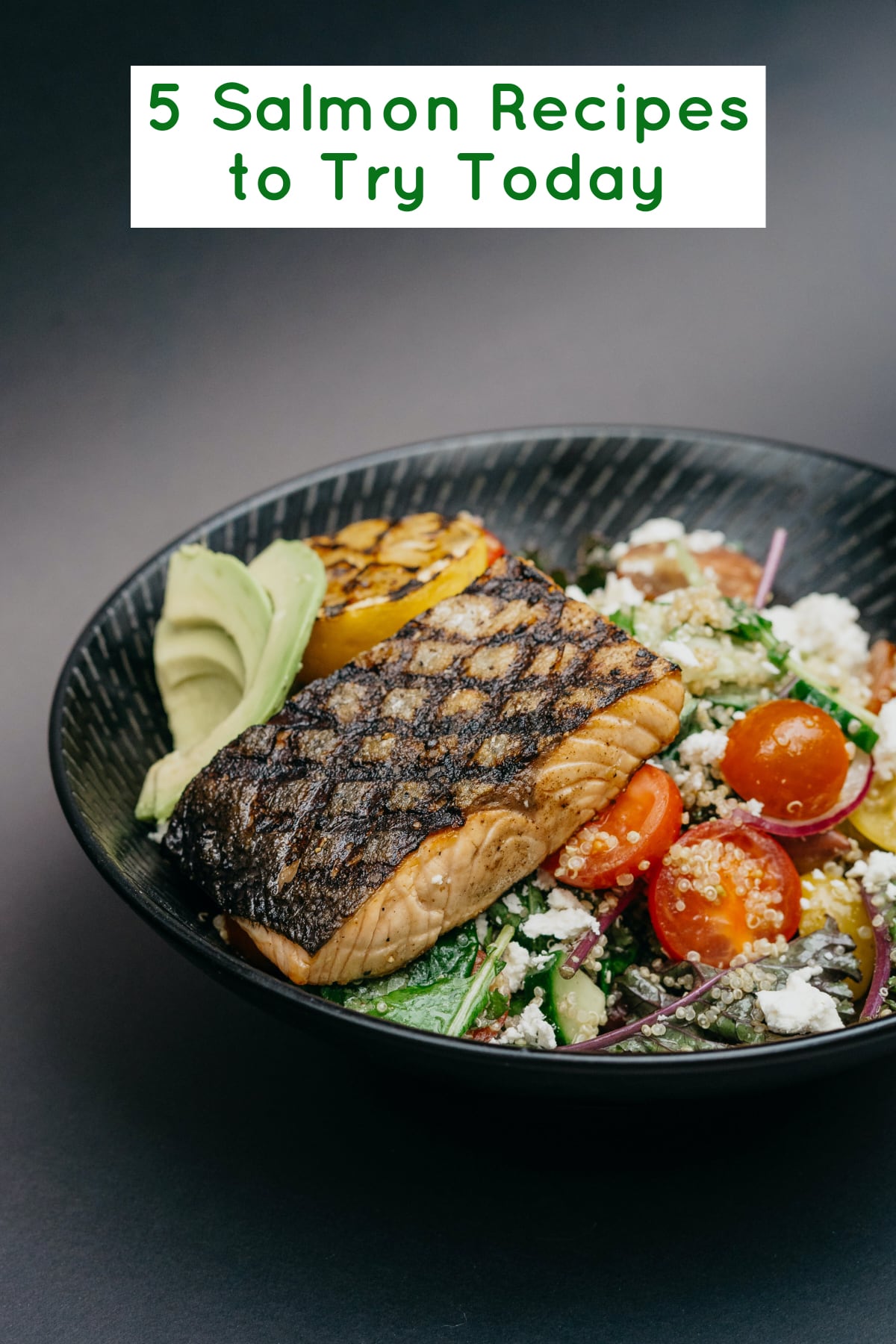 Grilled Salmon Steak with Tagliatelle
This French recipe elevates salmon with a light tomato sauce and , yet only takes 30 minutes of combined prep and cooking to complete. The ingredients are relatively common. If you can't find tagliatelle, try linguine, and the closest substitution for Espelette pepper is paprika.
16 ounces fresh tagliatelle

4 salmon filet

4 tomatoes, swirled and diced

1 zucchini, peeled and cut into slices

2 garlic cloves, chopped

4 tbsp of olive oil

1 pinch of Espelette pepper and salt each
Saute the garlic and tomatoes in a pan. Add salt and pepper. Meanwhile, place a large pot of salted water on heat to boil.
In a skillet, heat 2 tablespoons of oil. Add your salmon fillets and fry for 5 minutes. Flip and repeat.
Add the pasta to the water and cook until tender per instructions, usually 7 to 10 minutes. Drain the pasta and coat with the remaining olive oil and salt and pepper to taste. Combine with the zucchini and tomato sauce. Serve with salmon.
Everything Bagel Crusted Salmon
If you've ever wished you could enjoy the unique taste of an everything bagel in other dishes, this is the recipe for you! You can find everything bagel seasoning at pretty much every grocery store, and even store brands make it! Once you see how easily you can make a flavorful recipe with it, you might find yourself on a quest to see what other recipes you can make with it.
Preheat your oven to 450 degrees and line a baking sheet with parchment paper. Spray lightly. Place four 5-ounce salmon fillets skin down on the sheet. Mixed 1 tablespoon honey and 2 teaspoons Dijon mustard to brush on the salmon. Sprinkle liberally with everything bagel seasoning. Pat lightly before cooking until the internal temp of salmon is 145 degrees.
Roasted vegetables make the perfect side because you can place them on the sheet with the salmon. Try roasted sweet potatoes, Brussel sprouts, or asparagus, each of which is healthy and only requires a bit of salt to taste.
Asian-Inspired Salmon with Fried Rice
While not quite as easy as other recipes on this list, this recipe is absolutely delicious. It's also a great option for anyone who wants to branch out from the roasted vegetables typically served with salmon.
Start by preheating the oven to 425 degrees. Grease a baking dish and place four salmon fillets in the dish. In a bowl, combine the following ingredients before pouring them over the salmon. Bake 15 - 20 minutes until flakey.
1/4 cup soy sauce

2 tbsp brown sugar, packed

1 tbsp sesame oil

1 tbsp red wine vinegar

1 tbsp honey

1 tsp ground ginger

1/2 tsp garlic powder
For the rice, beat together 1 large egg and 1 tablespoon of water. Melt 1 tablespoon of butter in a pan on medium heat. Add the egg mixture and cook until scrambled. Set aside.
In the same pan, heat 1 tablespoon of vegetable oil. 1/4 cup of chopped onion and 3 along with 1 cup of frozen peas and carrot mix (thawed) and saute until soft. Add 2 cups cold cooked white rice, 1/4 cup soy sauce, and 1/2 black pepper to the pan. Cook and stir until combined. Add the eggs and cook until stirred through.
Serve with salmon.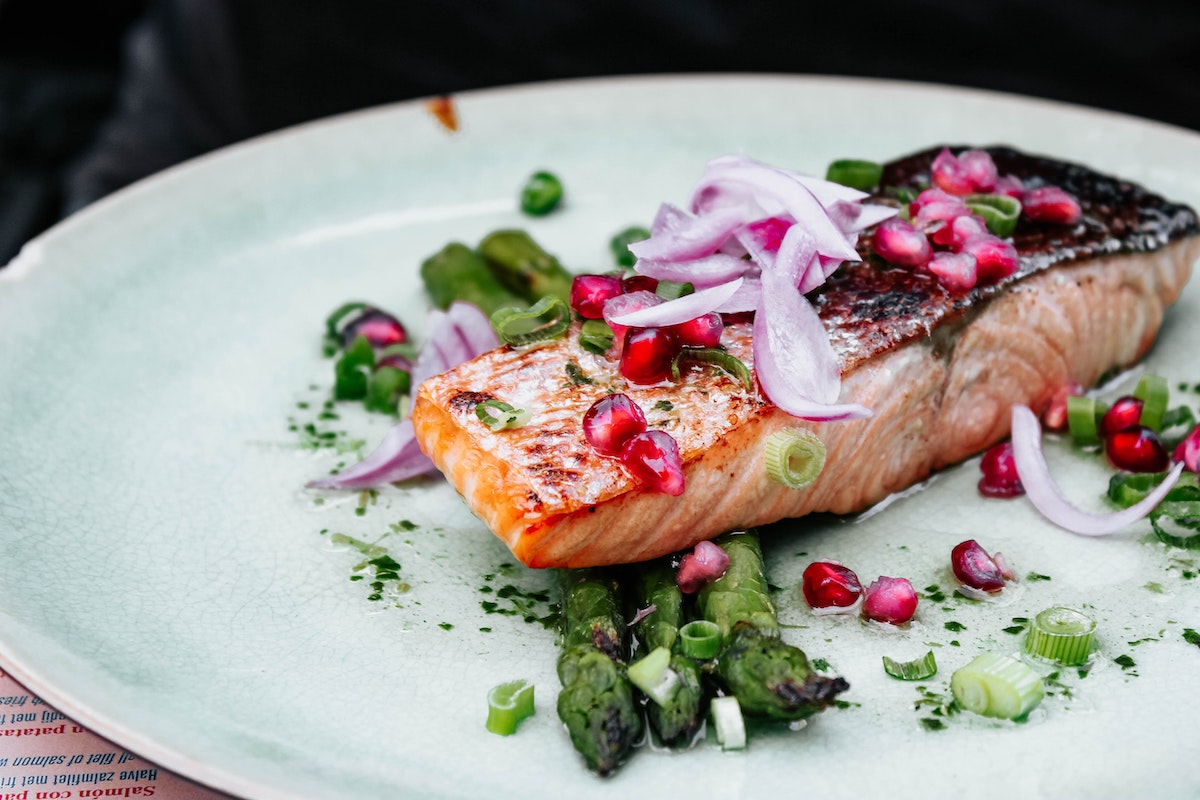 Baked Garlic Butter Salmon
Zesty, buttery, and oh-so-flakey, you won't believe how easy this recipe is! The foil ensures the salmon never dries out. You also have your choice of sides. Try a light garlic butter , green beans sauteed in butter and garlic, or garlic mashed potatoes to double up on the garlic. Lemon butter rice or lemon herb also compliment the garlic flavor well if you want something a bit lighter.
After preheating the oven to 400 degrees, line a baking sheet with foil and place 1 pound of salmon in the center. Combine the following ingredients to make a paste to pour on the salmon.
4 garlic cloves, minced

1 tbsp dijon mustard

1 tbsp unsalted butter, melted

2 tbsp raw honey

1 tsp lemon zest

1/4 tsp smoked paprika

1/4 tsp basil

1/8 tsp red pepper flakes

salt and pepper to taste
Top with parsley and lemon slices.
Fold the foil over the salmon to create a tent. Bake 10 to 14 minutes until the has reached safe levels. Remove the salmon from the oven and unfold the foil. Return the salmon protein to the oven with the broiler on high for 3 minutes.
Spicy Salmon with Garlic Honey
For a bit more of a kick, this recipe pairs the sweetness of honey with ginger and chili flakes. Try a side of honey-glazed carrots to complete the meal.
Start with four 8-ounce fillets, skin removed and patted dry. Mix 1 teaspoon paprika, 1 teaspoon garlic powder, 3/4 teaspoon of black pepper, and 1/2 teaspoon of cayenne pepper to create a seasoning for both sides of the salmon. Heat 2 teaspoons of olive oil in a pan before adding the salmon. Sear each side for 5 minutes.
To create the sauce, combine the following ingredients, then pour into the pan with the salmon.
¼ cup honey

4 cloves garlic, minced

1 tbsp. lemon juice

½ tsp onion powder

2 tbsp water

⅓ cup low-sodium soy sauce

½ tsp chili flakes

1 tbsp olive oil

1½ tsp corn starch

½ tsp ginger powder
After the sauce thickens, glaze the salmon with it.
If you're ready to try these salmon recipes and want to ensure you always have fresh seafood on hand, there's always convenient seafood delivery.