What could be more soothing on a cold day than a hot bowl of mouthwatering ramen? While you may prefer to have your ramen craving satisfied by a ramen expert, that doesn't say you can't cook a great bowl of ramen at home.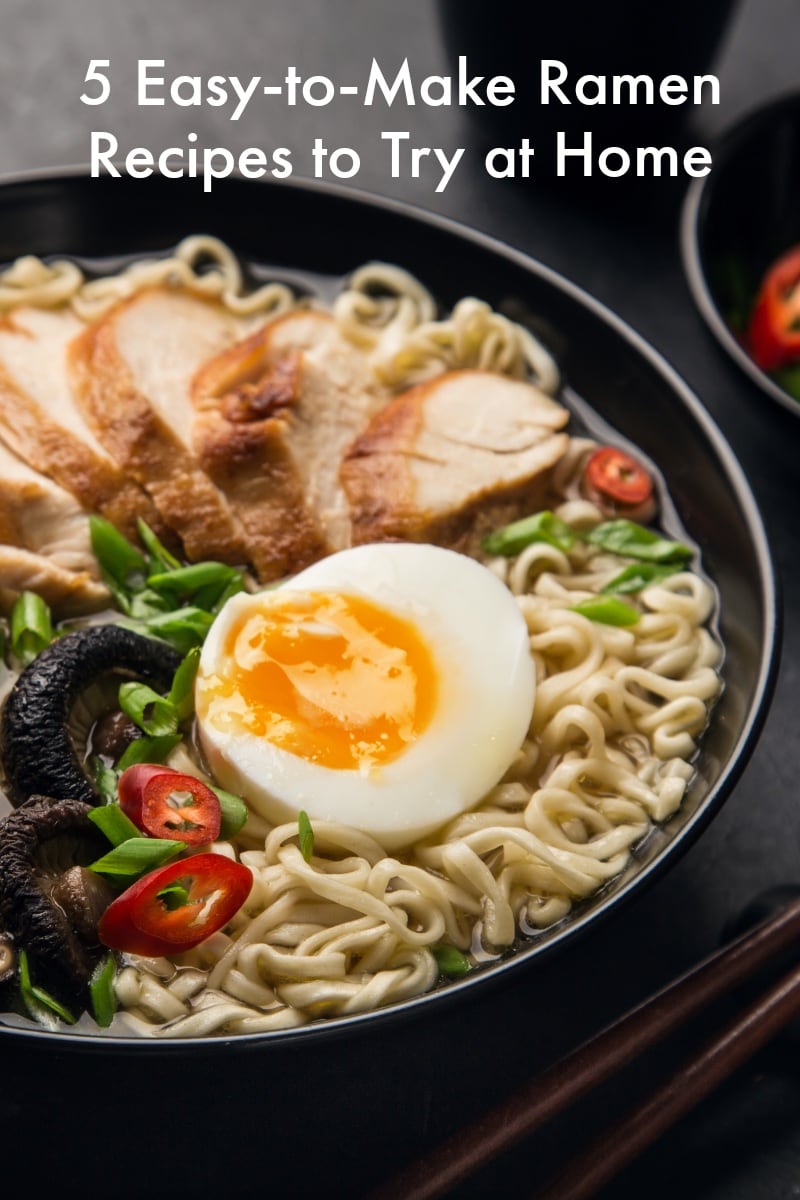 Fundamentals Of Ramen
Before delving into making a ramen dish, you have to be familiar with the fundamentals of ramen. Ramen is a hot noodle meal often served in a flavorful broth and a variety of toppings. If you've ever eaten at a ramen restaurant, you're probably aware of the many . However, even with different varieties, every ramen has the following components: 
Ramen's versatility is one of its most appealing elements. You may make it your own by adding different tastes. Although most ramen broths have few ingredients, they have their unique flavor, thanks to the broth. 
Here are some popular broths for most ramen: Shoyu, Tonkotsu, Miso, and Shio. Although these are the most common types of ramen broth, there are many other creative variants worldwide. 
Ramen broth may be prepared days ahead. Additionally, it may be refrigerated in single-serve quantities for convenient thawing and consumption at any time. 
Ramen noodles are made from a mixture of wheat flour, water, and salt and a secret ingredient called Kansui, or alkaline water. This is what gives ramen noodles their unique flavor, brilliant yellow color, and firmness. Ramen noodles are best cooked briefly in hot water just before plating.  
There's an infinite number of additional ramen toppings that may elevate your ramen meal. Here are few add-ons to consider: 
Chashu or fatty pork belly  

Green onions  

Soft-boiled eggs  

Bean sprouts  

Sesame seeds  

Shiitake mushrooms  

Bok choy  

Nori or dried seaweeds 
Easy Home-cooked Ramen Recipes
While ramen experts spend years honing their art, the reality is that you don't have to attend a ramen masterclass to create your personalized bowl at home. The following are easy ramen recipes that you could make at home. 
1. Chicken Teriyaki Ramen
Savor this Chicken Teriyaki Ramen meal in the convenience of your home. This recipe will only take 15 minutes to make. To experience the fun aspects of cooking this recipe, just purchase pre-made ramen sauce. Makes this recipe your own by adjusting the ingredients. 
Cook noodles using the package instructions. In a pan, heat one tablespoon of oil on medium heat. Stir-fry for three to four minutes, or until chicken is done. Remove the chicken and set it aside. On the same pan, add a little oil. Throw in the onion and cook for another three minutes. Toss in the mushrooms and cabbage and cook until they're soft. 
Transfer the chicken to the pan. Combine the noodle and the teriyaki sauce in the pan. Toss everything together until fully mixed. Add a garnish if desired. Serve and have fun. 
2. Yaki-soba Ramen
This would be the simplest ramen you'll ever cook. It takes less than 30 minutes to prepare. And it's much more delectable and healthier than the instant ones.  
In a deep pan, put eggs and fill with cold water, then bring to a boil. Then, reduce to low heat and simmer for a minute. Remove eggs from water and set aside. 
In a large pot, add olive oil on medium heat. Then toss in garlic and ginger, sauté until aromatic. Add chicken broth, mushrooms, soy sauce, and three cups of water to the pot. Bring to a boil. Lower to low heat and continue cooking for approximately 10 minutes, or till mushrooms are tender. 
Add noodles and stir until cooked for approximately two to three minutes. Toss in spinach, carrot, and chives—cook for approximately two minutes. Serve hot, topped with sliced cooked eggs. 
3. Easy Homemade Ramen Bowls
There are many alternatives for making homemade ramen. This dish is fantastic as-is, but use it as a base for your home-cooked ramen if you're feeling adventurous. 
In a medium pot, heat the oil. When the oil has reached a high temperature, add garlic and ginger. Reduce heat to low and cook until aromatic. Then, add your desired vegetables and simmer until they are tender. 
Add broth, rice wine vinegar, soy sauce, and Sriracha to the pot. Stir the mixture thoroughly to incorporate all of the ingredients. Allow approximately five minutes for the broth to boil. Taste and adjust with more soy sauce or Sriracha as preferred. 
While the soup is simmering, prepare the ramen noodles according to the package directions. When finished, drain and run it under cold water. When the broth is done, pour it on the noodles and top the dish with egg and nori as desired. 
4. Tsukemen Ramen
Tsukemen is a common menu item at ramen restaurants worldwide. Rather than the traditional hot noodles, Tsukemen offers cold noodles eaten with a second cup of steamy dipping liquid. 
To begin, boil your noodles, strain, and chill. Combine chicken broth, mirin, soy sauce, and miso paste to make the dipping liquid. Add all ingredients to a saucepan and cook for five minutes. Once finished, serve the cold noodles with a small dish of the dipping liquid and your desired garnishes.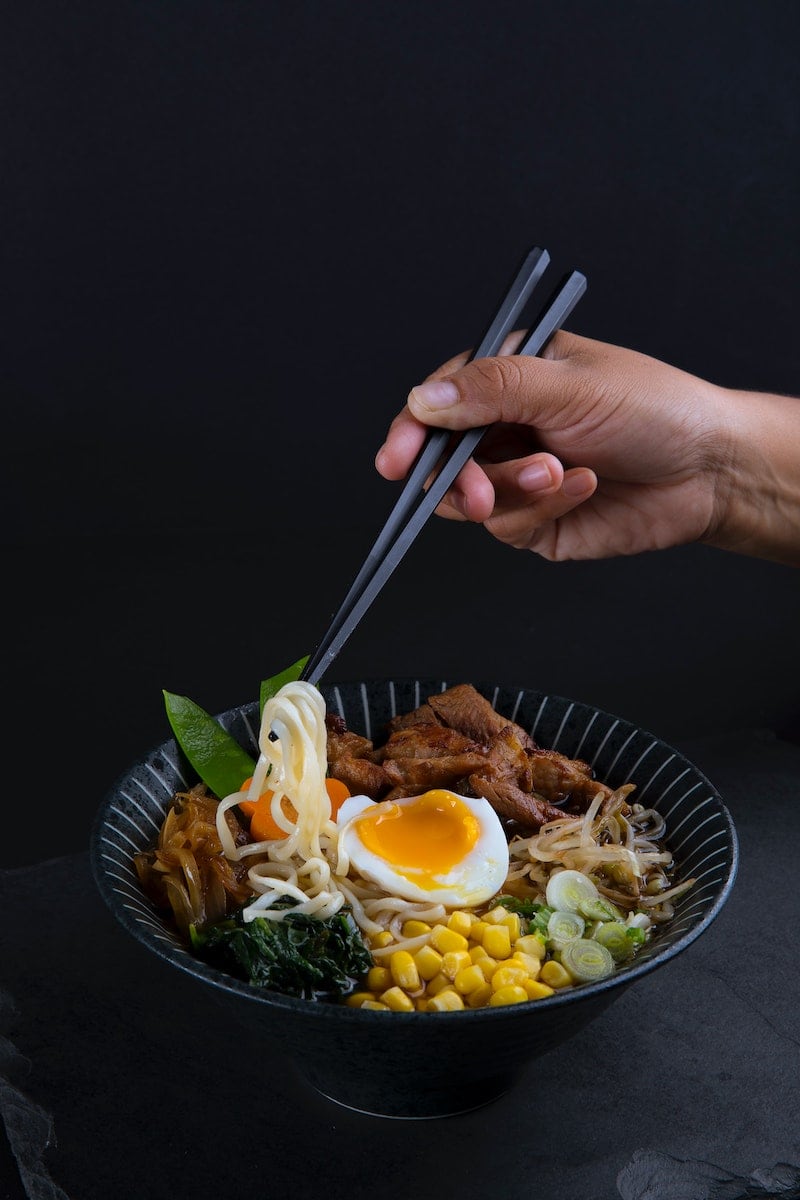 5. Shio Ramen
Shio ramen is a traditional Japanese noodle dish that's mainly flavored with salt. Japanese ramen begins with meat, seafood, or dashi broth base. Usually, the tare or flavoring ingredient is added afterward to create various tastes from a single broth base. 
Begin by preparing your Shio tare for your ramen. Mix a cup of water and salt in a small pot. Boil and whisk until dissolved on medium-high heat. Add the mirin and kombu. Cover and turn off the heat. Allow five minutes for steeping, then take out the kombu from the broth. Bring the liquid back to a boil. 
Reduce to a gentle simmer with the katsuobushi. Take the pan off the heat, cover it, and set it aside for three minutes to soak. Stir in the stock of your choice and simmer until the ingredients are tender. Serve over your favorite ramen noodles and toppings. 
Enjoy Your Ramen
Nothing beats a steaming bowl of ramen noodles to keep you cozy on a chilly day. These ramen dishes aren't just warming and comforting; they're also easy to make. It's very simple to make ramen at home with these helpful noodle recipes.