It's not uncommon to find CBD in loads of meals and drinks these days. And it's no wonder CBD is being added from everything to soups, sauces, cocktails, and even makeup because of the health benefits the compound comes with.
Not to be confused with THC, CBD (the abbreviation for cannabidiol) is found in the flowers and leaves of cannabis plants. But, it's important to note that CBD has zero psychedelic elements and no amount of CBD can get you stoned, regardless of how much you take.
"CBD exhibits no effects indicative of any abuse or dependence potential," says the (WHO). "There is no evidence of public health related problems associated with the use of pure CBD." CBD has been proven to help with pain relief, anxiety and depression, insomnia, and is even used to treat cancer patients undergoing treatment. 
CBD comes in a variety of forms including oil (it's most popular form), treats, beer, and body care products. CBD oil allows for easy-to-use flexibility and can be as easily digested as simply as putting it directly into your mouth.
Because of CBD's increasing popularity, it's not difficult to find a bevy of recipes. 
Whether you're a CBD cooking pro or you're just starting to discover its true essence, here are a few recipes to consider as you embark on your CBD-infused cooking journey.
First and foremost, CBD works best when it's incorporated into fat so when you're cooking, you need to fuse the CBD oil into a fat or another oil-based ingredient like butter, ghee, olive oil, or coconut oil in order to get the most benefits out of cooking with CBD. You'll also have to find a source for your CBD oil - which can be purchased at if you're a Canadian reader or purchased from the State you are residing if CBD oil is legal.
CBD Guacamole
Holy guacamole. When it comes to Mexican cuisine, it's tough to find a more beloved and popular dish than guac (sorry, tacos.) Full of flavourful condiments, it's main ingredient, avocadoes, consists mostly of healthy fats, which makes it the perfect base to fuse some CBD oil into. 
Not to mention CBD-infused guac is gluten-free and vegan-friendly, meaning it can be a widespread hit if you opt to bring it to parties.
What you'll need:
3 medium-sized ripe avocados
1 tablespoon of lime juice
½ teaspoon of salt
½  teaspoon of cumin
¼ teaspoon of cayenne pepper
½ onion
2 tomatoes
1 large clove of garlic
1 tablespoon of fresh cilantro
½  jalapeno pepper
1 mL of CBD oil
Instructions:
Peel and half your avocados and finely dice your onion and tomatoes. Mince your garlic and chop your cilantro and jalapeno pepper. 
Put the avocados in a large mixing bowl (choose wisely as this will become your guac base) and mash them.
Add in the salt, garlic, cumin, cilantro, onions, jalapeno, cayenne pepper, tomatoes, and lime juice. 
Add in your CBD oil and stir evenly and vigorously to ensure an even spread of all ingredients.
Cover the dish with saran wrap and let it sit at room temperature for two hours.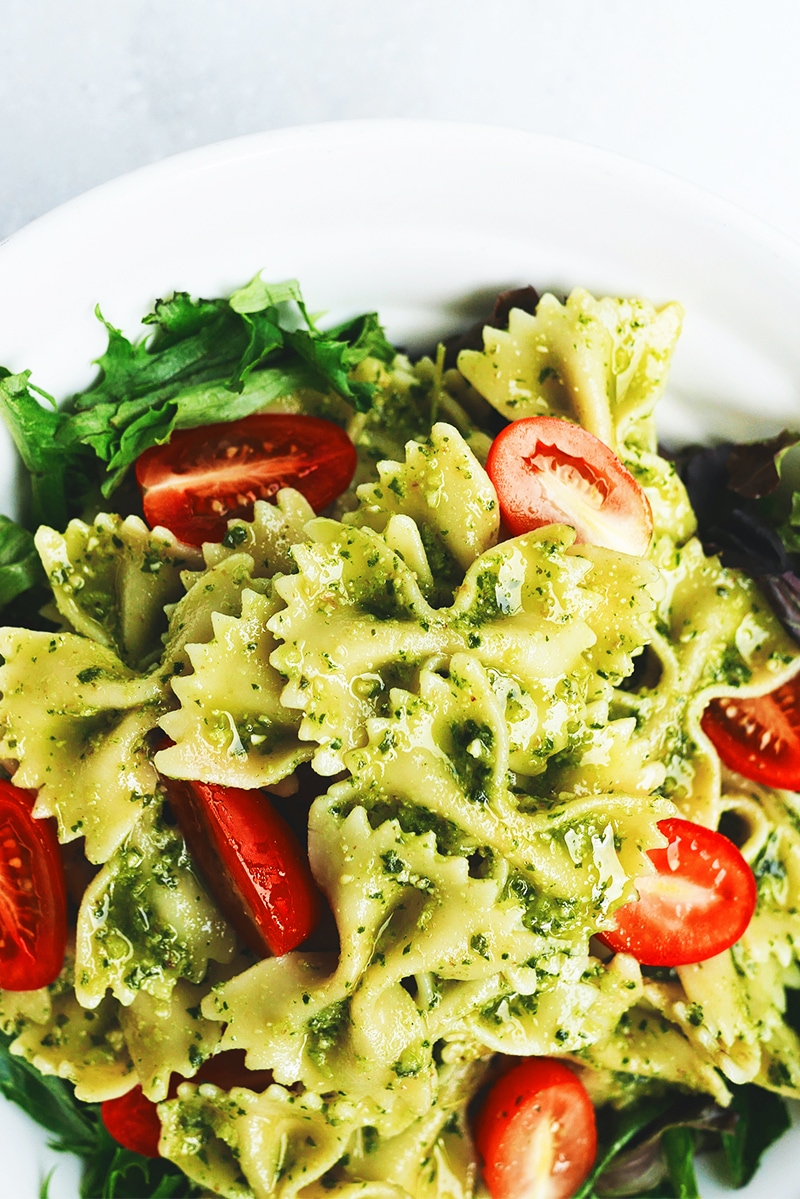 Spicy Shrimp CBD Pesto Pasta
Calling all pasta lovers, we got a CBD-infused seafood pasta dish coming in hot. This is a healthy, delicious, and refreshing meal that combines shrimp, unsaturated fats, and high-end protein.
What you'll need (for the pesto):
½ cup of parsley
½ cup of cherry tomatoes
1 tablespoon of pine nuts
2 medium cloves of garlic
2 tablespoons of olive oil
4 teaspoons of CBD oil
What you'll need (for the pasta):
8 oz of penne pasta (or your choice)
A dozen shrimp (or more based on serving amounts)
1 lb of asparagus
2 cherry tomatoes
2 tablespoons of butter
1 tablespoon of olive il
1 tablespoon of lemon juice
1 teaspoon of pepper flakes
1 teaspoon of cayenne pepper
Instructions:
Rinse off all your leafy greens under cold water and place all pesto ingredients into a food processor and blend into a smooth paste.
Scoop out the pesto sauce and chill it in the fridge.
In a large pot, boil water and add in the penne.
In a large saucepan, heat the butter and olive oil until fully melted. Dip both sides of the shrimp in pepper, cayenne, salt and pepper and squeeze some lemon juice onto it once it's cooking inside the pan.
Add the asparagus to the pan.
Once the shrimp is cooked through, mix in six to eight tablespoons of your homemade pesto.
Add the 4 teaspoons of CBD oil into your saucepan, stirring frequently and reducing the heat to a simmer.
Add the cherry tomatoes, fresh basil, and top off the meal with some fresh parmesan cheese.
CBD and Parmesan Mashed Potatoes
Try a CBD twist on the classic mashed potatoes plate. You might want to forewarn your family before bringing this tasty and healthy dish to thanksgiving. 
What you'll need:
8 cups of mashed potatoes
2 tablespoons of unsalted butter
¼ cup of whipping cream
¼ cup of parmesan cheese
2 teaspoon each of salt and pepper
0.5 grams of CBD oil
Instructions:
Combine the mashed potatoes with butter, whipping cream, parmesan cheese, salt, pepper, and the CBD oil.
Whip all ingredients until smooth and pureed.
Place the mixture to a casserole dish .
Top off the mixture with cheese and bake at 400ºF for 30 to 40 minutes, or until golden brown.
Allow the potatoes to cool before serving.
CBD Chocolate Chip Cookies
You didn't think we'd offer tasty meals without including cookies did you? Regularly, you might attribute baked goods from a cannabis plant to be of the THC variety but these CBD ones are tasty, healthy with no hallucinatory effects. 
What you'll need:
½ cup of butter
½ cup of sugar
90 mL of CBD oil
1 cup of flour
1 teaspoon of cinnamon powder
1 teaspoon of vanilla 
1 egg
1 teaspoon of baking soda
¾ cup of dark chocolate 
Instructions:
Preheat your oven to 350ºF.
Line a baking sheet with non-stick parchment paper.
Mix all the ingredients in a large mixing bowl.
Roll your cookies into small balls and flatten them into your desired shape and thickness with a fork or spatula.
Bake for 20 to 25 minutes.
Let your cookies cool before serving.
CBD Blueberry Oats
Breakfast is the most important meal of the day so why not start it off with some CBD which can help boost your metabolism and ensure you're getting going with the proper nutrients. 
What you'll need:
⅓ to ½ cups of desired liquid (milk, almond or coconut milk)
150 g of rolled oats
35 g of blueberries
CBD oil
Instructions:
Mix your non-liquid ingredients together, including the CBD oil (mix well).
Cover with your milk of choice.
Add the 35 grams of blueberries to the top.
Cover the bowl with a top and place in the fridge, ready to consume first thing in the morning the next day.
CBD is rich in various natural nutrients including amino and fatty acids that help to drive the body. It also includes key vitamins and minerals that helps the body's insulin function. CBD may also help to keep you fuller for longer and it's also been proven to help optimize energy levels.