Imagine this: you are having a barbecue party. You have to make sure it's a success. But that's when you realize a few of your guests are vegetarians.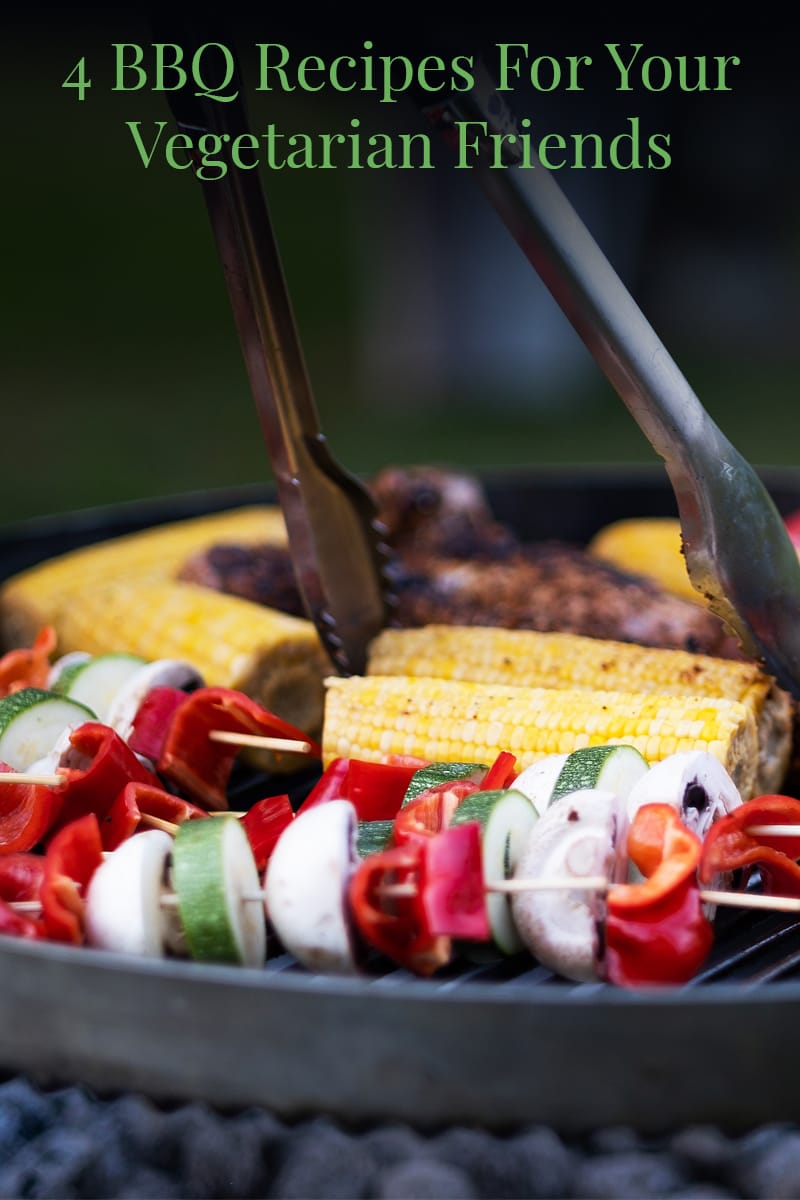 On hearing the word "barbecue," we usually envision juicy pieces of steaks, tenderloins, and rib-eyes. Basically, anything meat-based is the first thing that comes to mind.
In reality, however, there are some truly exquisite vegetarian and that can be cooked on a grill or smoker.
Here's a list of the top four vegetarian recipes to wow your vegetarian pals that are not only easy to make, but they are also super delicious. for you once your guests taste them!
Vegan Barbecue Tempeh Sandwiches
Ingredients:
8 oz of thinly cut tempeh strips

4 hamburger rolls

1 tablespoon olive oil

1 tablespoon apple cider vinegar

3/4 cups of barbecue sauce

1 cup coleslaw mix or shredded cabbage

Cooking spray

Salt and pepper for taste

A pinch of sugar
Method:
Take a small baking dish, and spread 1/4 cup of barbecue sauce on the bottom. Place the tempeh strips on the dish and then top it with the remaining barbecue sauce. Toss gently to evenly coat the strips.

Let the marinade sit for an hour; keep stirring it after 30 minutes.

Take a small bowl, and add the vinegar, olive oil, salt, pepper, and sugar. Whisk all the condiments together. Add the cabbage, and stir well. Set the bowl aside.

Spray some cooking spray on the medium skillet and heat over medium flame. Add the tempeh and sauce and cook for about five minutes.

Serve the tempeh and sauce on hamburger rolls and enjoy!
Tofu and Vegetable Skewers
Ingredients:
15 oz firm tofu (you can also try extra firm tofu if you want)

1/2 cup water

1/4 cup maple syrup

1 teaspoon black pepper

1 tablespoon garlic powder

1 tablespoon oil

1 tablespoon Sriracha

Pepper

Zucchini

Onion
Method:
Soak four wooden skewers in a shallow pot filled with water. This will prevent the skewers from burning.

Place the tofu on a towel-lined plate. Top this with another paper towel and another plate. Microwave for three minutes.

Take a bowl and add water, maple syrup, BBQ sauce, soy sauce, garlic powder, pepper, oil, and Sriracha. Mix well.

Slice the tofu into 10-12 cubes and set aside.

Place the tofu in the marinade and refrigerate for about an hour.

Take out the tofu pieces from the marinade. Heat the marinade over low heat. Cook for about 10 minutes until it reduces and gets thicker.

Assemble the skewers. Alternate between tofu and your favorite vegetables.

Heat a pan or a grill. Cook every skewer for about 3 to 4 minutes per side. Serve hot!
Aubergine Kebabs with Charred Onion Salsa
Ingredients:
3 aubergines, sliced lengthwise into 1/2 cm slices

1/2 teaspoon ground cinnamon

1 tablespoon salt

1 tablespoon sumac

2 tablespoon Aleppo pepper flakes

2 tablespoon ground cumin

3 tablespoon promenade molasses

6 tablespoon olive oil
4 medium-sized onions, sliced into thick rounds

4 garlic cloves, crushed

2 tablespoon mint leaves, finely shredded

1/2 tablespoon dried chili flakes

4 tablespoon olive oil 

2 tablespoon lemon juice
Method:
Start your barbecue.

Sprinkle some salt on both sides of the aubergine slices. Allow them to drain in a sieve or colander for about 30 minutes. Rinse and then pat dry.

For preparing the onion salsa, place the onion slices over direct heat on the barbecue. We would recommend skewering the onion slices before for better control over the process. Cook the slices for about eight minutes or until they get lightly charred on both sides. 
Chop the onion slices finely and then mix with the other salsa ingredients. Add salt and pepper according to your taste, and set aside.
Add cumin, cinnamon, pomegranate molasses, sumac, Aleppo pepper, and olive oil in a bowl. Mix well to make a paste.

Brush a thick layer of the paste evenly over the aubergine slices. Once done, thread the slices onto six skewers, concertina-style, packing them tightly.

Place the aubergine slices on the barbecue for about 15 to 20 minutes, turning occasionally. The idea here is to cook until the slices get soft and lightly charred.

Serve with the onion salsa, greek yogurt, and herby couscous for the ultimate experience.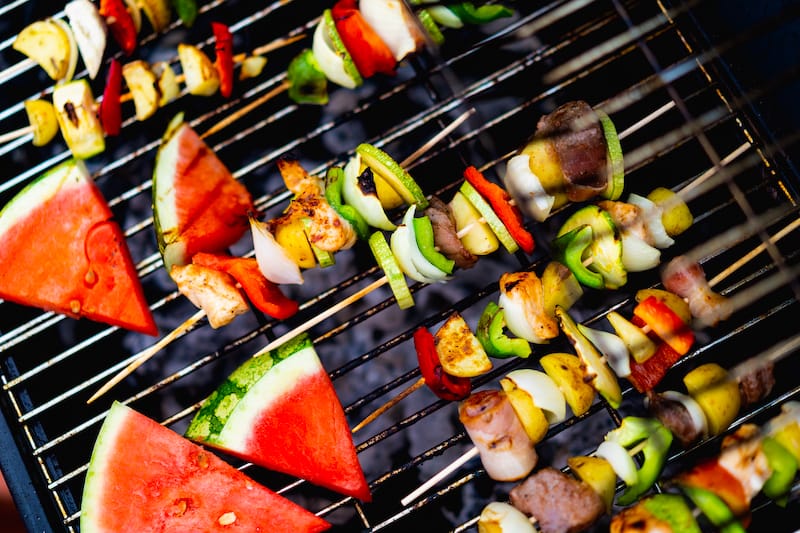 Image: Unsplash.com
Vegan Barbecue Baked Beans
Ingredients:
1.5 cups of small dried white beans, soaked overnight (you can also use 4.5 cups of drained canned beans)

1 cup of water

1 large onion finely chopped

3 garlic cloves, finely chopped

28 oz canned crushed tomatoes

1/4 cup apple cider vinegar

1/3 cup maple syrup

1/2 teaspoon chili flakes

1 teaspoon ground cumin

1 teaspoon dried rosemary

2 teaspoon salt

1 teaspoon pepper

1 tablespoon smoked paprika

1 tablespoon mustard

2 tablespoon blackstrap molasses

1 large bay leaf
Method:
Transfer the soaked beans (not the soaking water) into a bowl containing fresh water. Bring it to a boil and then simmer until the beans get tender. This should take about 1-1.5 hours.
If you're using canned beans, you can skip this step.
Sauté the onions and garlic until they get transparent.

Add all the other ingredients and cook over medium flame until it starts to bubble.

Turn the flame to low; cover, and cook for about three hours until the beans get very soft, and the sauce thickens. Keep an eye out and stir to prevent the ingredients from sticking to the bottom or drying out. You can also add a few drops of water to get the required consistency.

After simmering, transfer the ingredients into an oven-proof dish and bake in a preheated oven at 300°F for about three to four hours. Again, keep checking every hour to prevent it from getting too dry.