Vegetarianism is the latest trend catching up in the health and fitness circles. Many people join the vegetarian circle looking for specific health results, but soon realize the joys of a transformed lifestyle.
Vegetarian dishes are loaded with nutrition and antioxidants. But they have the potential to be presented as delicacies that can entice aficionados with aromatic whiff.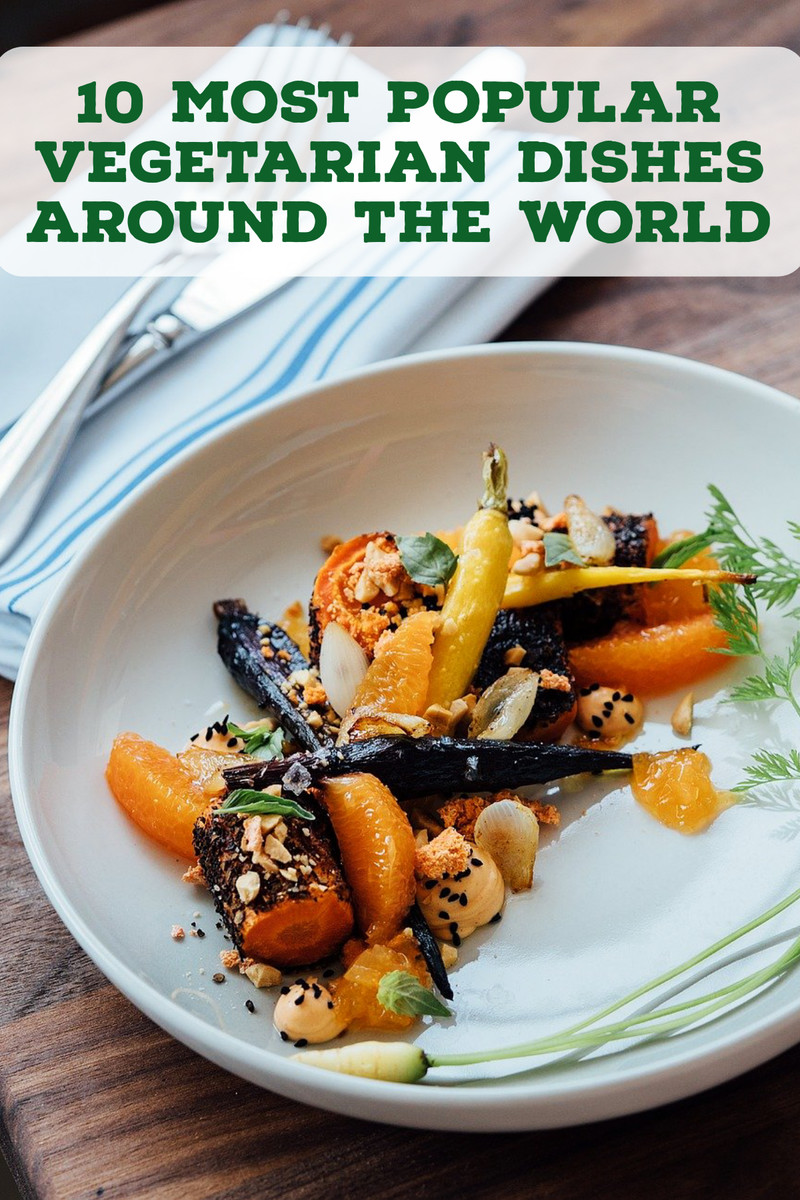 Do you still picture the boring soups and salads as the two options for vegetarian dishes? Well, it's about time you get some better perspective!
Vegetarianism is popular in many world cultures. Centuries old recipes and many new culinary experiments have led to diverse vegetarian cuisines. Let's introduce you to some vegetarian delicacies from around the world.
We bet, you'll want to try each of these!
1. Tartiflette au Reblochon – France
French cuisine is renowned for its delicate flavors and sophistication. The French menu has an elaborate selection of vegetarian dishes. The Tartiflette au Reblochon is one of the French vegetarian dishes that are worth relishing. While the basic ingredients are just potatoes and onions, reblochon cheese and white wine lend the exotic French flavors to the recipe.
This dish appears on the menu of most French restaurants, and may even be available at a French specialty fine dining restaurant in your city.
2. Vegetarian Tam Ponlamai – Thailand
It's not easy to find a vegetarian in Thailand because most of the dishes are prepared in fish sauce. We strongly recommend double checking for the ingredients at the restaurant. There are some vegetarian only restaurants in Thailand where you are sure to find dishes without fish sauce.
Tan Ponlamai is a delicious fresh , made with Thailand's signature fruits like rose apple and dragon fruit along with guava, watermelon etc. A salad dressing made of chilies, lime juice, soy sauce and peanuts creates a refreshing tanginess that's going to leave your mouth watering.
3. Pesto Trofie – Italy
Italian cuisine is laden with simple wholesome recipes that are absolutely soul satisfying. The vegetarian Italian dishes are groomed well with indigenous spices and slow cooked to perfection. That's probably the reason why vegetarians from all over the world favor Italian cuisine over others. Pesto Trofie is a vegetarian pasta dish made with fresh basil and parmesan cheese, simple yet fantastic!
4. Veggie spring rolls – China
Chinatown and Chinese take-away will always keep Americans close to the enigmatic orient culture and cuisine. The Chinese veggie spring rolls are probably one of the most popular Chinese dishes around the world.
In the pre-COVID times Chinese takeaway restaurants were quite popular, but things have taken a different turn now.
It is interesting to find out how restaurant guests changed during COVID-19, and there's still an opportunity to meet and revive the business.
5. Tabbouleh – Morocco
Tabbouleh is one of the most popular vegetarian dishes of the Middle East. The dish is prepared with finely chopped spring onions, tomatoes, and parsley mixed with . The hint of lime juice over the Tabouleh lends a refreshing charm to this simple dish.
6. Doenjang Jjigae – South Korea
South Korean stews deserve a special mention when it comes to the hall of fame for vegetarian dishes. Doenjang Jjigae is a delicious Korean stew with a consistency of a broth. The hot stew is a perfect comfort food for winters. Mushrooms, beans and sprouts are the key ingredients of the stew. Some restaurants serve the sea food version of the Jjigae too, so always confirm the ingredients when you place your order in the restaurant.
7. Vinegret – Ukraine
You may not be very familiar with the Ukrainian cuisine, and wonder if their vegetarian offerings are worth attempting. Let's tell you all about the best of Ukraine's vegetarian dishes, the Vinegret!
It is a popular salad that originated in the Soviet Union, and has been adopted by many countries in the Eastern Europe. The salad comprises fresh veggies like carrots, beetroot, onions and potatoes tossed with pickles and . We'd recommend this salad as an inexpensive savory delight!
8. Gado Gado – Indonesia
Most Indonesian dishes are relished because they're tangy and spicy. Gado Gado, an Indonesian vegetarian specialty isn't much different either. The traditional dish is made with potatoes and rice cakes cooked inside a banana leaf, and served with hard-boiled eggs, tofu and cooked vegetables. The flavors are topped with peanut sauce and crispy crackers on the side.
9. Dal Tadka and Naan – India
The range of Indian vegetarian dishes is very diverse. The culinary expertise of Indian chefs trained in the traditional recipes is exceptionally impressive. Dal is a popular lentil preparation from India which has several regional variations. Indian restaurants offer a variety of Dal preparations. is a yellow lentils preparation spruced with a tempering of onions, tomatoes, turmeric and Indian spices. Dal Tadka is consumed with rice or bread, and you'll easily find these on any Indian restaurant's menu.
10. Bolon de Verde – Ecuador
Most vegetarians will turn down an offer to holiday in South America, for the dearth of vegetarian food and restaurants. But if you happen to visit Ecuador, you'll be glad to explore the fascinating varieties of vegetarian dishes this country has to offer. One dish that should top your Must-Try list is the Bolon de Verde. The rich offering of cheese and fried plantain makes a filling meal or breakfast dish.
More vegetarian dishes you want to try are: